Current location is
Home »
Confirming the progress of the Great Egyptian Museum project continuing during COVID-19
Confirming the progress of the Great Egyptian Museum project continuing during COVID-19
OMURA Yoshifumi
JICA Egypt Office
On August 6, representatives of the JICA Egypt Office visited the Great Egyptian Museum (GEM) with H.E. NOKE Masaki, Ambassador of Japan to Egypt, and exchanged views with the general director of GEM. We confirmed that construction work and exhibitions are steadily progressing toward the opening despite COVID-19, and discussed that Japan and Egypt will continue to cooperate in the future.
The Grand Egyptian Museum is the largest archaeological museum in the world, introducing the single oldest civilization. It will be constructed as a major part of comprehensive complex including educational and entertainment facilities with MICE functions, on a vast site almost as big as Tokyo Disneyland, overlooking the three major pyramids of Giza. It is a comprehensive introduction to the ancient civilizations of Egypt, including all excavated items from the Tutankhamen Tomb, and is expected to contribute to world civilization. This is a development project for a major attraction in Egypt which is a tourism-oriented country. The results of an excavation and restoration project for King Khufu's "Second Solar Boat" by the team of YOSHIMURA Sakuji (President of Higashi Nippon International University, Honorary Professor of Waseda University) will also be exhibited on the same premises.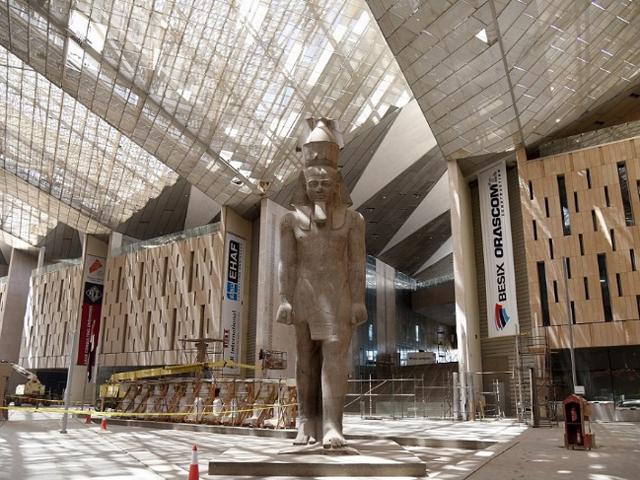 Currently, it is not open to the public, but due to the interior work being completed, breathtaking exhibits are being brought in one after another and showcases for many exhibits are being installed.

We will continue to cooperate with the aim of the museum being opened next year. At that time, world tourists including many Japanese people will visit and I hope that it will be a symbol of Japan and Egypt's friendship in the future.

In addition, there was an interview by CNN, and a video showing the construction of the museum with financial cooperation from Japan's ODA loan and support for restoration of the Tutankhamen collection with technical cooperation by Japanese experts.
We were very happy to hear that the proposal for conservation and restoration using Japanese washi paper was adopted and that the training of Egyptian conservation and restoration specialists is progressing. We await the opening of GEM with pleasure.