Current location is
Home »
Don't give up to COVID-19! Remote activities by JICA volunteers in Gabon
Don't give up to COVID-19! Remote activities by JICA volunteers in Gabon
YONEZAKI Eiro
Resident Representative
JICA Gabon Office
Evacuation of all volunteers
The spread of the COVID-19 accelerated in Africa from March, and the Gabonese government announced the first Gabon case on March 12. Gabon established a national COVID-19 committee immediately and began measures against the disease. Rumors were heard that the international airport would soon be closed, but the JICA Gabon Office just succeeded in getting tickets on a special Turkish Airline flight. All volunteers finally left Gabon on March 19. Just after their departure, the airport was closed. It was close run.

I can imagine the state of mind of the volunteers, who had to leave unwillingly partway through their placement. I am a former volunteer myself, so I well understand their deep feeling of regret. After their departure, I remained alone as the sole Japanese staff member in the office. I tried to work out what I could do for the volunteers, and I decided to do my best to compensate for their sad feelings by continuing to keep up the relationship with their contacts.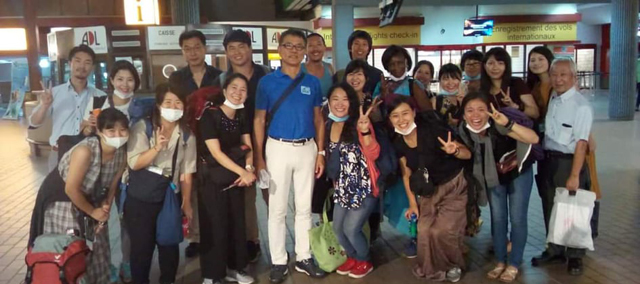 Our slogan was "Don't give up to COVID-19!"
In April, the Gabonese government enhanced measures against COVID-19, and in addition to closing frontiers, they restricted movement in the country, imposed curfews at night, restricted the number of passengers on public transportation, prohibited meetings with over 10 persons, and imposed other measures. In this difficult situation, the JICA Office sent official letters explaining the urgent evacuation to the places of work and ministries concerned with our projects. For Libreville, the national staff and I visited the assigned workplaces one by one. We also made donations of relief supplies to homes for the aged and orphanages, such as soap and paper diapers.

From May, we gained permission from the Ministry of the Interior and made visits to rural areas to explain of the volunteers' situation. At the same time, internet meetings became possible using the good optical fiber cable available in Gabon. Volunteers were very glad to meet their partners again after being separated for a long time, and seeing their places of work on the screen.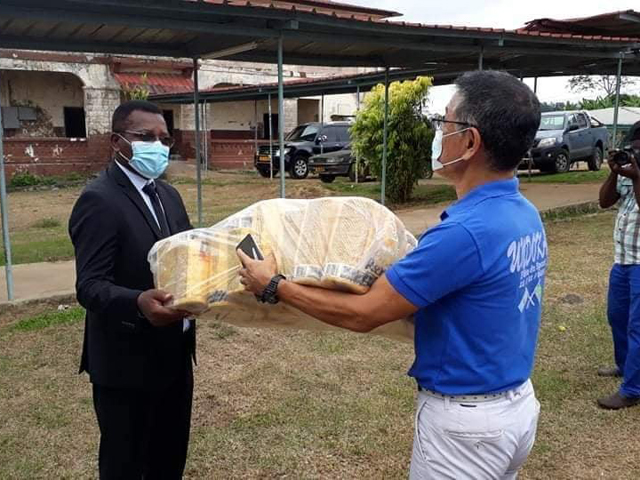 We are continuing this kind of activity with the slogan "Don't Give up to COVID-19!" The other day, at last a project bore fruit. That was COVID-19 countermeasure aid in support of a volunteer midwife in Lambarene, a provincial city. This city is well known from Dr Schweitzer, a Nobel Peace Prize winner, and his devoted medical activities constructing a hospital there. The volunteer had been dispatched to the Maternity-Children Center but evacuated just only three months later.

While keeping contact with the volunteer in Japan, the JICA Gabon Office prepared for counter-COVID-19 aid for the Center and purchased equipment such as a simple tank for handwashing, soap, and an instruction panel for handwashing was also made. Finally, a delivery ceremony was held in September. On that day, the regional director of health and other officials attended the ceremony. Also, from Japan via Zoom, the volunteer midwife, other former volunteers, and coordinators attended.

The Gabonese side expressed their gratitude and the volunteer made a good speech in French. Similar aid for primary schools and kindergartens is also being prepared. However, as all educational institutions are closed now, it will be delivered in November after the intended reopening date.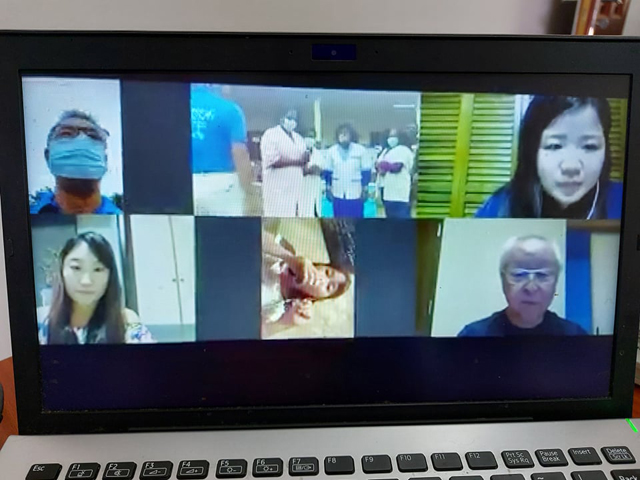 Developments in the spread of COVID-19 in Africa and Gabon
The first case occurred in Egypt on Feb. 14. A pandemic started in the African continent and reached a peak in July. Ever since then, the number of new cases is reducing. As of Oct. 3, there are 1,506,887 cases of COVID-19 (death rate: 2.7%) in Africa. While over-optimism is not appropriate, I appreciate the efforts made by African countries in stopping the pandemic at a relatively low level.

Some commentary and discussion point out that the relatively low level of pandemic in Africa is owing to immediate measures such as lockdown, prompt medical preparation, and in particular because African people were well equipped based on their experience with contagious diseases such as Ebola and Malaria in the past. Thus it could be said that Africa was ready to fight against COVID-19. I also think that enormous aid with human resources and infrastructure for the health sector by partners including Japan helped stop COVID-19 pandemic.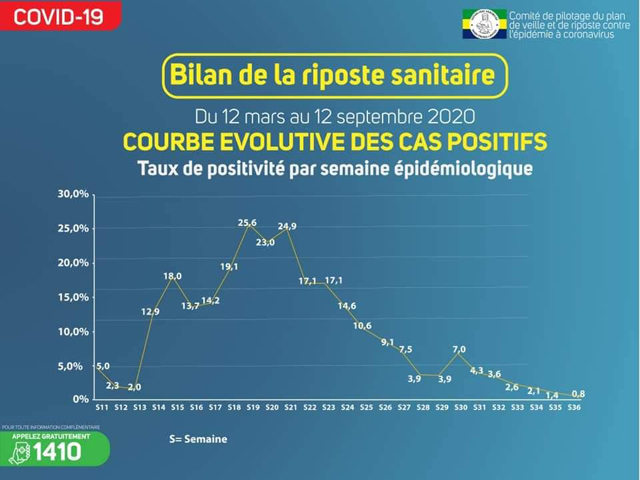 Gabon reported the first case of COVID-19 on March 12. Now the total number of infected cases has reached 8.808 with 54 deaths. This rate at 0.6 % is relatively low. By creating the National Committee for COVID-19, the Gabonese government implemented a series of measures immediately and strictly.

The graph on the left, published by the Committee, shows a change of the positive rate against the total number of PCR tests a week. It shows that the peak was between the last 10 days of May and the first 10 days of June and came under 1% in September. Gabon seems to be controlling the pandemic.

The measures that had to be taken against serious cases deserve special mention. The number of ICUs per 100 thousand persons: 33 (No.1 out of 54 countries in Africa), and respirators: 4.7 (No. 3). (Reuters news in May)

It is worth noting that the president of the National Committee was general secretary of the Ministry of Health when he was appointed. He was selected as health minister for his performance in that role when the cabinet was reformed in July. He was a partner of JICA during the time he was general secretary and he often attended volunteer report meetings.

He is also resident representative of the International Red Cross in Gabon, and is a good friend of Japan who collected donations for tsunami victims in Japan. It has worked out well, because JICA is enhancing cooperation in the area of maternity health in Gabon.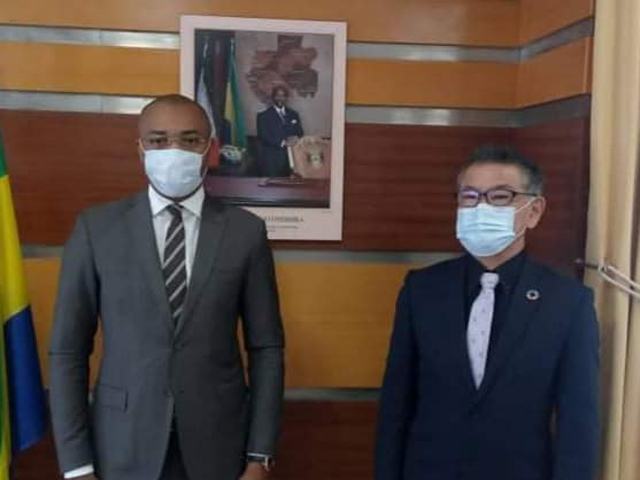 Continuing the connection between Gabon and Japan
I continue to visit workplaces not only of volunteers but also others such as of technical cooperation projects, at least quarterly. When I make visits in the country, it is important to go to volunteers' workplaces in spite of tight schedules, to keep a feeling of cooperation between Japan and its Gabonese partners. I constantly feel a family-like welcome to Japanese experts from the Gabonese people and volunteers' passion for Gabon.

The other day, I visited vegetable fields where a volunteer had been assigned. It is located in the area of Schweitzer Hospital and supplies vegetables to the hospital for food. When the volunteer came here at first, the field was completely neglected to the weeds. So, he patiently started teaching his partners techniques for soil preparation and cultivation. But he had now been absent for three months since the sudden evacuation, and I was honestly worried that the field might have returned to its initial situation.

However, we found instead that it was managed very well as in the photos. The volunteer was extremely glad to see the field on the computer screen. What a pleasure for him! I was also very impressed.

I was deeply impressed when I visited not only this workplace but others such as medical, welfare, educational, fishery institutions, and a judo training hall. I felt traces of the volunteers' work everywhere.

I have found recently that I, more than anyone, get enlivened from these "Don't give up to COVID-19!" activities.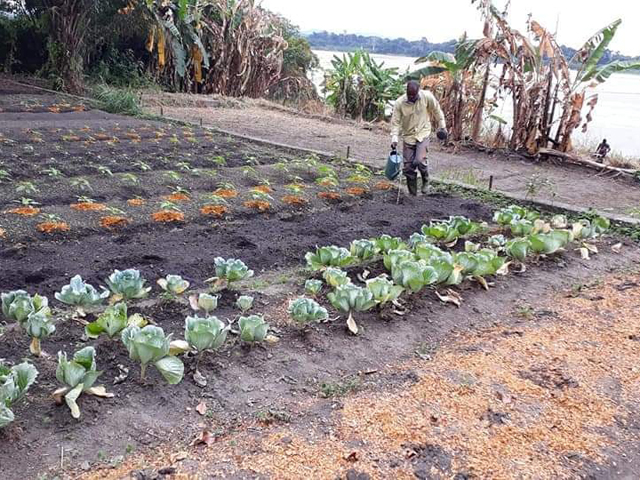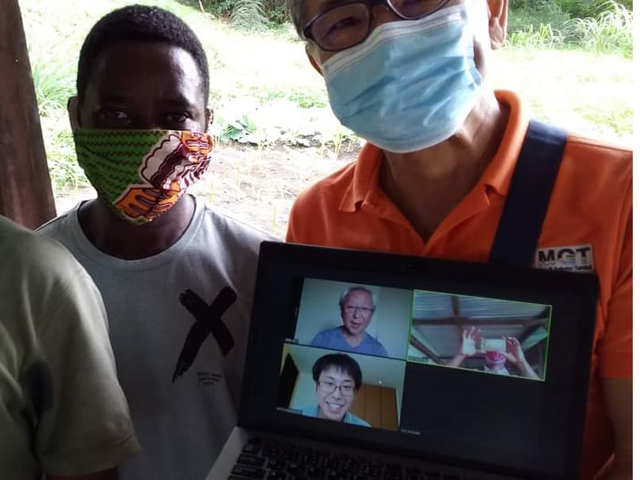 What JICA has to do now for the volunteers
After their return to Japan, the volunteers are expected to become resources for international cooperation, or to spread their experiences throughout the country. They are very important resources for the future of Japan and the whole world. To make this come true, we have to make efforts to enrich their activities, so I understand that JICA overseas offices must do their best for the volunteers.

COVID-19 cruelly separated volunteers from their partners. However, I do not agree that COVID-19 interferes with their ongoing commitment.

One day, for sure, COVID-19 will be gone, and volunteers and Gabonese people will live again a full life together and smile as they continue activities. So, "Don't give up to COVID-19!"