Current location is
Home »
COVID-19 Response by JICA Cambodia National Staff
COVID-19 Response by JICA Cambodia National Staff
1. Situation of COVID-19 in Cambodia
(1) Impact of COVID-19 on the Cambodian society
Throughout 2020, Cambodia was one of the only few countries that were least impacted by COVID-19 in terms of infection and death rate in ASEAN region. Royal Government of Cambodia (RGC) took a rapid response by closing educational institutions, restricting the number of gathering and introducing restrictions on arrival. However, since February 2021, a large- scale outbreak took place and the number of COVID-19 cases has been increasing drastically.

Cambodia is no exception in experiencing the economic impact of COVID-19. In 2020, Cambodia lost revenue in the tourism sector of around US$3 billion. More than 410 factories have been suspended and it affects more than 240,000 workers. RGC has been supporting various sectors and financial support program for poor & vulnerable families by regulating tax exemption, subsidizing 70 USD monthly to garment workers and providing low-interest rate loans to banks and MFIs.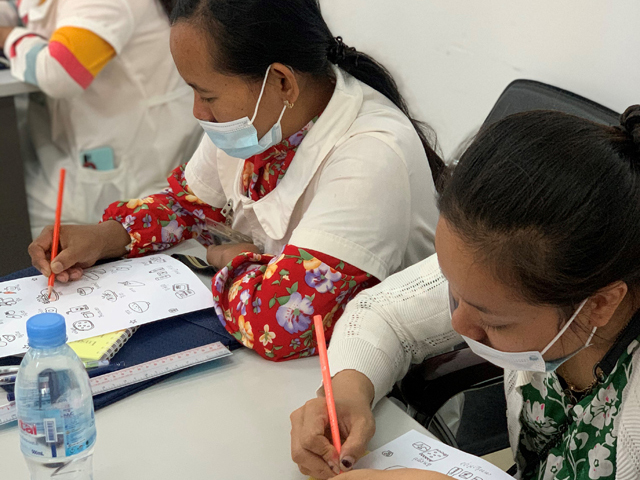 (2) The life of general people in Cambodia under COVID-19
The people of Cambodia have gradually adapted to the new normal with COVID-19. More parents help children to attend the online class. People started using more delivery service, specifically food delivery. People went out with high precaution by wearing a mask and frequently washing their hands. However, this change of life is still tough for most of the Cambodian people, especially those from lower middle income. The street food vendors lost their income because of no customer. The closure of the borders affected all of the businesses. People asked the support from the Government to help them with the loan. Parents and teachers complained about the class going online as their knowledge of technology are still limited. Many employees faced a pay cut.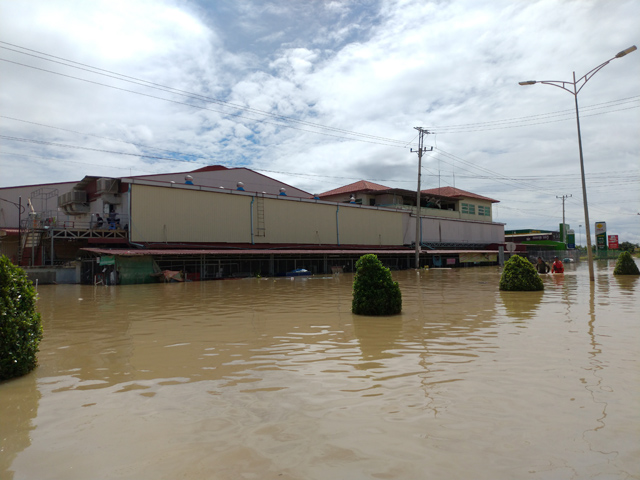 In addition to these impacts by COVID-19, people in Cambodia suffered from the flood disaster due to very heavy rains from September to October, 2020. JICA provided emergency relief goods such as tents, water purifiers, Blankets, Generators, Plastic sheets, sleeping pads and portable jerry cans to the flood victims. In addition, JICA Cambodia office's staff also took part in this contribution by their volunteer donation of food. However, in the shelters, people had to gather closely without enough masks or sanitizers, and after the water gone out, garbage was scattered in the areas. Due to the flood, the measurement for preventing infectious diseases became more important in Cambodia.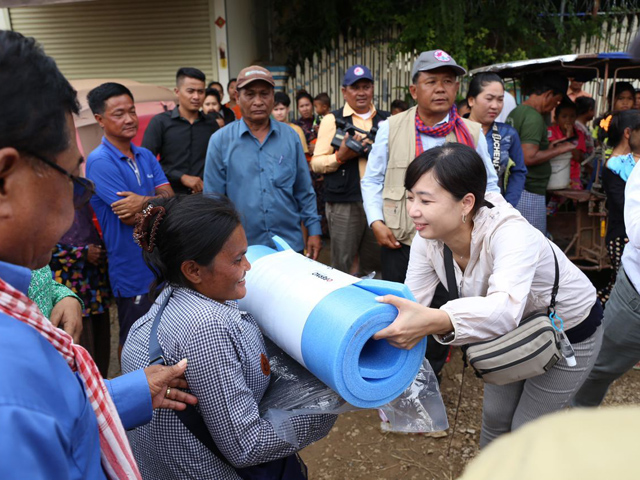 2. How JICA National Staff Contributed to COVID-19 Response
(1) Planning Emergency Support Loan (Mr. Soun Veasna)
I'm a national staff of planning section of JICA Cambodia. My works at the office are supporting the office operation, such as aid coordination, the request survey, monitoring the project's activities, and so on.

Under this pandemic circumstance, the new normal of life, work, and communication have been introduced and adopted. I need to deal with such a difficult situation and have to perform my daily tasks as usual. In addition, I have to keep communicating with external stakeholders including the counterparts and development partners. Lockdown and public restrictions were the main problem and our counterparts were not familiar with the online platform (virtual conference/meeting and etc.) which required some time for adoption. At the beginning, I also found it inconvenient to join the virtual meeting and to have discussion with counterparts online but later on it is getting familiar.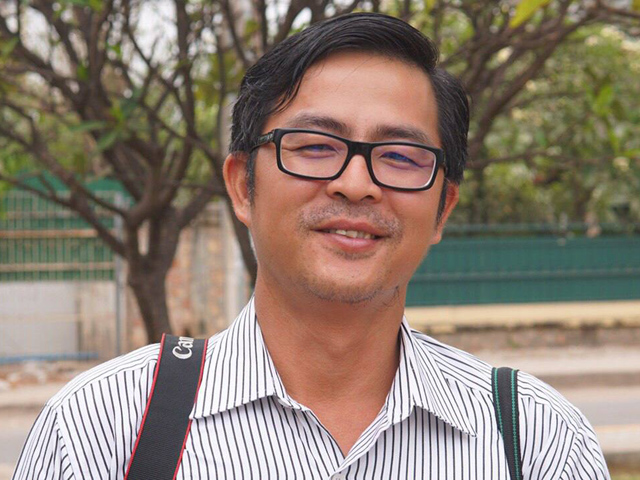 To cope with COVID-19 pandemic across the country, in addition to the regular task, I am involved with ODA loan project "the COVID-19 Crisis Response Emergency Support Loan", Loan Agreement (L/A) of which was signed between JICA and the RGC in November 2020. It is the agreement to provide ODA loan up to 25 billion yen to promote economic stabilization and development efforts of Cambodia. Under this COVID-19 pandemic circumstance, the Japanese ODA has played a significant role contributing to the economic recovery activities and development efforts of Cambodia. I would wish everyone stay safe for further development of Cambodia.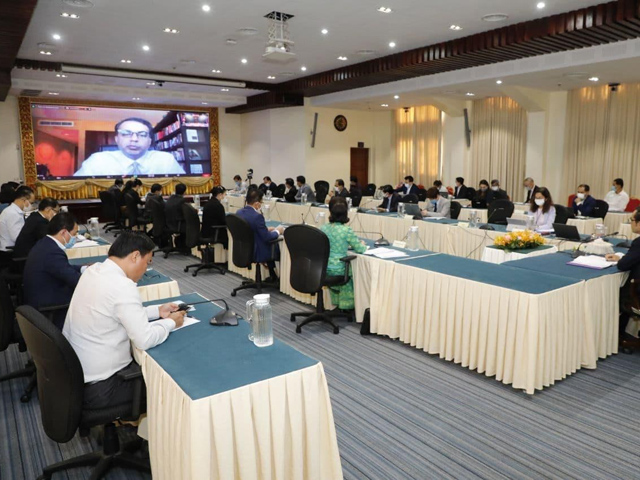 (2) Support in Health Sector (Ms. Phan Sreyrith)
As a program officer in charge of Health sector, I keep myself updated with the news relating to COVID-19 as well contacting Ministry of Health (MoH) and health development partners of what JICA could support to improve the covid-19 response of public health in Cambodia.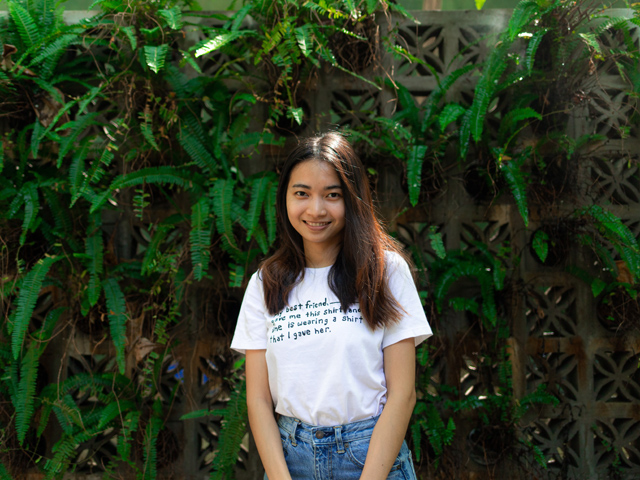 In late November 2020, when the situation of the flood is being eased, the affected communities are still in need of the medications and sanitizers to promote the hygiene and sanitation in their communities. Then, JICA health team delivered the medications and consumables items such as hand sanitizers and body bar soaps to Provincial Health Department in 3 provinces.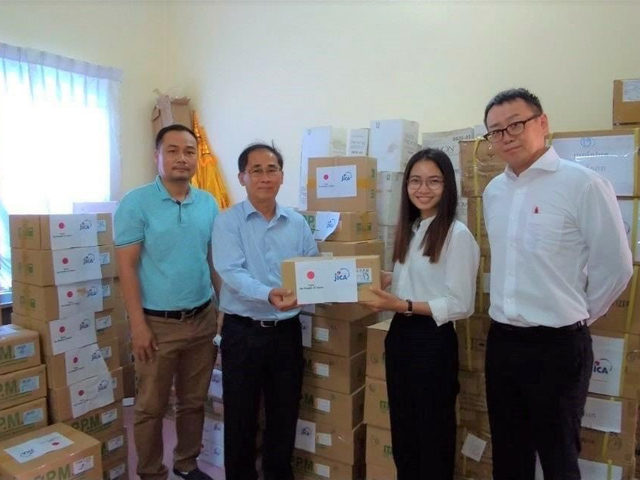 Currently, procuring medical equipment and PCR test reagents are one of the main tasks of health team. While working on COVID-19 response, we also work on the improvement of other aspects in health sectors such as improvement of health infrastructures and capacity building of health workers.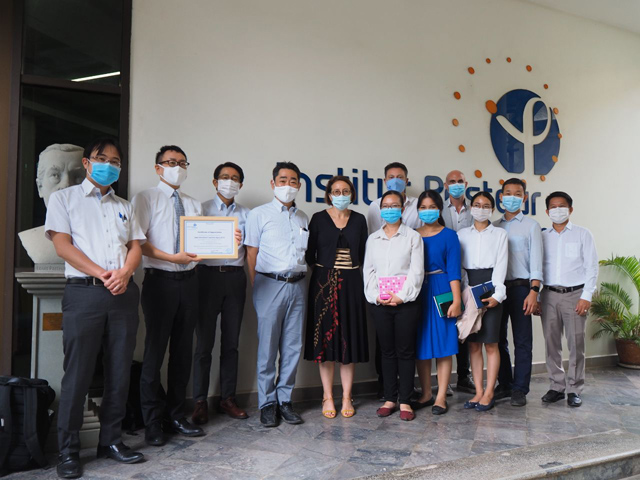 Personally, I am proud to be part of the dynamic team. Despite the pandemic situation, every JICA's staff continue working diligently to maximize the project's output. I still remember the Provincial Health Department staff's appreciated and happy faces when JICA delivered the medications and consumable items to flood victim. Working at one of Cambodia's essential development partners, as a Cambodian citizen, I feel proud and happy to be a part of JICA. JICA's work is beneficial for Cambodia's development; it is also critical for strengthening the bilateral relationship between the two countries. Personally, I really appreciate the countless contribution and support that JICA has been providing to Cambodia. Road, bridge, hospital, sewage system and other constructions have helped Cambodian a lot. JICA's focus on the improvement of infrastructure is one of the big moves for Cambodia. More importantly, JICA pays a lot of attention to the quality of its construction projects. Cambodian always have high trust in the construction provided by Japan.

And this is the final message from a young female working to promote public health. Living and working under this pandemic is difficult for everyone. The emotional health should be well taken care. It is important to spread the awareness of emotional health. To continue working productively and efficiently, emotional and physical health are important.