JICA ALUMNI ARMENIAN ASSOCIATION
In 1998 the initiative group of "JICA Alumni Armenian Association" NGO consisted from 3 members launched its work. Having extended its tasks and activities, the NGO has now 130 members.
Since its foundation the NGO headed by its Founder and President Levon Movsesyan has actively implemented numerous enlightening seminars concerning educational programs in Japan, Japanese great expertise to deal with critical situations as well as understanding of unique Japanese culture. The organization implements various programs on culture, environment and health issues, publishes popular-scientific articles, brochures and booklets, and involves young specialists and volunteers in the activities of organization as well as in local and international events.
Japan's Culture Day Celebration every year is a great occasion for the expression of heartfelt gratitude to Japanese Government and Japanese people for their sincere understanding and assistance to numerous projects implementing in Armenia. Speakers express their great willingness to make cultural and scientific exchange between Japan and Armenia more effective and available for broad strata of Armenian society.
JICA Alumni Armenian Association organizes also International seminars. The first seminar was organized in October, 2004 in Yerevan. Next year the members of our organization were invited to participate in seminar, organized in Tbilisi. In October, 2013 we implemented the International Seminar "JICA's strategy 'Promoting development partnerships' and its implementation in Armenia and Georgia". In October, 2014 the members of JAAA participated in Regional Seminar "Promoting Development of National Innovation Systems in South Caucasus Region", held in Tbilisi.
Dr. Hrant Zhamharyan on June 25th, 2015 was elected as a new President of "JICA Alumni Armenian Association" NGO, Vardan Danghyan and Nazeli Galstyan – as Vice-presidents of organization.
E-mail address of "JICA Alumni Armenian Association" NGO: jica.arm.alumni@gmail.com
"JICA Alumni Armenian Association" NGO group on Facebook: https://www.facebook.com/groups/jica.aaa/ (external link)
Annual meeting of JICA Alumni Armenian Association
On November 4 2015, JAAA held the Annual meeting of JICA Alumni Armenian Association and celebrated Japan's Culture Day.
Order of day was as following:
"Follow-up programs for JICA Alumni" - presentation of Ms. Ruzan Khojikyan( program coordinator in JICA Armenia Liaison Office.
"Japan in my view" – presentation of Nazeli Galstyan, the Vice-president of JICA AAA.
Discussion of JICA AAA upcoming activities.
Musical performance.
Ms. Khojikyan told about the procedure of application writing for small grants, thoroughly expounded the Follow-up Programs for JICA Alumni and answered the questions of participants of the meeting.
The Vice-president of JICA AAA Nazeli Galstyan told at a meeting about her study at National Institute GRIPS in Tokyo from October 2012 till September 2013 where she got Master Degree in Disaster Management. She studied also in Scientific Institute IISEE in Tsukuba. Nazeli Galstyan presented also the main aim of the program she participated, the Japanese educational system advantages, the policy of disaster management and reduction in Japan, the mission of disaster educational centers that are very important in Japan, she told about damaging earthquake in 2011 in eastern Japan as well as the lessons gained after the earthquake. Nazeli Galstyan noted also the importance of practical trainings, the acquisition of expert knowledge, presented the results and conclusions of her Master's thesis. The presentation of Nazeli Galstyan aroused interest of all participants of the meeting.
At the end of the meeting the students of the Faculty of International Relations of Yerevan State University studying Japanese language had musical performance. They sang Japanese songs which were accepted warmly by all participants of the meeting.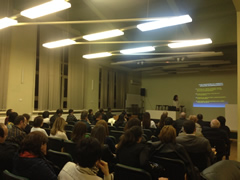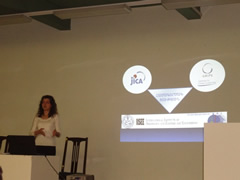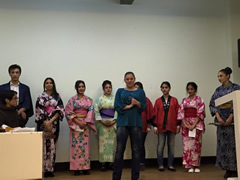 JICA AAA Follow-up projects:
JICA AAA implements also programs for vulnerable strata of population in Armenia. It finished in 2014 the implementation of the Program for Children Epilepsy Centre in "Arabkir" Joint Medical Center & Institute of Child and Adolescent Health, funded by Japanese Government and JICA. The approval of the Program for Children Epilepsy Center gave JICA AAA the opportunity to buy and to provide the Centre with necessary accessories for Electroencephalography. Thanks to JICA support JICA AAA also published the Journals for observation of epileptic seizures (for patients with epilepsy) and the User's guides for parents "Epilepsy in Children" that are very important for the enhancing of the quality of treatment.
Article in "Noyan Tapan" Weekly:
On 2015FY the organization is implementing the projects for Orthotic Centre "Ortez" in Yerevan and for Ministry of Emergency Situations of the Republic of Armenia. Thank to financial assistance of JICA the NGO is publishing the booklets for children with special needs and the information booklets for vulnerable population of Tavush (Community Getahovit) and Shirak regions (Community Arapi) of Armenia. Booklets for "Ortez" will be distributed to physicians, to disabled children, to their parents to provide information how to use orthotic devices with the aim to make easier their life and the load of their family members. The publication of booklets for population of risky regions of Armenia is very important for rise of awareness and for disaster risk reduction.