On 30th June 2021, JICA Timor-Leste, in cooperation with follow-up for ex-program participants in Japan handed over one refrigerated pick-up truck and 15 units of vaccine transport box to Servico Autonomo de Medicamentos e Equipamentos (SAMES) - the service center for medical supply and pharmaceutical equipments in Timor-Leste.
This is a proposition that some of staffs at SAMES, who participated in a program called "Regulatory Systems on Ensuring Access to Quality Medicine" - administrative programs for proper medical supply, quality management and usage for pharmaceutical affairs -can share their knowledge through programs with those who transport vaccines at Ministry of Health.
Having further workshops in the near future, it contributes for safer vaccine transportation and promotion of vaccination by improving medical cold chain, i.e. proper medical supply and quality management through good usage of such transport units.
Series of these actions follow Sustainable Development Goals (SDGs) goal 3 (Good Health and Well-Being).
These vaccine transport boxes handed over today are with advanced technology for cooling performance manufactured by Japanese Twinbird Corporation and adapted by JICA in 2020 as "Survey for reconstructing the post COVID-19 society in the Infra sector". It is also the very first proposition through JICA in request of Government of Timor-Leste.
Handover ceremony was featured in many newspapers and television news in Timor-Leste.
JICA supports the development of vaccination system with COVAX (COVID-19 Vaccine Global Access) in aiming of strengthening "JICA's Initiative for Global Health and Medicine"-infectious disease prevention, precaution and treatment. Today's proposition follows such JICA's progressive measurement. Covod-19 pandemic can deeply threaten people's lives and health in developing countries with vulnerable healthcare systems.
JICA will continue to contribute for improvement of health sector in Timor-Leste.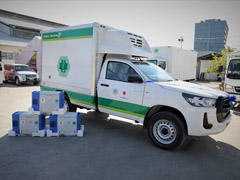 Vaccine transport truck and box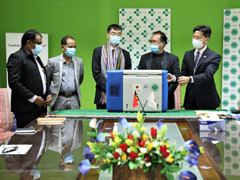 Handover ceremony