Activities in Ecuador
Project for Enhancement of the Volcano Monitoring Capacity in Ecuador
Background and Objective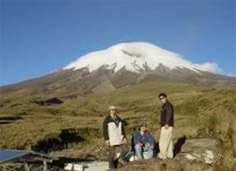 A seismograph located at the base of Mt. Cotopaxi
Located at the base of the Andes Mountains, Ecuador is home to many active volcanoes that continue erupting today. Protecting the residents who live in the regions from volcanic hazard is a national priority. The aim of this project is to mitigate volcanic disasters by enhancing Ecuador's capacity to monitor volcanoes and by achieving a more accurate tracking of the volcanic activities.
Record of Discussions signed on: March 2, 2004
Project Amount: 354.359 million yen
Executing Agency: Instituto Geofisico
Project Summary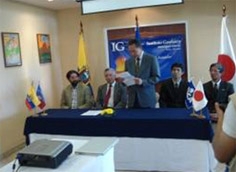 Ceremony to provide equipments (Japanese ambassador,
JICA chief representative,
experts and local agency representatives)
IG (the Geophysical Institute at the National Polytechnic University) being as the cooperating agency, in order to improve their capacity to study activities in volcanoes, seismographs has been installed to monitor low-frequency seismic waves at Cotopaxi and Tungurahua volcanoes. By analyzing the acquired quantitative data and through technical transfer, volcanic activities such as predictive signs of eruption can be accurately detected, which results in increasing their volcanoes monitoring capability.
Project Highlights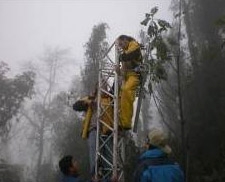 Engineers installing seismology equipment on the foggy slopes of Mt. Tungurahua
In 2006, a major eruption of Tungurahua caused significant damage to houses, roads and bridges due to pyroclastic (a form of gas and rock) and mud flows. The residents, the staff in charge of disaster prevention and IG have been regularly sharing information on volcanic activities and have been carrying out emergency drills on a regular basis. With the synergistic effect of this project, the human casualties could be minimized then.