Activities in Ecuador
Project on Conservation of the Galapagos Marine Reserve
Background and Objective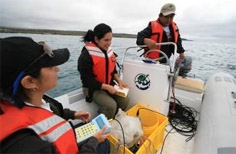 Monitoring the marine water quality
In the Galapagos Islands, efforts to ecological conservation along the coastal regions have been slow in coming. A lack of understanding and cooperation for marine protection among the residents has also held back the conservation efforts in marine protection areas. The aim of the project is to balance the nature conservation and the marine resource use as well as promoting marine environment protection and sustainable management for the Galapagos Islands.
Record of Discussions signed on: August 19, 2003
Project Amount: 576.290 million yen
Executing Agency: Galapagos National Park Service
Project Summary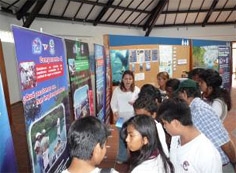 Students visiting the environmental education community center
This project will enhance the participation-style management of the Galapagos Marine Reserve by communicating information with fishermen through media such as specifically designed TV and radio programs. Environmental education is also provided at the Visitor Center, marine surveys are conducted and survey results are collected, and besides water quality is regularly monitored. Other activities will include studying the possibility of sea cucumbers as a resource, monitoring participation-style fishing, experiencing fishing, and promoting the souvenirs sales.
Project Highlights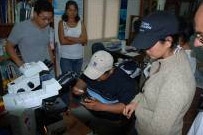 Studying about spiny lobster larvae
As part of this project, a community center has been built to provide environmental education to the residents. The local volunteers explain about the natural environment of the Galapagos Islands to students and tourists who visit the center.