Activities in Ecuador
Project on Strengthening of the Occupational Training for the Vulnerable Sector
Background and Objective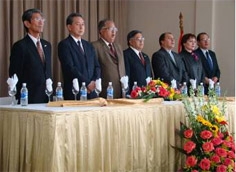 Ceremony for signing Record of Discussions
The purpose of the Project on Strengthening of the Occupational Training for the Vulnerable Sector is to develop a model of basic skills training course at the Ecuadorean Occupational Training Service (Servicio Ecuatoriano de Capacitación Profesional or SECAP) for the socially vulnerable such as the refugees, the mildly handicapped, the poor, women and the unemployed to improve the livelihoods and is to set up a system to spread this model to all SECAP training centers.
Record of Discussions signed on: October 2, 2008
Project Amount: 267.113 million yen
Executing Agency: SECAP
Project Summary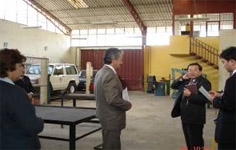 Automobile maintenance training
Under the project, JICA is designing course curricula and teaching materials for the socially vulnerable (six fields of gastronomy, industrial sewing, construction, auto mechanics, mechanics and metals, and electricity and electronics). A training system to train advisors is also in the works. Another aim of the project is to establish an employment support system so that persons who complete the training can easily find employment.
Project Highlights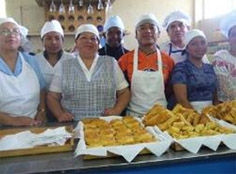 Cooking trainees
Participants in basic skills training courses are selected and provided with support for employment in cooperation with other related agencies such as the Office of the United Nations High Commissioner for Refugees and the National Council for People with Disabilities (Consejo Nacional de Discapacidades/CONADIS). Coordination is also carried out to provide social and psychological support.