Activities in Ecuador
Project of Capacity Development for Promoting the Sustainable Integral Rural Development for the Poverty Reduction in Chimborazo Province of the Republic of Ecuador
Background and Objective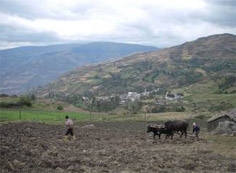 Farming area of Chimborazo
Poverty-stricken Chimborazo Province in the Ecuadorian Andes being as the test ground in the Project of Capacity Development for Promoting the Sustainable Integral Rural Development for the Poverty Reduction in Chimborazo Province of the Republic of Ecuador, a series of measures to promote rural development will be carried out. The overall object is to build up the structure for participatory-style sustainable integrated agricultural development in rural areas toward poverty reduction.
Record of Discussions signed on: November 26, 2008
Project Amount: 183.131 million yen
Executing Agencies: the Chimborazo Council, the Ministry of Agriculture and Livestock, the Ministry of the Environment, the Ministry of Education, the Ministry of Health
Project Summary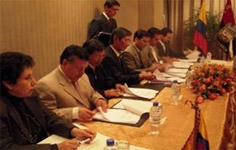 Ceremony for signing Record of Discussions
Under this project, the Chimborazo Provincial Council and related government ministries and agencies will analyze rural issues and then formulate a project plan to construct an implementation system for sustainable, integrated rural development. Additionally, they will work with the residents on a series of activities to implement, evaluate and monitor the pilot project. The project will actively utilize the country's traditional minga system to work collaboratively.
Project Highlights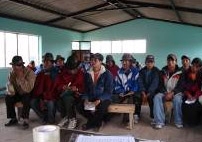 A workshop for the residents
A multisectoral form of cooperation will be applied in this project, focusing on the five areas of issues -- agriculture, environment, education, health and infrastructure. The aim is to analyze and alleviate poverty caused by various complicated factors. Development strategies and project plans will be formulated by the provincial governments and related government ministries with "sustainable" and "citizen participation" as the key concepts, in order for the residents to take the initiative in improving their own lives and livelihoods.