The 27th Yomiuri International Cooperation Awards sponsored by one of major Japanese newspaper companies Yomiuri Shimbun will be presented to a team of experts of the "Grand Egyptian Museum Joint Conservation Project" being implemented by JICA in Egypt. It was announced in the Yomiuri Shimbun on November 2nd. This is the first time that a team of experts from JICA's project receives this award.
The Yomiuri International Cooperation Award was established in 1994 as an award to recognize individuals, organizations, companies, etc. who are active in the field of international cooperation. In the past, it has been awarded to a variety of social contribution activities in various fields.
The JICA project, in which the award-winning expert team participates, aims to develop human resources of the "Grand Egyptian Museum Conservation Center," which is responsible for the conservation and restoration of artifacts in Egypt. Prior to the starting of this Project, JICA had initiated the loan assistance in 2006 for the construction of the Grand Egyptian Museum based on the request from the Egyptian Government. Along with the construction of the museum which is envisaged to be the world's largest museum to exhibit artifacts from a single civilization, the Egyptian Government newly established the "Grand Egyptian Museum Conservation Center" adjacent to the museum, which is where this Project is being run.
The project started in 2008 and activities have been developed in three phases. At the beginning of the cooperation, it started by developing a database of artifacts, and as the next step, the team has transferred restoration techniques to Egyptian experts using replicas of artifacts. In the current phase, which has been implemented since 2016, 72 items including genuine artifacts of King Tut Ankh Amen are being restored jointly by Egyptians and Japanese, and Japanese experts also support transfer of artifacts from various places to the center. The artifacts restored through this project will be exhibited at the Grand Egyptian Museum once it is open.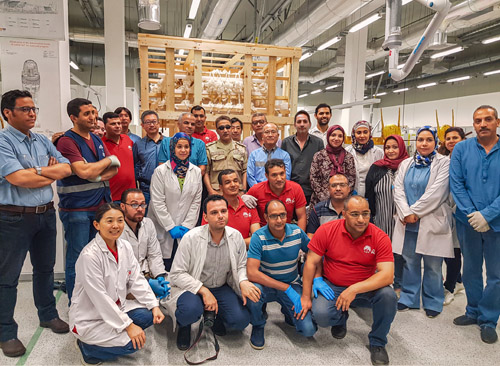 Egyptians and Japanese engaged in transfer and restoration Tutankhamen artifacts
Through the project, over 280 of Egyptian experts have jointly worked with the Japanese expert team. Some of them are now top conservators at the "Grand Egyptian Museum Conservation Center," or engaged in policy development or training younger generations in central or local government, or getting academic recognition by their presentations in international symposiums. The "Grand Egyptian Museum Conservation Center" is now growing to be a world class conservation facility.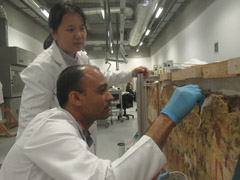 Experts jointly working on conservation of an ancient mural painting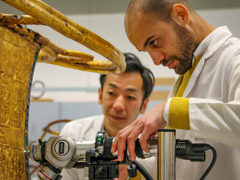 Experts jointly working on analysis of King Tut's golden chariot