On October 19, 2021, JICA Egypt Office handed over medical equipment such as Ultrasound System (manufactured by Hitachi) and Flow cytometer to Suez Canal University, Faculty of Medicine and University Hospital.
This equipment will strengthen the capacity of Suez Canal University against COVID-19 and will be a training infrastructure development for the Third Country Training Program (TCTP) titled "Maternal, Newborn and Child Health and UHC for African Countries" jointly implemented by JICA and the university.
The handover ceremony was attended by the Japanese Ambassador in Egypt, H.E. Mr. NOKE Masaki, Egyptian Agency of Partnership for Development (EAPD), Deputy Secretary General, Amb. Hesham El-Mekwad. Mr. OMURA Yoshifumi, Chief Representative of JICA Egypt office and Prof. Ahmed Zaki, President of Suez Canal University signed the Handover Certificate. In his speech during the ceremony, Prof. Ahmed Zaki repeatedly expressed his gratitude for the continuation of the TCTP over the years and his strong expectations for the future contribution to other African countries through strengthening the cooperation with JICA.
Prof. Soha Younes, current Director of the TCTP at SCU, expressed her gratitude for the strong cooperation with JICA in hosting the trainees, especially for technical support to the university provided by the Japanese experts in addition to the lectures by them.
Mr. OMURA, the Chief Representative of JICA Egypt Office, mentioned the long-outstanding cooperation relationship between JICA and the Suez Canal University, including 25 years' experience in the TCTP, which has contributed to more than 700 participants in 6 different training topics. Also he expressed his appreciation and respect to the efforts made by Suez Canal University and the Hospital in response to COVID-19.
The granted equipment is installed at the University Hospital, which is responsible for providing tertiary care to the five governorates in the Northeast of Egypt. The equipment will make it possible for the hospital to improve the diagnosis and patient management of pregnant and nursing mothers with COVID-19, which are difficult to diagnose and manage using CT and X-rays, the identification of leukemia, HIV/AIDS, and congenital immunodeficiency diseases, the evaluation of immune functions, and the understanding of the pathogenesis of COVID-19. In addition, in TCTP for Africa, "Maternal, Newborn and Child Health and UHC for African Countries," the curriculum is designed to improve the capabilities of the above-mentioned technologies, and it will be utilized for the training for the technical improvement by using the donated equipment.
JICA will continue to support measures against COVID-19 and the contribution to technical support to African countries, through cooperation with various entities making the utmost efforts in the fight against the pandemic as well as for the realization of resilient universal health coverage in Egypt.
Photos from the Handover Ceremony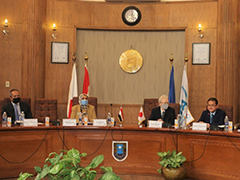 Speech by Mr. Omura, CR of JICA Egypt office (first from the right), presenting the 25years cooperation history such as Third Country Training Program, etc.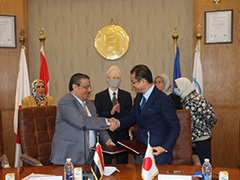 Signing on the Handover Certificate by Prof. Zaki President of the Suez Canal University and Mr. Omura Yoshifumi, CR of JICA Egypt office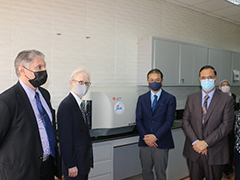 Handed over Flow cytometer from JICA at Faculty of Medicine, Suez Canal University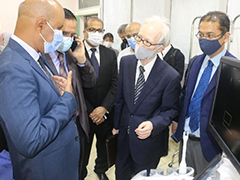 H.E. Amb. Noke, Embassy of Japan in Egypt (Second from the right) and Mr. Omura, CR of JICA Egypt, hearing the explanation about handed over Ultrasound System from JICA at Suez Canal University Hospital