On 23 March 2022, the Japan International Cooperation Agency (JICA) Egypt office handed over Fayoum University with equipment for virus testing, including for COVID-19, as well as key equipment for the renovation of the central sterilization room at the University Hospital.
The equipment will contribute to strengthening the capacity of the University and the University Hospital to deal with COVID-19, and was provided as part of the training infrastructure for the training course "Corner Solids of Infection Prevention and Control in Healthcare Facilities for African Countries," one of the Third Country Training Program (TCTP) courses, jointly organized by JICA and the University.
The ceremony was attended by Dr. Ahmed El-Ansary, Governor of Fayoum, H.E. OKA Hiroshi, Japanese Ambassador in Egypt, Amb. Mohamed Khalil, Egyptian of Agency of Partnership for Development (EAPD), Dr. Yasser Hatata, President of Fayoum University, Mr. OMURA Yoshifumi and Mr. KATO Ken, former and new Chief Representatives at JICA Egypt office. The Certificate of Handover was signed by Dr. Hatata and Mr. KATO.
In their ceremonial speeches, Governor Dr. El-Ansary and Ambassador Khalil expressed their appreciation and gratitude for the strong partnership between Egypt and Japan. President Dr. Hatata also expressed his gratitude for the continuous implementation of TCTP over the years and expressed his hope that the cooperation between Fayoum University and JICA will be further strengthened.
Mr. Omura, who has been deeply involved in this grant, learnt that a doctor and a nurse from Fayoum University who passed away in harness during the fight against the COVID-19 pandemic in Egypt, and the need for immediate and sustainable support. He also came to the conclusion that it was time to provide the support, as the university hospital was planning to renovate its central sterilization room on its own initiative.
Fayoum University Hospital is part of the core medical care for tertiary care in Fayoum Governorate with a population of 3.8 million and for the response to the COVID-19 pandemic in the south-central Egyptian provincial capital. The handed-over equipment will contribute to a significant improvement in safety management and the quality and effectiveness of services in the medical field. It will also contribute to an earlier resumption of TCTP by improving the response to the pandemic and its containment in the country. Through the training using the equipment provided, it is expected that the JICA's COVID-19 related technical cooperation will be promoted.
JICA will support the realisation of resilient Universal Health Coverage (UHC) through support for infection control including the fight against COVID-19 in Egypt, as well as through technical cooperation in the African region.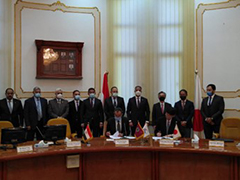 The handover ceremony of medical equipment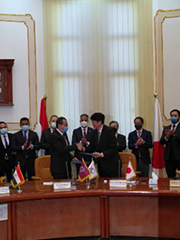 President Dr. Hatata and Mr. Kato, Chief Representatives at JICA Egypt office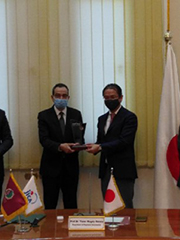 President Dr. Hatata and Mr. Omura, former Chief Representatives at JICA Egypt office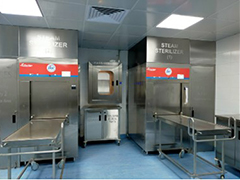 Two double-door washing sterilisers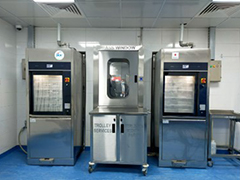 Two double-door washing sterilizers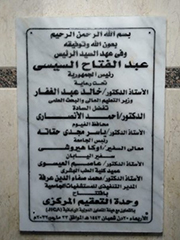 Memorial plate of the completion of the central sterilization room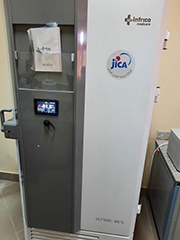 Ultra-low temperature freezer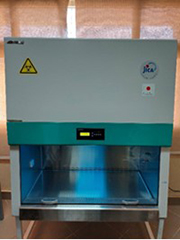 Bio safety cabinet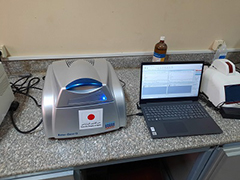 Real time PCR system