Overview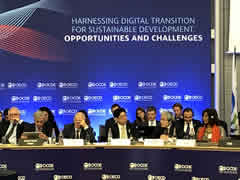 Name of Meeting: High Level Dialogue with Africa "Road to TICAD7 in Yokohama and Africa Development Dynamics Report 2019"
Date: May 21, 2019
Sponsors: JICA France Office
Location: OECD headquarters (Paris, France)
Moderators and panelists
- Mr. Ángel Gurría, OECD Secretary-General,
- Mr. Mario Pezzini, Director of the OECD Development Centre,
- Mr. Daniel Kablan Duncan, Vice-President of Côte d'Ivoire
- Ms. Judi Wakhungu, Ambassador of Kenya to France,
- Ms. Soraya Hakuziyaremye, Minister of Trade and Industry of Rwanda,
- Ms. Victoire Tomegah-Dogbé, Minister of Grassroots Development, Handicrafts, Youth and Youth Employment of Togo,
- Ms. Ahunna Eziakonwa, Assistant Administrator and Regional Director for Africa, UNDP,
- Mr. Felix Fernandez-Shaw, Director in DG International Cooperation and Development (DEVCO), European Commission,
- Mr. Bruno Mettling, President for Middle-East and Africa, Orange,
- Mr. Masahiko Kiya, Ambassador for TICAD, Deputy-Assistant Minister for Foreign Affairs
- Mr. Hiroshi Kato, Senior Vice President, JICA
Primary objectives and outcomes
Japanese Ministry of Foreign Affairs and the OECD Development Centre co-hosted a High-Level Dialogue with Africa. The event was intended to inform the policy debate among African policy makers and the member countries of OECD and OECD Development Centre, in the lead up to the 7th Tokyo International Conference on African Development (TICAD) to be held on August 28-30, 2019 in Yokohama.

With the African Continental Free Trade Area (AfCFTA) coming into effect, infrastructure developement and connectivity, innovation and productivity are key to realize the full potential of regional integration.

The event discussed the roles of government and private sector in enhancing connectivity through infrastructure development in order to enable economic transformation in Africa, one of the key themes of the African Union's "Agenda 2063"
Contents of the discussions
African ministers, leaders of development organization and private sector joined the event to exchange ideas on how to make infrastructure development inclusive, such as comprehensive approach with provision of social service components, and support by public sector to promote private investments to areas with employment needs or projects with socioeconomic benefits.

Hiroshi Kato, Senior Vice-President of JICA, joined as panelist and highlighted the importance of long-term planning for African countries to achieve sustainable development, referring to JICA's assitance for developing regional and sectoral master plans.

He also stressed that a balanced investment between urban and rural infrastructure is essential to meet the needs of the African population. Lastly, he expressed expectations toward the TICAD 7 as an opportunity to further enhance public and private collaboration for Africa's development through sharing technology, knowledge and stimulating exchange among different actors.