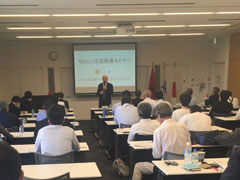 Mr. Rachad Bouhlal, Ambassador of the Kingdom of Morocco to Japan(Photo by UNIDO)
The Investment Seminar on the Kingdom of Morocco was held by the Embassy of the Kingdom of Morocco in Japan and Japan International Cooperation Agency on June 25 (Ministry of Foreign Affairs, Japan External Trade Organization (JETRO), UNIDO, Organization for Small & Medium Enterprises and Regional Innovation, Nagoya Chamber of Commerce & Industry, and Chubu Economic Federation also supported the event). This seminar aimed to attract the attention from Japanese small and middle size enterprises (SMEs), particularly in Nagoya where the motor industry prospers and to promote investment in Morocco. 49 participants from public and private organizations and companies attended the seminar and listened intently to speeches and presentations.


The first session opened with a remark from JICA, explaining the background of this seminar (closeness between Chubu area and Morocco where automotive industry is one of the major industries, friendly relationship between Gifu Prefecture and Morocco). Four Moroccan graduate students to Nagoya-area universities supported by ABE Initiative (African Business Education Initiative for Youth) were introduced to the audience.Then, Mr. Bouhlal, Ambassador of the Kingdom of Morocco to Japan gave the first presentation. Mr. Kurokawa, former Ambassador of Japan to Morocco and Mr. Yasunaga, Head of UNIDO ITPO Tokyo also explained investment opportunities in Morocco. During the Q&A session and coffee break, the seminar participants asked questions to Mr. Bouhlal and other speakers and showed their high interests towards Morocco.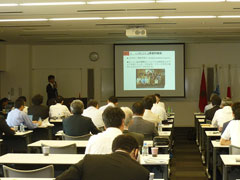 Mr. Asahiko Karashima, Chief Representative of JICA Morocco Office
The second session kicked off with JICA Chubu staff's presentation of JICA's support program for private companies, especially SMEs. Mr. Karashima, the Chief Representative of JICA Morocco Office, presented JICA's operations in Morocco, focusing on Public-Private Partnership projects. Two Japanese companies (MARS Company in Takasaki, Gunma Prefecture, and Eco Stage Engineering in Fukuoka, Fukuoka Prefecture) were introduced as case studies. These companies have applied to JICA's Support Program and are now implementing studies in Morocco. At the end of the session, the ABE initiative students briefly spoke about their professional career plans and expectations for Japanese companies. Mr. Uchijima, the Director of JICA Chubu, concluded the seminar.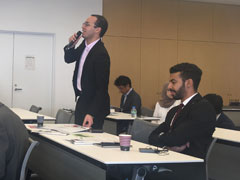 ABE Initiative students(Photo by UNIDO)
After the seminar, many participants commented as "I was able to gain basic information and understanding on investment environment in Morocco" and "I will positively consider new business in Morocco". Some participants even actively collected information and asked additional questions to case study companies. This demonstrated high satisfaction and interests of participants in investment and business in Morocco.

JICA will continue to contribute to the sustainable development of Morocco. We will organize events and seminars and disseminate information on investment climate and public-private partnership support programs in Morocco and developing countries around the world. We will also commit ourselves to provide solutions to problems and issues in developing countries, together with private sector.