African administrators inspect the Koshe dump site in Ethiopia
Two years ago, more than 200 people perished after a 50 meter high mountain of refuse collapsed at the Koshe dump site, Ethiopia's largest garbage landfill located in the capital city of Addis Ababa. Currently the site is commencing with an improvement program that utilizes Japan's environmentally-conscious landfill technology. During a site inspection, African administrators in charge of waste policy listened intently to explanations and asked questions about Japan's initiatives so they could apply them in their own countries.

The study tour in Ethiopia that took place in December 2018 was conducted as part of the African Clean Cities Platform, an initiative established in 2017 by JICA and the Ministry of Environment of Japan, the City of Yokohama,the United Nations Environment Program (UNEP) and the United Nations Human Settlements Programme (UN-Habitat) to bring international institutions and African governments together to work toward solving waste problems in Africa.
In recent years, waste management has become a major issue as the waste collection service and its appropriate disposal is not able to keep pace with rapid population growth in African cities. Conscious of the need for a framework that facilitates the sharing of insights and experiences as a means to address waste management problems, 64 member cities in 35 African member countries (as of March 2019) are using the platform to share knowledge on waste treatement and strengthen cooperation to make African cities clean and healthy.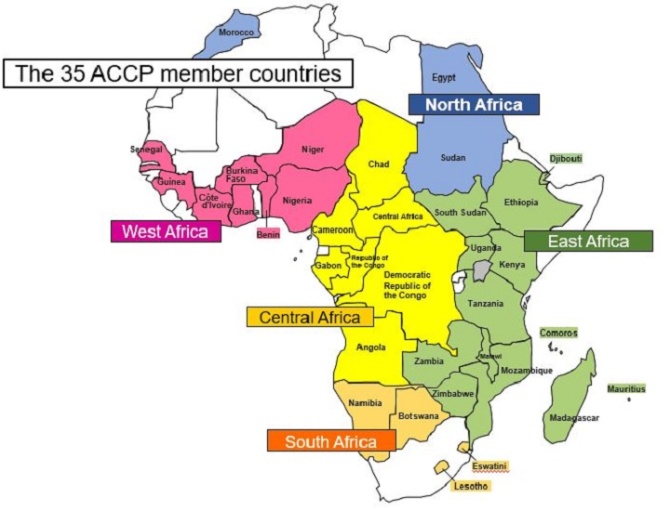 35 member countries participating in the African Clean Cities Platform
Practical training held in Ethiopia for Japan's "Fukuoka method" landfill technology
Dr. Yasushi Matsufuji, President of the NPO Solid Waste Management Adviser's Network - Fukuoka (and Professor Emeritus at Fukuoka University), who was behind the development of Japan's "Fukuoka method" for landfills, gave an orientation to participants at the Koshe dump site.

Known for its "semi-aerobic landfill structure," the Fukuoka method is a landfill technology that was jointly developed by Fukuoka City and Fukuoka University in the 1970s. The method facilitates the inflow of outside air via leachate collection pipes installed at the bottom of the landfill. Decomposition of waste materials is accelerated by the activation of microorganisms in the waste bed, which inhibits the emission of harmful substances like methane gas and stabilizes the landfill to prevent collapse. Since the method can be constructed and maintained at a low cost, it can be implemented in developing countries and is perceived to have the potential for wide adoption.

Dr. Matsufuji said, "I got questions on things like the species of microorganisms (at the dump site), gas volumes and how results may differ depending on gas pipe construction methods. They asked these kinds of practical questions because they are the ones directly facing waste issues every day. There are no textbook answers for the common waste management problems they all face at dump sites. It was extremely meaningful to see the Koshe dump site where implementation of the Fukuoka method is making progress and see how participants are sharing information with each other." As one who has partnered with JICA for a long time in technical assistance for waste management, Dr. Matsufuji stressed, "What's most important in technology transfer is fostering personnel. To do that, one must follow the three steps of demonstrating, doing things together and convincing."
Study tour participants and Dr. Matsufuji (center) visit the Koshe dump site to inspect improvement operations based on the Fukuoka method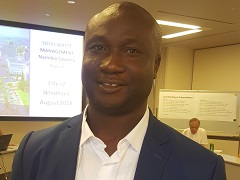 Noi Adzeman Solomon Nuetey, Director of the Waste Management Department at Accra Metropolitan Assembly in Ghana
Noi Adzeman Solomon Nuetey, a participant in the Ethiopia study tour from Accra Metropolitan Assembly in Ghana and Director of the Waste Management Department, said, "It was an extremely valuable experience for me to learn about Fukuoka method construction and management directly from Professor Matsufuji himself." He anticipates that the things learned on the tour, including the viewing of a public-private operated plastic bottle recycling plant, will be of use in solving the waste management issues facing cities in Africa.

Studying sustainable waste management systems in Yokohama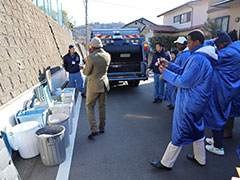 African administrators observe garbage collection points
The experiences of Japanese municipalities, which during the high-growth era had to contend with increased waste and pollution measures and implement initiatives in cooperation with residents, are being used to help solve Africa's waste problems.

The City of Yokohama, which is one of the sponsoring insitutions of the African Clean Cities Platform, hosted 13 administrators from 11 countries in Africa for approximately one month from February to March of this year. Participants learned about the waste management know-how of local governments by touring waste incineration plants and final disposal sites, and by observing how residents dispose garbage and attending environmental education classes for children, among other activities.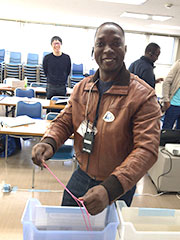 Enoumodji Kodjo Nabola Bounou, Head of the Environmental Division at Lomé City Hall in the Togolese Republic, sorts garbage at a training session in Yokohama
One of the participants, Enoumodji Kodjo Nabola Bounou, Head of the Environmental Division at Lomé City Hall in the Togolese Republic, said, "Through the training program I became aware that waste separation and recycling systems in Togo are insufficient." He set a target to increase the current waste recycling rate of 2% to 20% by 2023 and commenced work on improving systems and compiling a waste management database.

Rie Kimura, a Director for Policy Coordination Division, Resources and Waste Recycling Bureau, City of Yokohama, which supported the training program, praised her administrative peers and said, "Our hope is that participants could use Yokohama's various initiatives as a reference point to think about waste management methods that suit the conditions of their own countries." She also noted that by participating in this program to support Africa, administrators in Yokohama could again recognize that the waste management mechanisms they take for granted in their city are the result of many years of experience, and that this realization boosted worker motivation.
Looking toward TICAD 7
In conjunction with the the 7th Tokyo International Conference on African Development (TICAD 7) to be held in August this year in Yokohama, a general assembly for the African Clean Cities Platform is also planned. A guidebook being created with the cooperation of Japan Overseas Cooperation Volunteers active in African countries to raise resident awareness and promote environmental education, as well as and other items, are expected to be announced for the event.
Reflecting on the Platform's activities so far, Sei Kondo, Director, Environmental Management Team II, Environmental Management Group, Global Environment Department, said, "At establishment we started with 24 member countries and under a year we have welcomed more than 10 new member countries. With this progress I can feel that interest in waste management among African countries is increasing and expecations toward the Platform are high." With a view to the future, he added enthusiastically, "The Platform is unique because it stresses lateral ties and mutual learning between African countries practicing waste management. I would like for the Platform to promote a two-way 'knowledge cycle' where member countries and cities create opportunities to collaborate across borders and organizations so they can realize clean cities in Africa and eventually attain SDGs."