Africa is growing in importance as the last huge economic market. Recognition is spreading that it is difficult to support development with assistance alone, and JICA is working to strengthen partnerships with companies to put the technology and expertise of private enterprise to work in solving the problems of developing countries. JICA's partnership with LIXIL Group Corporation, which is propagating toilets and improving hygiene in Africa, is one such example.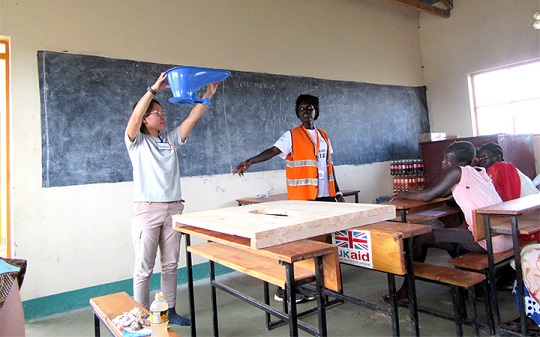 Yu Yamakami, left, gives an explanation at the refugee settlement in Kalobeyei, Kenya (Photo:Peace Winds Japan)
For this fourth installment of the series "TOWARD TICAD 7: 'Africa & Me'," we asked Yu Yamakami of LIXIL's Social Sanitation Initiatives, a self-described "toilet geek" who has loved toilets since childhood, about the company's toilet enterprise in Africa and the effects of its partnership with JICA.
A love for toilets led to involvement in an enterprise in Africa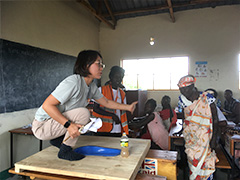 Yu Yamakami explains how to use and clean the toilet(Photo:Peace Winds Japan)
According to UNICEF, approximately 2.3 billion people in the world are unable to use toilets. About 900 million practice open defecation. Every day more than 800 children die from diarrhea, and girls sometimes drop out of school after they begin menstruating because there are no toilets at their schools.

In developing countries, there are many regions where water is precious, which is one reason why toilets have not become widespread. That's why in 2013, in partnership with JICA, LIXIL began verification testing in Kenya of an ecological sanitation system that uses sawdust instead of water. Using sawdust has the advantage that it causes the waste matter to decompose, creating compost.

Since 2015, Ms. Yamakami has been living in Kenya more than six months each year and involving herself in this toilet enterprise. When she was a child she had to go to the bathroom frequently and she never felt secure unless she'd checked where the nearest toilet was. During puberty, when something sad or exasperating happened, she would go to the bathroom as a place of refuge where she could reset her mood. The subject of her research in university and graduate school also was toilets.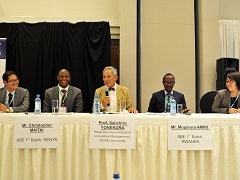 Yu Yamakami, right, speaks at the ABE Initiative East Africa Business Networking Fair 2018
Ms. Yamakami was proud of the high quality of Japanese toilets, but when she looked into the situation of toilets throughout the world in preparation for a public seminar, she was shocked to learn that more than 2 billion people in the world were unable to use toilets.

"This problem cannot be solved using flush toilets. What can I do about it?" she thought.

She thought about leaving the company to join an NGO, but she knew LIXIL was doing R&D on waterless toilets, so she applied for a transfer to the department in charge of it.

TICAD V inspires her to seriously consider commercialization in Africa
At first the company was doing verification testing of its waterless toilets in Vietnam, but as it aimed for commercialization, Africa emerged as a stronger candidate. The 5th Tokyo International Conference on African Development (TICAD V), which was held in Yokohama in 2013, was one of the factors that led to this.

"The place with the greatest need for waterless toilets must be Africa, which has an absolute shortage of water. Considering that it also has remarkable economic growth, I thought the probability was probably high that the enterprise would succeed," Ms. Yamakami said. She exhibited LIXIL's products and made her case to those who came to see them.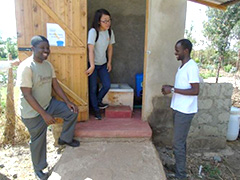 Yu Yamakami, center, checks her company's ecological sanitation system with Kenyans who experienced an internship at the company's local subsidiary
Around that time, JICA invited companies to submit projects for its first Collaboration Program with the Private Sector for Disseminating Japanese Technologies. LIXIL's proposal was chosen and the partnership began.

"We sell new products to new targets in the new market of Africa. Partly because we recognized internally that it was an enterprise in which everything was new, it was important to be able to see that JICA had our back," Ms. Yamakami said.

Going beyond assistance to create a business
Verification testing in partnership with JICA ended in 2015. LIXIL's toilet project in Africa then gathered speed as a business.

In 2016, it participated in a United Nations bidding process. This led to LIXIL introducing waterless toilets to a refugee camp in which 60,000 people were living. The company then transferred this technology to a company in Kenya with the aim of further disseminating the toilets.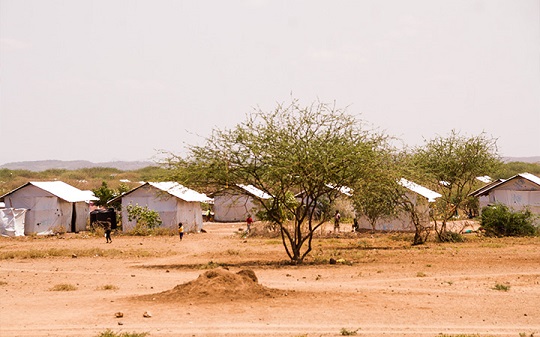 LIXIL took an order to deliver waterless toilets to the refugee settlement in Kalobeyei, Kenya, from United Nations Human Settlements Programme. The settlement has an estimated population of 60,000 people. The layout of the residential section that was furnished with toilets was proposed through a partnership with Shigeru Ban Architects.(Photo: LIXIL)
It then set a new objective of providing better sanitation to 100 million people by 2020. To accelerate the expansion of the business, the company chose the light, safe and hygienic water-saving toilet "SATO". It entered into a licensing contract with a local company and sold the toilets for about a few dollars. It began receiving a flood of inquiries from companies that also wanted to produce or sell SATO toilets. SATO has been rolled out in fifteen African countries including Kenya, Tanzania and Uganda. Acting as an intermediary between the country manager in each country and LIXIL's headquarters in Japan, Ms. Yamakami took care that differences in commercial practices and culture didn't create misunderstandings and aimed to correctly communicate to Africa what the company expected.

There is still another step to be taken before the toilet enterprise becomes profitable. However, SATO and Ms. Yamakami have been featured in the media and LIXIL's brand image has improved. In some cases, people who had seen news about the company approached employees in the showroom and told them they were doing a good thing.

Things began to change in the field, as well.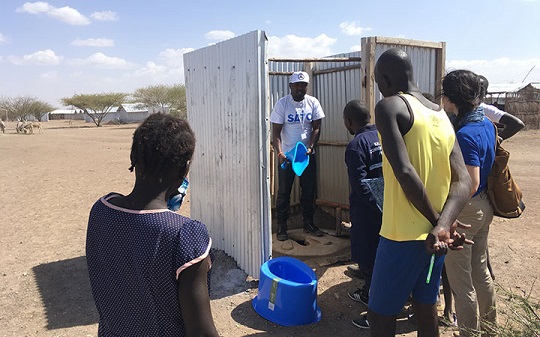 A LIXIL staff member explains the functionality of the SATO simple toilet system at a refugee settlement. The simple and affordable plastic, water-conserving toilet SATO is being rolled out commercially in 15 countries in Africa and more than 25 countries around the world with the goal of providing better sanitation to 100 million people by 2020. The price is a few dollars per toilet. (Photo:LIXIL)
"SATO has inspired villagers to make their own upgrades. They are changing their mud floors into mortar, tiling their floors and painting their walls different colors. Some are even planting flowers along the paths to their toilets," Ms. Yamakami said. The spread of toilets is expected to also lead to a reduction in cases of infectious diseases.

A business has started up through the partnership between the company and JICA and it is helping to solve problems. "Partnerships with private businesses" is expected to be a key phrase at TICAD 7.

Yu Yamakami
An employee of LIXIL Group Corporation. She researched toilets in her student days, then joined INAX (now LIXIL) in 2003. After working in the Factory Production Management Department for 10 years, she applied for a transfer to the LIXIL General Laboratory because she wanted to contribute to solving the world's toilet problem. She was born in Tokyo.