Strengthening partnerships with private companies is one of the major themes of next August's Seventh Tokyo International Conference on African Development (TICAD 7). JICA called on private companies to submit business proposals aimed at solving challenges in Africa, and during January-February this year visited seven African countries on four study tours to confirm local challenges in Africa, with an eye toward partnerships with local companies.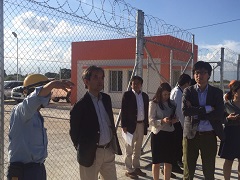 Mr. Yamamoto (right) exchanging views during a visit to the Namialo substation construction site in Mozambique (a grant aid project).
Koichiro Yamamoto of JICA's Infrastructure and Peacebuilding Department visited Nigeria and Mozambique with seven Japanese private companies on one such study tour, the theme of which was urban transportation and promotion of distribution in the economic corridor. Part 5 of the TOWARD TICAD 7: 'Africa and Me' series introduces the efforts of a new JICA employee who is utilizing his experience as a former salesperson at a leading machinery manufacturer to bring African and Japanese private companies together.
A Facilitator of Partnership Between Private Companies and Local Organizations
Nigeria's population is concentrated in and around Lagos, which is the country's largest city. There has also been a sudden increase of the population in Abuja, the capital city. Infrastructure development has not caught up with the big surges, and the cities are facing challenges such as traffic congestion, traffic accidents and air pollution.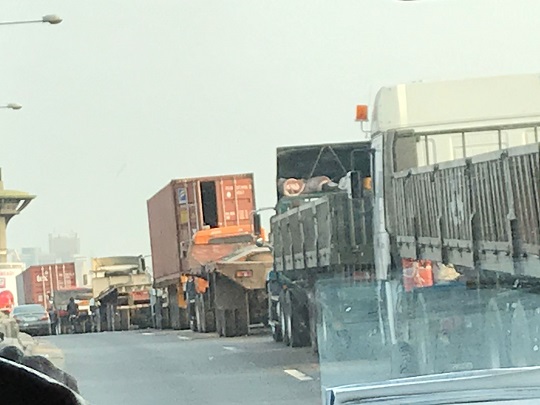 Lines of trucks stuck in Lagos traffic jams
The seven private enterprises that participated in this study tour were Otowa Electric, Frank Japan, Chugai Yukagaku Kogyo, Tsuji Plastics, Tanaka Scale Works, NEC and Hitachi Zosen. They are Japanese companies that passed selection based on criteria, such as the possibility of their contribution to the achievement of SDGs. For the roughly one-week tour there, staff member Yamamoto worked with the local JICA office to set up meetings with local ministries concerned and about 10 private enterprises and other participating companies, including those in distribution and construction fields. He and the representatives of the seven private enterprises met and exchanged opinions with related ministries and private enterprises after touring Lagos and Abuja.
Staff member Yamamoto said, "My role is to serve as a facilitator who brings together Japanese private companies – that become JICA partners – with developing countries. While there, we put our heads together and thought about what the local challenges were and what we could do for Africa."

In Mozambique, the study tour group visited the Nacala Corridor, which is a development base. It is located in the northern region of Mozambique and extends from Nacala Port to inland neighboring countries, such as Malawi and Zambia. They also visited related ministries and distribution-related companies to hear what the issues were in promoting distribution in the area.


Using Japanese Technology to Solve Challenges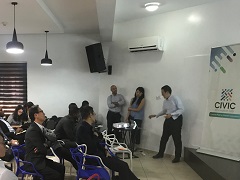 President Tanaka (far right) of Tanaka Scale Works giving a presentation on his company's products at a startup incubator in Nigeria
During the study tour, participating companies proposed various businesses that could lead to solving local challenges.

At the challenge information dissemination seminar held after the study tour's return to Japan, Tanaka Scale Works (Niigata Prefecture) reported on the traffic accidents and road deterioration in Nigeria caused by overloaded trucks. They introduced their stationary truck scales system that measures a truck's load as it passes over the scale.

They said that the government agency in charge of roads and public works in Nigeria had high hopes for this system because overloaded vehicles were a major social issue in Nigeria, and the truck scale system is one that they felt is very much needed to clamp down on violators.

Yasuyuki Tanaka, President of Tanaka Scale Works, said, "We learned very much by participating in the study tour. There were trucks around the port overloaded with construction materials and the chronic congestion of trucks standing by and lining up on bridges—we saw the need for load weight management." He expressed his eagerness to carry out further studies to roll out his business there in earnest.

The other participating companies also looked for clues to business development that utilized their various in-house technologies to solve local challenges. It included the shortening of road works time by using quick-drying pothole fillers, and the adoption of a distribution tracking system using electronic tags.

Ties Between People and a Sense of Mission Result in Long-lasting Relationships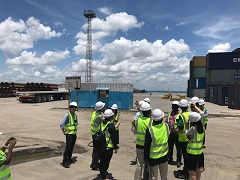 Study tour members visiting the Port of Nacala in Mozambique
Since the Fifth Tokyo International Conference on African Development (TICAD V) in 2013, JICA positioned the East African Northern Corridor, Nacala Corridor and West Africa as three important locations and has been assisting region-wide comprehensive development. Master plans have been formulated, with a focus on arterial roads leading inland from the coast as well as ports and harbors. Infrastructure and industry development are also being promoted.
Staff member Yamamoto said, "Industry development that utilizes regional potentials and the improvement of the transportation infrastructure linking the coast and inland areas are both essential to promote distribution and develop the overall economic corridor while preventing the widening of disparity."

He also reflected on the recent study tour and said that it renewed his feelings on private-sector partnerships. "The pure desire to be of use to local people in need through products and services, and to contribute to development—this sense of mission is the same for us and private companies. I was inspired by the passion held toward Africa by the participants of the study tour. I felt anew how important it is for us to utilize our respective strengths and aim to solve the challenges faced by Africa."

The challenge by staff member Yamamoto to bring Africa and Japanese private companies together has just begun.

Koichiro Yamamoto
Staff member, Infrastructure and Peacebuilding Department. Joined JICA in January 2018 after working in sales at a leading machinery manufacturer. Currently in charge of infrastructure development and city planning projects in Africa and Asia. Originally from Aichi Prefecture.