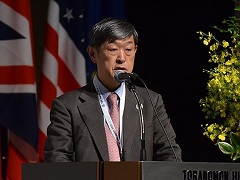 JICA President Shinichi Kitaoka gave a keynote speech at T20 Summit 2019
JICA President Shinichi Kitaoka gave a keynote speech on May 27 at Think 20 (T20) Summit 2019, Toranomon Hills Forum in Tokyo. T20, the research and policy advice network for G20, aims to bring together the world's leading think tanks and top policy experts to detail innovative T20 Japan policy solutions for consideration during the G20 to be held in Osaka on June 28-29.

Dr. Kitaoka delivered his speech in the Panel Discussion Session: Achieving and Sustaining Universal Health Coverage (UHC): Role of G20 and International Community. First, he highlighted the relevance and necessity of revisiting human security concept and revitalizing it to fit today's world after 25 years of its introduction by UNDP. Then, he also addressed that JICA believes our work on UHC as an integral part of human security, and that human security has underlined JICA's development cooperation because the idea itself is deeply rooted in Japanese own history of development. Finally, he touched upon the importance of empowering people and our local partners, and building resilient societies to establish self-sustaining communities.

JICA will continue contributing to achieving UHC, as the foundation for realizing human security globally, by encouraging innovation and enhancing partnerships with think tanks, universities, the private sector, civil societies, multilateral institutions, and other development partners.