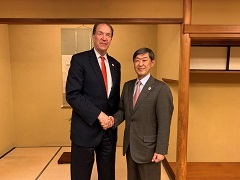 From left, World Bank Group President Malpass and JICA President Kitaoka
JICA President Shinichi Kitaoka held talks with President David R. Malpass of the World Bank Group in Fukuoka City on June 9.

Congratulating Mr. Malpass on his appointment as president of the World Bank Group, Dr. Kitaoka touched on the close relationship between the World Bank Group and JICA while expressing his desire for an even stronger bond between the two organizations and with the new president. Both leaders exchanged views on the current international situation in a historical context, while stressing the geo-political importance of the Indo-Pacific region. They also shared the direction of initiatives for development challenges, such as quality infrastructure investment, human resource development, universal health coverage (UHC), climate change, agriculture and nutrition in Africa, and supporting women's entrepreneurship.

JICA continues to contribute to the betterment of developing countries in cooperation with the World Bank Group.