Yuki Nihei, Coach and Director, Chukyo University's Women's Softball Club.
On May 11, in the Africa qualifier of the Tokyo Olympics for women's softball held in South Africa, Botswana won first place, and was able to advance to the European and African qualifiers which will be held in the Netherlands at the end of July. We still cannot take our eyes off the fight for the 2020 Tokyo Olympics competition. In order to support the outstanding women's national team of Botswana, Chukyo University's Women's Softball Club travelled to Botswana as members of the Japan Overseas Cooperation Volunteers (JOCV) twice in February 2018 and in February this year, and played matches with the national team and offered technical support there.
In June 2017, JICA signed a three-year memorandum of cooperation with Chukyo University to support sports in developing countries. In the sixth part of the series "TOWARD TICAD 7: 'Africa & Me'", Yuki Nihei, Coach and Director of Chukyo University's Women's Softball Club (Headquarters: Showa Ward, Nagoya City), was asked about the JOCV activities in Botswana, which was the first university collaboration in the field of sports in Africa.
The presence of one JOCV member gave a big boost
Although the Botswana women's national team boasts the top class in ability in Africa, there are many areas that are insufficient to compete at a global level, so they were looking for a top-notch opponent to practice with and have matches against. At that occasion, the Women's Softball Club of Chukyo University concluded a memorandum of cooperation with JICA to provide technical guidance in Botswana. Mr. Nihei was not completely comfortable when he traveled for activities in Botswana with many female players, but was soon put to ease with the presence of one JOCV member who helped to resolve his unease and supported his sense of activity in the developing country.

This was Aiko Nakamura, who had experience playing softball at university and in corporate teams, and was appointed to work in Botswana as a JOCV softball member in January 2017. It seems it was largely to the fact that he was able to contact her in advance of his arrival to ask about safety, national character and the reality of Botswana. "It was when the university started to turn its eyes to the world, and also I thought that chances like this don't come very often," commented Mr. Nihei.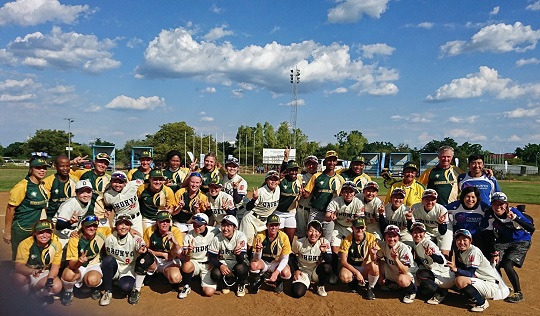 Chukyo University Women's Softball Club was in Botswana twice, in February 2018 and February 2019, participating in the JOCV university partnership program.
A very friendly national character, but their concept of time is….
When speaking of Africa, one might have concerns for security, however in Botswana, being independent for 52 years, it is a very safe country without war or civil conflicts, and the people there are just so friendly.

"They'll come and talk to you at a supermarket. When I say I'm Japanese, they ask 'what brought you here?' 'Softball' I say, and they respond, 'I also play softball.' I tell them 'There is a game coming up,' they reply 'I'll come,' and they really would show up!" said Mr. Nihei.

It is said that in the early 70s, the US military introduced softball to Botswana, and it currently has around 40,000 players across the country. However, they are an easy-going nationality, and their fighting spirit is low. If the match is scheduled to start at nine o'clock, that will be the time when the players show up. Even if notified in advance, they still would not come on time. "This can't be helped much," according to Ms. Nakamura. Even for this expedition, sometimes members of the national team would not arrive on time for the scheduled start of the game.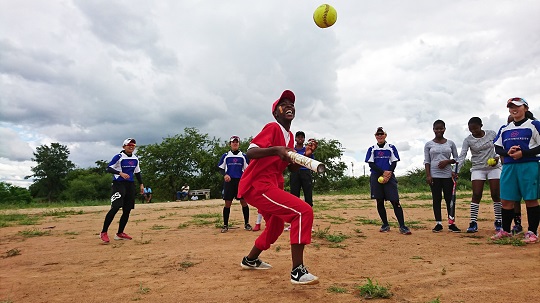 Botswana's national character is to always "enjoy."
The importance of field maintenance gradually prevails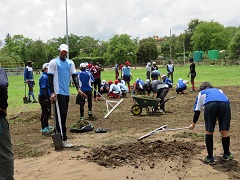 Maintaining the playing field; if the ground is bad, the defensive ability will not improve.
Another thing that surprised the coaches and players was the condition of the softball fields. In the first expedition in 2018, a level board was introduced for the first time just one month before the visit to smooth out the playing field. Previously, there was no custom of maintaining the grounds and no maintenance tools existed. JOCV member Nakamura had a local carpenter make a level board for them.
In some fields, there were tree roots and weeds everywhere. It took four to five hours just to create the infield. So, overall, the defensive skill was very low, and it was just hitting and throwing.

"There are good pitchers, but their only strength is throwing the ball straight. The same for the batters, they are all pull hitters. However, on the second day of the friendly match they were quite well adapted. In addition, I was very happy to see the playing field was being maintained in the second visit in 2019," commented Mr. Nihei.

Ms. Nakamura reported in the 'JICA Volunteer's World Diary' that in addition to finishing first place in their Africa qualifier group, the remarkable thing was that there was no trash left on the bench after the match. We could see a change in their consciousness.

Nothing can be accomplished if you focus on risk. Just go for it!
Players Miyu Morimoto and Yuka Sato participated in the initiative for the first time. Initially, they were both uncomfortable about the activity in Africa. However, they said that they had valuable experiences there and gained a new state of mind.

"This was my first time going overseas, but it was great to experience something I had never experienced before. There were a lot of players who gave up during the games, so if I can participate again next year, I want to teach them the joy of winning the game if you don't give up," remarked Ms. Morimoto.

Ms. Sato added, "I wanted to play with the foreign players, that's why I decided to go to Botswana. Now I have a stronger feeling that I want to continue to support and participate in sports development overseas."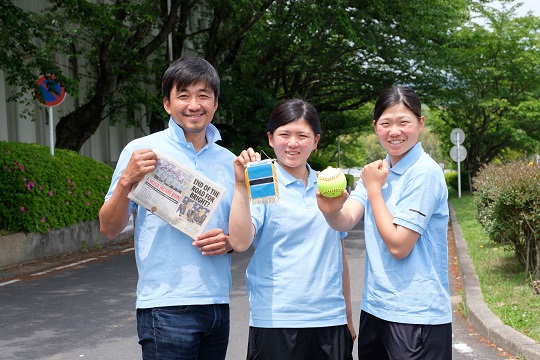 Souvenirs from Botswana. Mr. Nihei (left) with Ms. Morimoto (center) and Ms. Sato (right).
When they introduced the JOCV activities in Botswana at the university, there were many students who showed interest. Africa seems so far away, but when you know of someone who has visited the area, the distance becomes very close. Mr. Nihei commented, "I want to aggressively announce and widely disseminate these activities at conferences with other universities. You cannot get anywhere if you think too much about the risks. If you want to see the world you have to go out; 'a big fish in a small pond' will do you no good." These are the lessons he learned from the JOCV activities in Botswana.
Yuki Nihei
Instructor, Department of Sport Science, School of Health and Sport Sciences, Chukyo University. He played as a pitcher in high school and university baseball clubs. In 2007, he joined to coach the Chukyo University Men's Softball Club, and in 2008, the Women's Softball Club, and he led the team to their first championship at the 13th intercollegiate women's tournament. He is originally from Fukushima Prefecture.