From July 13 to July 22, JICA President Shinichi Kitaoka visited Democratic Republic of the Congo and the Republic of Rwanda, where he met government officials of the two countries and conducted site visits of ODA projects and other initiatives.
1. Democratic Republic of the Congo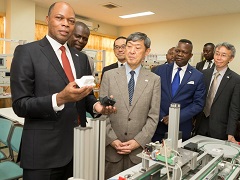 Visit to the National Institute of Professional Preparation
Dr. Kitaoka held a meeting with President Felix Tshisekedi in Kinshasa, the capital. Dr. Kitaoka expressed his intention to further strengthen the 40 years' cooperation between Democratic Republic of the Congo and Japan and to support the prioritized policies set up by President Tshisekedi, such as improving the national security and the cooperative relationship with surrounding countries. President Tshisekedi expressed his gratitude for years of JICA's cooperation as well as his expectation for JICA's continuous cooperation for establishment of peace and economic and social development, which is crucial for rebuilding the nation after a series of civil wars.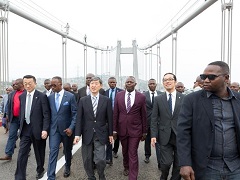 Visit to Matadi Bridge, the only suspension bridge in the country, constructed in 1983 with Japanese ODA Loan
Dr. Kitaoka also visited the National Institute of Professional Preparation as well as the National Institute for Research and Biomedical in Kinshasa to see the implementation of job trainings and countermeasures against infectious diseases such as Ebola hemorrhagic fever respectively, all being conducted with the JICA's cooperation. He also made a visit to the Matadi Bridge located approximately 350 kilometers southwest of Kinshasa. This bridge is the only bridge spanning the Congo River, constructed 36 years ago by ODA loan of Japan. About twenty Japanese engineers were dispatched to Democratic Republic of the Congo during construction. Dr. Kitaoka noted that the Congolese engineers who worked with the Japanese engineers during construction have carefully maintained the bridge, showing that it serves as a symbol of cooperation between the two countries and as a bridge of friendship.
2. The Republic of Rwanda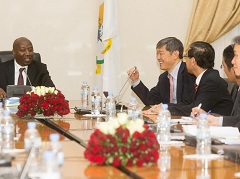 Talking with Prime Minister Édouard Ngirente
Dr. Kitaoka also visited Kigali, the capital of Rwanda, where he met Prime Minister Édouard Ngirente. The Prime Minister expressed his gratitude for the cooperation of JICA and his expectation for TICAD7, which will be held in Japan this August. He further confirmed that two countries would deepen the relationship. Kitaoka then offered flowers at the Kigali Genocide Memorial, as 25 years have now passed since the incident in 1994.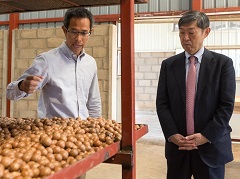 Visiting a leading Japanese company in Rwanda (Rwanda Nut Company Ltd.)
Rwanda is called the "Miracle of Africa" for the reconstruction and marvelous development being made after the genocide. Rwanda is promoting initiatives to utilize ICT and innovation for her development. Dr. Kitaoka also observed initiatives at open technology hubs such as k-Lab*1, where JICA has contributed to its' establishment and operation.

Dr. Kitaoka then visited the Rwanda-Tanzania border Rusumo, observed that JICA's cooperation has contributed to smoother logistics. By building Rusumo Bridge at the border and the One Stop Border Post (OSBP) *2 as well as an international road that across Tanzania and Rwanda border, JICA is promoting improvement of the logistics network and economic development in the region.

Dr. Kitaoka also met with Japanese entrepreneurs operating their business in Rwanda to exchange ideas, seeing the high expectations for the country.
TICAD7 is scheduled at the end of August in Japan, where strong partnerships between Africa and Japan will be discussed.

JICA will use this opportunity of the President's visit to contribute to promoting economic development and enhancing relationships with the Democratic Republic of the Congo and the Republic of Rwanda, as well as other African nations.

*1 k-Lab (Knowledge Lab): Established in 2012, this co-working space was built to promote innovation that supports prototype services and products that use ICT from ideas by students and young entrepreneurs. As of May 2018, there were nearly 2,000 registered users, and the facility has produced over 200 entrepreneurs.

*2 One Stop Border Post (OSBP): Immigration procedures (immigration, customs, quarantine) are generally carried out separately on the entry and departure sides, however, this facility is intended to enable smooth logistics by collecting these functions in one location.