This year marks the 50th anniversary since the opening of Japan's Tomei Expressway, the major arterial road in Japan, which was completed with financial support from the world half a century ago. The expressway still supports the economic activity of Japan as an indispensable part of our lives.

JICA is now responsible for the creation of "roads" that support local economies in a number of developing countries. In Cambodia, many roads, bridges, and other transportation infrastructure were destroyed during the conflicts which lasted until 1991. After the conflicts ended, with the support of the international community including JICA, the restoration of highways and other activities progressed. The restoration and improvements of the core parts have been completed, but in order to cope with the deterioration of the areas of previous temporary restoration and a basic shortage of road width, and the increase in domestic and international logistics due to the development of the Cambodian economy, JICA has been supporting Cambodia to repair and expand highways continuously for many years.

Widening to a 4-Lane Road and the Construction of a Bypass Road Underway
Since 2013, JICA has been providing road improvement support for National Road No.5, which is the main road in Cambodia. This international road which connects capital Phnom Penh to neighboring Thailand's capital Bangkok, is a major artery linking the Southern Economic Corridor of the Mekong region.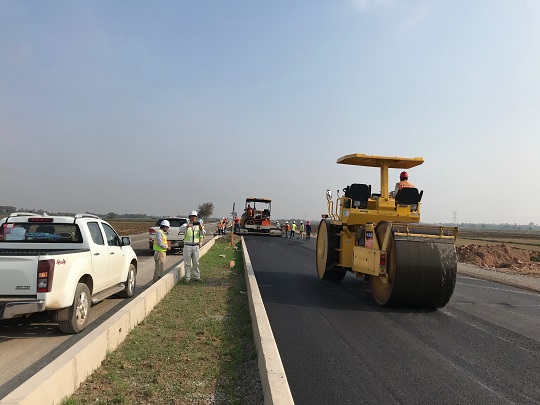 Construction site of the National Road No.5 bypass road. 5 locations are planned for a total of 59km. By detouring traffic via the suburbs without passing through the cities, traffic congestion in urbanized areas will be eliminated and travel time between cities will be reduced.
Currently, the improvement work is divided into 3 sections (9 construction zones in total) located in the south, central, and north districts, and work is being done not only on the road surface but also to soil improvement of the road's foundation. They are forging ahead with new road expansion construction work in 5 cities along a stretch of about 309km (converting 2 lanes to 4 lanes), and a construction work of about 59km of bypass road and bridge renovation and development. At the completion of the project (scheduled for 2023), it is expected that the transportation capacity will be increased and the number of traffic accidents will be reduced due to the shift to 4 lanes as well as the development of the bypass. Additionally, by facilitating distribution, the road is expected to function as a major industrial artery of the entire Mekong region, not only Cambodia.

(Left)National Road No.5 before improvement work (taken in 2013)
(Right)Illustration of improvement work after completion in 2023 (at the time of Cooperation Preparatory Survey)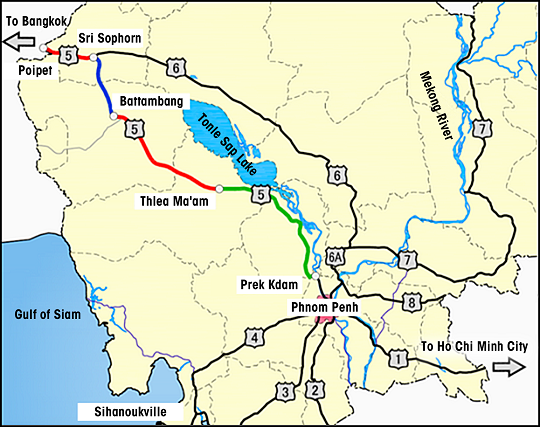 Cambodia National Road No.5 Improvement Project implementation sections
Red line: Thlea Ma'am - Battambang and Sri Sophorn - Poipet sections (central section)
Blue line: Battambang - Sri Sophorn section (north section)
Green line: Prek Kdam - Thlea Ma'am section (south section)

"Thailand-Plus-One!" Local Residents have Diversed High Hopes
According to the Project Formulation Advisor, Ryo Kawano, who is in charge of the National Road No.5 Improvement Project at the JICA Cambodia office, "the time required to travel between Battambang and Sri Sophorn was approximately 103 minutes (at the time of the 2011 survey), but when the improvement work is completed, it is expected to be reduced to about 86 minutes."

National Road No.5 is known for its heavy freight truck traffic and for being a main distribution road that connects Cambodia with Thailand. In addition, since it cuts through agricultural areas, there are many sections of the road where agricultural vehicles such as tractors drive at low speeds. As it is currently a 2-lane road, at these areas it is difficult for ordinary cars to travel at a constant speed because they are often blocked by slow trucks and tractors.

"This improvement will ensure safe and smooth driving lanes by widening the road from 2 lanes to 4 lanes for an additional 309km or so. This is expected to increase traffic volume by about 2.5 times compared with 2011," says Project Formulation Advisor Kawano.

We understand many local business people also have high hopes for the Improvement Project.

In the manufacturing industry, the diversification of labor in each country in the Mekong region, called "Thailand-Plus-One," will be enhanced. There are many companies in the vicinity of the capital city of Phnom Penh which bring in parts from Thailand, where vehicle parts, machine parts, and semi-finished products are produced. These are brought in via National Road No.5 to Cambodia, which has highly competitive labor costs, where the parts are assembled and then sent back to Thailand. Many related businesses are scattered along National Road No.5.

The facilitation of traffic through the Improvement Project and the enhancement of transport capacity will extend this "Plus-One" relationship. It is expected that Cambodia will attract further investment to secure and expand employment, and that Thailand will be able to produce products with higher price competitiveness. The solidification of transport capacity of National Road No.5 will be an opportunity to promote win-win relations between the two countries and deepen wide-ranging cooperation.

As for agriculture, the export of fresh vegetables to Thailand is expected to increase significantly. Batambang, Cambodia's second largest city, is famous not only for its rice production but also for its vegetable growing. By improving National Road No.5, transportation times and costs will be reduced, and in addition to increasing sales to the large consumption area of Phnom Penh, it will also contribute to the expansion in business regions of neighboring Thailand.

As you can see, the Improvement Project of National Road No. 5, which is the major artery of the Southern Economic Corridor, will have an economic ripple effect that will go well beyond merely Cambodia.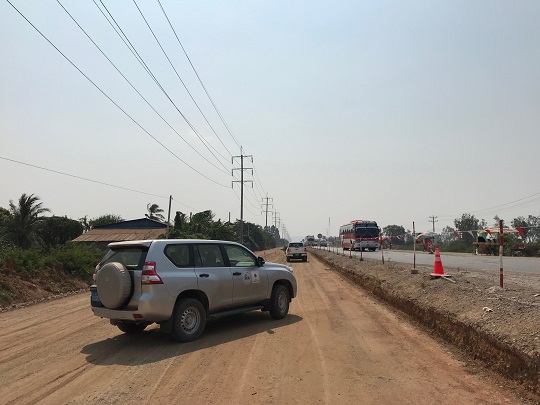 Existing road (right side of photo) and road widening construction (left side of the photo). When complete, it will be a 4-lane road, which is expected to significantly expand the volume of traffic.
"Roads" Connecting Towns, Ports, and Bridges Link Diversified Areas of Support
The economic effects of the Tomei Expressway, which marks its 50th anniversary, have been estimated to be approximately 60 trillion yen (based on the Central Nippon Expressway data). The National Road No.5 in Cambodia project, which is underway, is also connected with the Tomei Expressway as the Asian Highway 1, and is the main route of the "Southern Economic Corridor" in the Southeast Asia Corridor Plan.

JICA has implemented the support of "roads" as the development of transport infrastructure essential for the revitalization of economic activities. JICA has also been providing comprehensive and diversified development support, involving local industrial development and community sector development, starting with the maintenance of roads, bridges and ports. There are more than 2,000 Japanese companies operating in Thailand and there are many related businesses along the National Highway No.5, so this is expected to have a large ripple effect to Japanese companies in connection with the regional economic revitalization.

A "road" is a social foundation that connects people's lives and supports the local economy. As one of JICA's "road" support projects linking Asian countries, this road improvement project is gathering high hopes to support the future of the Mekong region.