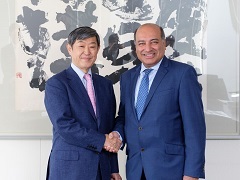 From right, EBRD President Chakrabarti and JICA President Kitaoka
On July 29, JICA President Shinichi Kitaoka met at JICA Headquarters with Sir Suma Chakrabarti, president of the European Bank for Reconstruction and Development (EBRD).

At the outset, President Kitaoka stated his desire for strengthening cooperation between the two organizations in East and Central Asia and in the Middle East and Europe. President Chakrabarti reciprocated that sentiment, saying that the desire for greater cooperation in those regions was mutual. The two then exchanged views on possibilities for developing cooperation in the governmental and private sectors, as well as conducting personnel exchanges between the two organizations.

Going forward, JICA will continue deepening its partnership with the EBRD, including continued collaboration on individual projects.