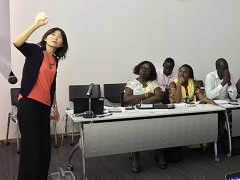 JICA Senior Advisor Dohi (left) centered her efforts on dialog, both through seminars and lectures in Japan and through on-site discussions and meetings
With the 7th Tokyo International Conference on African Development (TICAD7) approaching, our series TOWARD TICAD7:'Africa & Me' comes to its end. For this twelfth installment, we asked JICA Senior Advisor Yuko Dohi, who has many years of involvement in peacebuilding assistance in conflict-affected countries, about efforts in Côte d'Ivoire in West Africa.
Sense of "We can live together again" fostered through residents' meetings
Known as a cacao and coffee bean producing area, the Republic of Côte d'Ivoire also fielded Japan's opponent in the 2014 Brazil Football World Cup. Despite remarkable economic development over the past few years, the country had been plagued by civil war that divided the country between north and south for almost 10 years until inauguration of the country's president, Alassane Ouattara in 2011.
Abidjan, the economic hub of the country with a high-rise skyline, was also a fierce battleground during a second civil war that broke out following the presidential election. In some parts of the city's communes, there are lingering tensions among residents. "In other words, there is a risk of conflict breaking out again given prevailing distrust among different groups of residents and unrest caused by youth unemployment," says Dohi.
Against that background, in 2013 JICA launched the "The Project on Reinforcement of Communities for Promoting Social Cohesion in Greater Abidjan (COSAY)." The main objective of this project was to promote social cohesion and foster collaboration beyond ethnic or religious affiliation, with the principle of equity and transparency, through series of dialogues among the residents for maintenance of schools and roads. Senior Advisor Dohi, who was involved with the project from the beginning share that mindset and behavior of residents in pilot project areas gradually began to change, such as reactivation of conversations among the residents in pilot project area. As the number of target areas grow, sense of coexistence has been grown accordingly.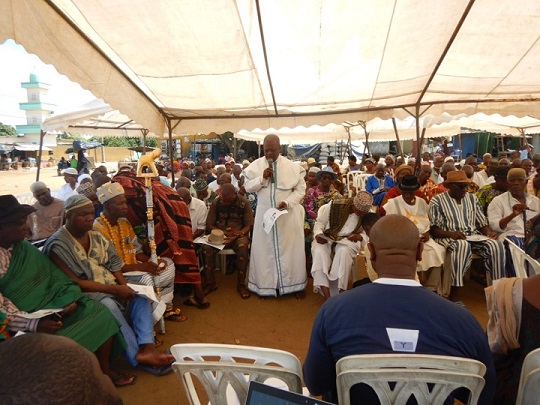 Community meeting in the Abobo commune, Abidjan. Efforts are ongoing to promote coexistence with the community. (May 2019)
Work attitude of Japanese public servants changes mindset
Based in Bouaké, the second largest city of Côte d'Ivoire, JICA is implementing the "Project on Human Resource Development for Strengthening Local Administration in Central and Northern Areas of Cote d'Ivoire." In this region, which was effectively under the control of rebel forces during the civil war, part of infrastructure was destroyed, and services by local government such as water, school operations and medical care were suspended. Consequently, the region had been left behind in terms of economic growth and development, resulting in increase of residents' dissatisfaction towards the local government.
Says Senior Advisor Dohi, "While regional disparities and residents' dissatisfaction were not the direct causes of the civil war, the improvement of public services through capacity building of local government is of great importance to stability of the country."
However, Senior Advisor Dohi recalls that, at the beginning of the project, local expectations for JICA support were not great. "On the contrary, it's safe to say that no one showed the least interest. During a meeting with the regional prefect, he seemed quite busy, constantly looked at other documents, and wasn't interested in talking. Later he would mention, 'What we urgently need is drilling of wells, not meetings' and 'When are you going to start renovating the schools?' Then at a certain point his attitude changed completely, and the sparkle in his eyes changed too."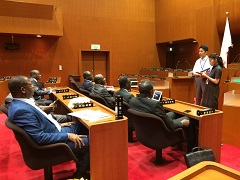 Training in Japan changed mindset of government officials. (July 2015: Okayama Prefectural Assembly Hall)
The change in attitude was sparked by trainings in Japan. JICA invited the prefect of Gbêkê Region and 10 local government officers to Japan for training in local government in places like Tokyo and Hiroshima. The attitude of the participants changed markedly as they witnessed the work of Japanese civil servants that values the perspective of residents.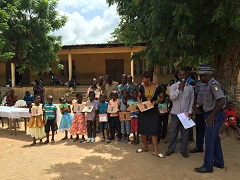 Award ceremony held by school committee (similar to Japan's PTA) to recognize students for superior scholastic achievement. Gradually, JICA's support that respects participation of residents has won recognition. (Elementary school in Gbêkê Region: July 2016)
Said Senior Advisor Dohi, "After completion of the project including training in Japan, the regional prefect said that, 'We were encouraged to adjust our mindset, and learned methods of development work, including facilities maintenance. I realized that the JICA's business attitude, with its respect for ownership of both the residents and government organizations, is highly effective in both the medium and long term, and this is of great significance in increasing motivation of government officers.' This remark made me very happy, and went straight to my heart."
Peacebuilding with collaboration with partner countries
The two Côte d'Ivoire projects are only halfway. Senior Advisor Dohi says that, after involvement in numerous peacebuilding projects in countries and regions affected by conflict, she is constantly reminded that she and her colleagues are third-party as far as the people of those countries are concerned.
She says with emphasis and a smile, "That's why I always strive to keep some distance and explore about how we can contribute to peacebuilding through development from the perspective of building a better country. When I encounter obstacles in my work, I always try to get the opinions of local people as much as possible. That way, I can see hints as to how the pieces of the puzzle should fit together."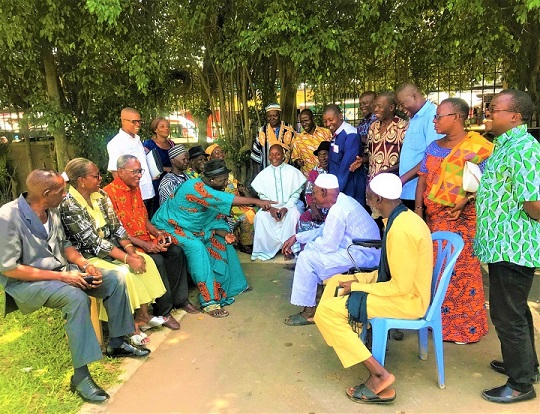 Smiling members of a residents' multi-ethnic and religious group supported by a JICA project. (April 2019)
Profile
Yuko Dohi
JICA Senior Advisor, Infrastructure and Peace Building Department. After involvement in refugee support for a nongovernmental organization, worked as a Project Formulation Adviser for Peacebuilding and Reconstruction Support at JICA's Indonesia and Sudan offices. Native of Osaka prefecture.