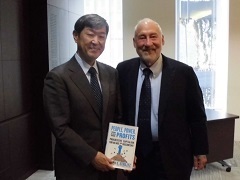 From right, Professor Stiglitz and JICA President Kitaoka
On August 26, JICA President Shinichi Kitaoka met with Professor Joseph E. Stiglitz and Professor Akbar Noman of the Columbia University Initiative for Policy Dialogue (IPD) at JICA headquarters.

At the outset, Dr. Kitaoka welcomed both professors, who visited Japan to attend TICAD7, and expressed his appreciation for their advice to JICA and contributions to joint researches with the JICA Research Institute. Then, Dr. Kitaoka shared the progress of the ABE Initiative (African Business Education Initiative for Youth), which offers opportunities for young business leaders from Africa to study at master's courses of Japanese universities, and they reiterated the importance of developing industrial human resources in Africa. They also exchanged ideas on economic structural transformation in Africa to deal with growing economic disparity among countries as well as within countries, and the creation of future employment opportunities in response to increasing populations. They also shared concerns about the growing trend of "own country first" that weakens the importance of multinationalism.

JICA looks forward to future developments in cooperating with Columbia University's IPD led by Professor Stiglitz.