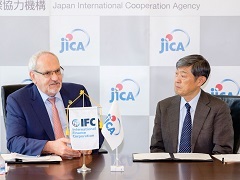 From left, IFC CEO Le Houérou and JICA President Kitaoka
On August 26, JICA President Shinichi Kitaoka met with Philippe Le Houérou, Chief Executive Officer of the International Finance Corporation (IFC) at JICA headquarters. Mr. Le Houérou was visiting Japan to attend the seventh Tokyo International Conference on African Development (TICAD7) as a head of the delegation of the World Bank Group.

At the outset, Dr. Kitaoka adopted 'the Operating Principles for Impact Management' established by the IFC. Then, he explained that the basic concept of 'the Operating Principles for Impact Management', such as private enterprise investments resulting not only in economic profit but also promoting positive social and environmental change, have been included in JICA's private sector investment finance since the beginning. Thus, JICA is able to contribute actively to further improvements of these principles. Mr. Le Houérou sympathized with the stance of Japanese companies that place emphasis on social responsibility, expressing his intention to work with Japanese companies in collaboration with JICA. The two exchanged ideas on the possibilities of collaboration for revitalizing private finance mobilization in developing nations, touching on the possibilities and challenges that Africa faces.

JICA continues to contribute actively to the achievement of SDGs by supporting the private sector in line with the Operating Principles for Impact Management along with the IFC.