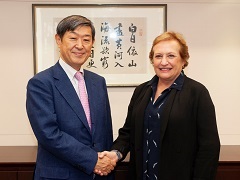 From left, Ms. Moorehead and Dr. Kitaoka
On September 3, JICA President Shinichi Kitaoka met with Ms. Susanna Moorehead, DAC Chair, OECD, at JICA headquarters.

At the beginning of the meeting, Ms. Moorehead offered congratulations on the success of TICAD7. Both Ms. Moorehead and Dr. Kitaoka agreed that TICAD was an extremely meaningful occasion to see the leaders and representatives of African nations and business leaders take their ownership to solve development challenges in Africa. Then, they reaffirmed the importance of cooperating on health, education and agriculture. Also they talked about debt sustainability, securing new development finance including private finance, and exchanged opinions on strengthening relationships between DAC and emerging partners. During her stay in Japan, Ms. Moorehead visited the JICA Kansai Center to observe a training program on disaster risk reduction as well as to exchange ideas with local governments, NGOs and academic institutions. Ms. Moorehead also mentioned how impressed she was at seeing the strong relationship between the JICA Kansai Center and local affiliates, saying that it was a good opportunity to learn about the features of Japanese development cooperation in view of the upcoming OECD Development Co-operation Peer Reviews* for Japan.

JICA looks forward to exchanging ideas with OECD/DAC officials in the future in order to continue to contribute to solving various development challenges.

*OECD Development Co-operation Peer Reviews are conducted every four to five years by OECD/DAC on the development cooperation policies and implementation status of DAC member countries.