After nearly two years of work in their assigned countries, seven representatives of returnee Japan Overseas Cooperation Volunteers were granted an audience with Their Imperial Highnesses Crown Prince and Princess Akishino at the Akasaka Estate on July 23.

After the imperial succession in 2019, their Highnesses have taken over duties from Their Majesties the Emperor and Empress, granting an audience with the returnee representatives and a rare chance for them to report on activities in their assigned countries.

On this occasion, Their Highnesses met with seven representatives who were dispatched to countries in Asia, Oceania, Latin America and Africa. To prepare for the audience, participants gathered for a meeting with President Shinichi Kitaoka at JICA headquarters (Chiyoda, Tokyo).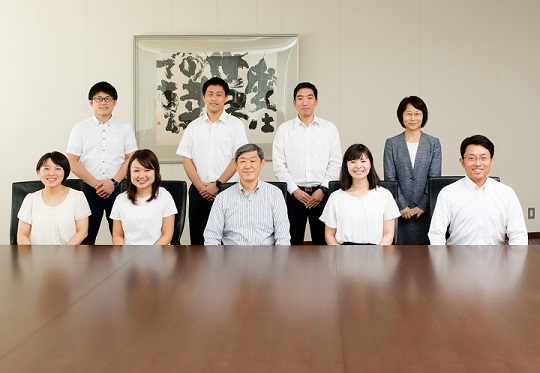 Front row from the left: Emi Okitsu, Yoshiko Yamamoto, President Kitaoka, Mai Shiina, Sosuke Ofuji. Back row from the left: Kento Iwanaga, Yusuke Miyata, Kosuke Uzawa, former Japan Overseas Cooperation Volunteers Leader Yamamoto
Creating legs to overcome the sadness of war and stand again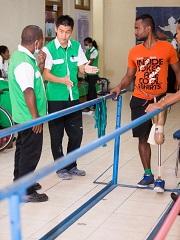 Talking to a colleague about walking with a prosthetic. (Miyata is in the middle)
Yusuke Miyata (occupation: welfare equipment, 29 years old, from Gunma) was assigned to a national rehabilitation center in Dili, Timor-Leste. There he served as a prosthetist, creating and adjusting prosthetic legs and harnesses, as well as providing technical guidance and sharing knowledge with colleagues. During two years of visits to rural areas, he was involved in creating and repairing prosthetics for over 500 persons with disabilities. He also engaged in PR activities at medical institutions and spread knowledge about prosthetics to local staff in the medical field.
Touring elementary schools to improve abacus teaching skills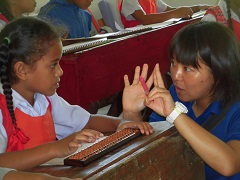 Helping a child with the abacus during class (Okitsu is on the right)
Emi Okitsu (occupation: abacus calculation, 36 years old, from Miyazaki) was assigned to the Learning and Instruction Section at the Ministry of Education and Training in Tonga. In Hahake on the island of Tongatapu, she was in charge of visiting the 22 schools in the area to provide instruction on abacus calculation to both students and teachers during math class. She also distributed abacuses and instruction books, using practice questions she created herself in classes and workshops. She also provided guidance in planning and running regional and national abacus competitions, resulting in 11 such events. She also led a school to the regional championships at the national competition.
Contributing to the development and promotion of judo and coaching children with disabilities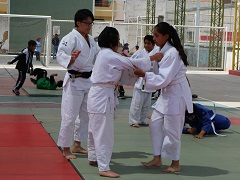 Training outside on tatami mats. Coaching judo novices
Kento Iwanaga (occupation: judo practitioner, 26 years old, from Nagasaki) was assigned to the Arequipa branch of the National Sports Agency in Peru, to provide coaching from the Kodokan Judo Institute and promote the sport. Iwanaga toured clubs, elementary schools, schools for the blind and special needs schools, providing judo coaching that not only introduced techniques but helped in character building and education. After returning home, he helped students with visual impairments that were invited to Japan to participate in an international competition.
Revitalizing the irrigation association, doing farm work and cleaning irrigation channels with residents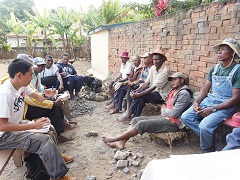 Discussing future activities at an irrigation council regular meeting (Uzawa is in the front on the left)
Kosuke Uzawa (occupation: community development, 27 years old, from Chiba) engaged in efforts to improve the functionality of the irrigation association at the Ministry of Agriculture, Livestock and Fisheries in Alaotra-Mangoro in eastern Madagascar. When he was first assigned to the area, the irrigation association existed in name only, but after taking efforts to educate and raise the awareness of each member, the association held regular meetings, general meetings and began engaging in construction of their own accord by the time his assignment was over. In order to revitalize an association that had ceased to function, he first adapted to local living and culture, and formed good relationships with those involved.
Reducing sickness among cattle and improving productivity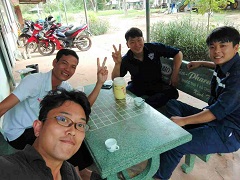 Tea time during a break in work. Communicating with colleagues is essential (Ofuji is in the front on the left)
Sosuke Ofuji (occupation: veterinarian and hygiene management, 33 years old, from Miyagi) was assigned to the Ho Chi Minh City Public Farm located in Củ Chi district, where he was busy preventing disease in cows used for dairy and for meat, as well as improving productivity. His efforts were initially a series of trial and error, however, after speaking a number of times with local veterinarians, he began to gradually build a relationship of trust. During the second half of his assignment, the morbidity and death rate among calves dropped and the fattening rate among cattle for meat rose. Young local veterinarians also began taking on the initiative to prevent diseases as well.
Food demonstrations in various communities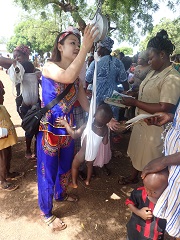 Ghana-style infant health checkup where the child is weighed by a scale hanging from a tree (Yamamoto is on the left)
Yoshiko Yamamoto (occupation: public health nurse, 32 years old, from Ehime) was assigned to the Lawra District Health Department in Lawra county, Upper West, Ghana. There she worked on improving nutrition and helping prevent teen pregnancy in order to improve the maternal and child health index. In order to prevent pregnancy-related anemia and improve malnutrition among children, she not only involved women, but other influential people in the area such as village chieftains, etc., conducting food preparation demonstrations. She also worked with local nutritionists to quickly identify malnourished children in each community, then conducted home visits later on to observe their progress.
Contributing to improved quality in women's groups that produce products from wool felt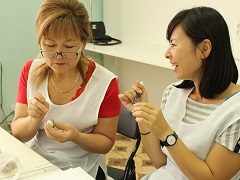 Working on felt product samples (Shiina is on the right)
Mai Shiina (occupation: community development, 31 years old, from Chiba) was assigned to the One Village One Product Association nongovernmental organization in Karakol city in the Issyk-Kul region of Kyrgyz. There she helped develop regional specialty products and coached NGO staff and association members on quality management with the goal of strengthening the organization. She tried creating design drawings that were easy to understand for the women in the production group in order to address inconsistent sizes of wool felt products, which is the specialty of the region. Use of these drawings was promoted during training so that the women could grow accustomed to them, resulting in more consistent product quality.
During the audience with Their Imperial Highnesses, the volunteers reported on the issues they faced in their assigned countries, the process of cooperating with people involved in the projects, and the results of their efforts. The conversation also involved plans for work and higher education after returning to Japan, linking their two years of volunteer service to their current goals. Their Imperial Highnesses listened kindly and intently to the reports, resulting in a friendly, warm atmosphere from start to finish.