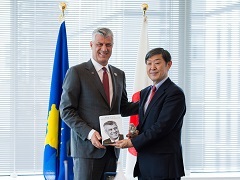 From left, Mr. Thaçi and Dr. Kitaoka
On September 12, JICA President Shinichi Kitaoka met with H.E. Mr. Hashim Thaçi, President of the Republic of Kosovo, at JICA headquarters.

At the outset, President Thaçi expressed his appreciation to JICA's cooperation in the Republic of Kosovo, communicating his desire to strengthen the relationship with Japan as a trustworthy partner. Then, the two held discussions about further cooperation including its efforts in environmental field and the possibility of a Japanese ODA loans.

JICA continues to contribute to stabilizing its social and economic development towards sustainable nation-building in the Republic of Kosovo.