As one of the most seismically active countries in the world, Japan takes advantage of its experience to extend disaster aid and recovery assistance to developing countries and regions.

Four years have passed since Nepal was stricken by a magnitude 7.8 earthquake. While many countries have extended recovery assistance, JICA has achieved a high rate of completion with its efforts in support of housing reconstruction. Underlying this success is a "Community Mobilization Program" that supports the housing reconstruction while promoting mutual help in the affected areas. The key to earthquake recovery and the development of a disaster-resilient nation lies in "building on community strength."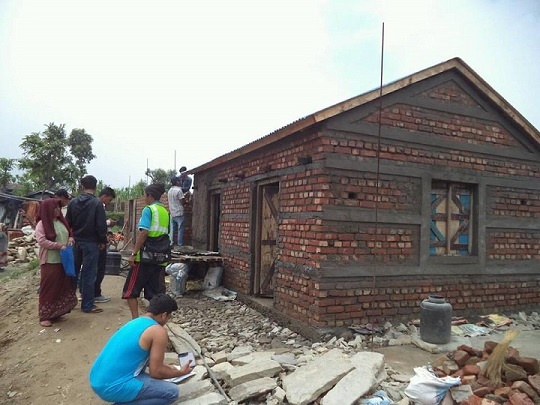 Residents working together to rebuild earthquake-resilient houses
Support for housing reconstruction initiated immediately following the earthquake
"Even if we are stricken by a stronger earthquake, these houses won't be so easily destroyed. Everyone is so happy to be living in houses that can withstand strong earthquakes." Those are a mason's words, spoken as she stood in front of a newly reconstructed house.

Earthquake-resilient houses built with support from JICA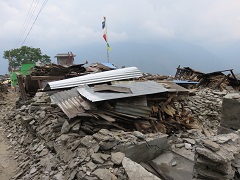 Remains of a house totally destroyed by the earthquake
In April 2015, an earthquake struck about 80 kilometers northwest of Nepal's capital, Kathmandu. Casualties included 8,790 killed and more than 22,300 injured. Responding to a decision by the Japanese government, JICA dispatched a Japan Disaster Relief (JDR) team and a reconstruction assistance survey team to the earthquake-stricken country. The survey conducted revealed the severity of damage to housing. In Gorkha district, the place of the earthquake's epicenter, 95 percent of all houses had been constructed using the traditional method of stacking stones or bricks and filling the spaces in between with mud. With poor earthquake-resilience, damage to housing in this district was enormous; around 500,000 houses were totally destroyed, and another 270,000 seriously damaged.
To begin, JICA launched the "Rehabilitation and Recovery from Nepal Earthquake Project." Working to Nepal's existing seismic standards, JICA's experts developed technical guidelines for housing reconstruction. An "Emergency Housing Reconstruction Project" was also launched, under which JICA provides financial support to the Nepalese government's Housing Reconstruction Program, while also supporting owner-driven reconstruction by providing training to residents and masons in the Gorkha and Sindhupalchok districts, the areas most afflicted by the earthquake. Reconstruction of houses in these districts requires approximately six years of the gross national income per capita, but residents were able to reduce this burden by an average of about 50 percent by availing themselves of housing grant under the Housing Reconstruction Program.
"Mobile Masons" key to housing reconstruction
However, the project encountered many difficulties in the beginning. The districts most afflicted by the earthquake lie deep in mountainous areas, and arranging for trucks to carry materials and to transport masons was difficult. In these sparsely inhabited areas, sufficient help was not available, and housing reconstruction often did not go smoothly. Further, many of Nepal's working-age males are engaged in migrant work abroad, so households comprised of just women, children and old folk are not uncommon. With some residents giving up on rebuilding their houses and moving to urban areas, JICA launched its highly successful "Community Mobilization Program" in May 2017.

The program was formulated based on the observation that the inhabitants of Nepalese villages are strongly bonded with a culture of mutual help and designed to support residents to think about and implement solutions to problems related to housing reconstruction by themselves in their villages. As part of the program, local masons who received training from JICA travel from village to village as "Mobile Masons," delivering advice, helping to support reconstruction and promoting mutual help.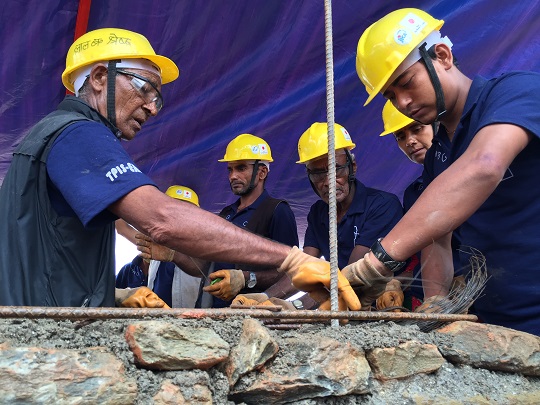 "Mobile Masons" receive practical training. Training includes safety management, such as the wearing of helmets, in addition to earthquake-resilient construction techniques
The presence of Mobile Masons made a dramatic difference to reconstruction progress. First, as they made the round of villages, they were able to learn about the progress of reconstruction of individual houses, helping them to understand current needs. At the same time, they extended assistance with the actual reconstruction of houses, increasing the speed of work and helping to motivate residents. Under the system developed, Mobile Masons also act as consultants and assistants; for example, by lending an ear and extending a hand if someone told them that work on a particular house was at a standstill. In this way, Mobile Masons become the lubricant in local communities, playing an active role in propelling housing reconstruction.

"The Mobile Masons are selected from among masons who are native to afflicted villages, who have leadership abilities and a good understanding of how to build earthquake-resilient houses. Being familiar with the situation in villages, they are well-suited to providing personalized support to residents, and also serving as instructors capable of giving on-site instruction in construction techniques to other masons. They also report on on-site conditions at village meetings, and suggest future strategies for housing reconstruction," says Tomoki Miyano, the Expert and Project Manager.

Achieving "Build Back Better"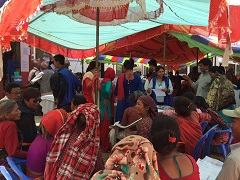 Many residents attended the Enrollment Camps for submitting applications for housing reconstruction grant
As of July 2019, the completion rate of earthquake-resilient houses in Gorkha and Sindhupalchok districts with JICA support (approximately 58,000 target households) had reached 87.6 percent. This figure is higher than that of housing reconstruction assistance being carried out by the aid agencies of other countries, and the "Japanese-style assistance" that makes use of mutual help by local communities centered on the residents themselves and the Mobile Masons is serving as a model for application in other areas.
This past April, four years after Nepal's earthquake, a seminar was held in Kathmandu, the capital city, to share the progress of and lessons learned during reconstruction. On visiting Nepalese villages where local community efforts drive reconstruction, Deputy Mayor Osamu Oyama of Higashi-matsushima City, Miyagi Prefecture, who collaborates with JICA on reconstruction projects in developing countries, made the following observation:

"I heard about housing directly from a female Mobile Mason and residents who are rebuilding in the afflicted part of Sindhupalchok district. By delivering their "voices" as well as speaking out about our experience of the reconstruction in the wake of the Great East Japan Earthquake, I shared the feeling that self-help, mutual help and public help are of critical importance to such undertakings and gained the sympathy of the Chief Executive Officer of National Reconstruction Authority and officers of related offices and ministries in Nepal."

Reconstruction in Nepal is still underway. JICA will continue to share knowledge based on Japan's experience with earthquakes and disasters, and to support reconstruction aimed at building communities more resilient to disasters.