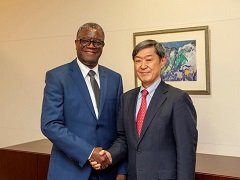 From left, Dr. Mukwege and Dr. Kitaoka
On Oct. 3, JICA President Shinichi Kitaoka met with Dr. Denis Mukwege (2018 Nobel Peace Prize Laureate) of the Panzi General Reference Hospital in the Democratic Republic of the Congo (DRC) at JICA headquarters.

At the outset, Dr. Kitaoka expressed deep respect for the long-standing activities of Dr. Mukwege for victims of sexual violence in the conflict in the DRC. Dr. Mukwege expressed about, in addition to providing physical treatment for victims of sexual violence, the importance of providing mental care, and support for economic independence and to help the victims to overcome their trauma to return to their pre-incident status. Further, he explained the future action plans, including the expansion of support provided by Panzi General Reference Hospital and scale up support for other regions in the DRC and other countries, in order to provide support for more victims of sexual violence. He expressed his expectations of support and assistance from Japan for these activities as well as for the "Global Reparation Fund", which he himself launched. Afterward, the two exchanged opinions on the causes and the background of sexual violence being used as a weapon in conflict and confirmed the importance of efforts to eradicate sexual violence and support its victims from the viewpoint of "human security".

JICA continues to contribute to the establishment of peace in the DRC.