Representatives of the Japan Overseas Cooperation Volunteers (JOCVs) and Youth Volunteers for Nikkei Communities (NJV) who have finished their two years of activity in the countries they were sent to and returned to Japan had the honor of talking informally with Their Majesties the Emperor and Empress of Japan at the Akasaka Imperial Palace on Sept. 10.

Since the launch of the volunteer initiative in 1965 and continuing to the present Their Majesties have talked informally with volunteers who have returned to Japan, and now in the first year of the Reiwa era representatives of returned volunteers have received the opportunity to report to Their Majesties on their activities in the foreign countries where they served.

On this occasion seven JOCVs and one NJV back from being dispatched to countries in Asia, Oceania, Latin America and Africa met with Their Majesties the Emperor and Empress of Japan. Before this informal conversation, they met with JICA President Shinichi Kitaoka at JICA headquarters in Chiyoda-ku, Tokyo.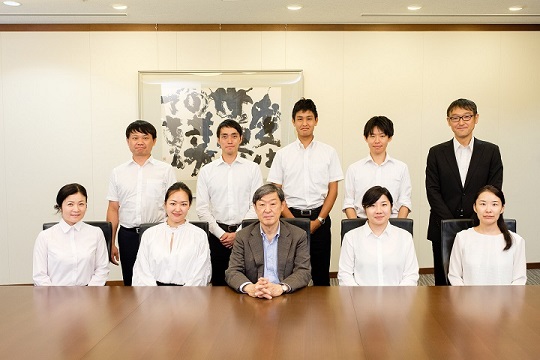 From left in the front row are Tomomi Sone, Takako Yamamoto, JICA President Shinichi Kitaoka, Yuki Uchida, and Yoko Baba. In the back row from left are Hidenori Matsumoto, Hiroki Takeuchi, Koichi Takano, Daisuke Horii, and Hiroyuki Kobayashi, director general of the Secretariat of Japan Overseas Cooperation Volunteers
Improving knowledge and techniques for rehabilitation and continuing dialysis rehabilitation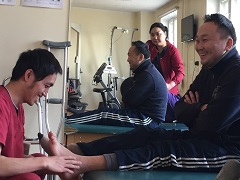 Giving rehabilitation to the patients and training for his colleagues (Hiroki Takeuchi is on the left)
Hiroki Takeuchi (category: Physical Therapy, age 32, from Kumamoto Prefecture) was sent to the rehabilitation department of the Shastin Third State Central Hospital, a general hospital in Ulaanbaatar, Mongolia. His activities were relating to the core hospital functions of cerebrovascular disease, heart disease, and orthopedic disease, and he actively took part in rehabilitation and guiding patient's families. In addition to dealing with these illnesses, he worked with colleagues to rehabilitate other patients such as dialysis patients. For the dialysis rehabilitation, he gave on-site training to his colleagues and was able to put in place a hospital management system that continues after his return home.
Passing on ways and methods for students to study independently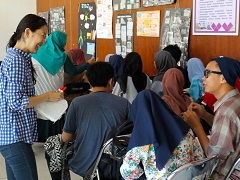 A third year students' grammar lesson (Yoko Baba is on the left)
Yoko Baba (category: Japanese Language Education, age 40, from Kanagawa Prefecture) was sent to the Department of Japanese Language Education at the National Riau University in Riau Province, Indonesia, and was responsible for grammar, conversation, and business Japanese classes. She opened an extracurricular study class for taking the Japanese Language Proficiency Test and passed on a way that students could carry on study independently using planning and progress tables after she had completed her work and returned to Japan. She also planned and implemented a workshop aimed at improving the department's curriculum, bringing in experts from the Japan Foundation.
Promoting the moral and physical growth of baseball kids through playing baseball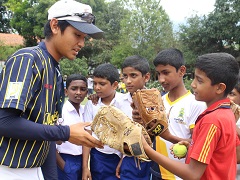 Teaching children starting out in baseball (Koichi Takano is on the left)
Koichi Takano (category: Baseball, age 25, from Tokyo) was sent to the Sri Lanka Baseball/Softball Association. He was based in the Galle District in the south where he coached baseball and promoted the sport. He went around six schools in the district and did training with the local coaches, with the aim of winning the national competition. As well as the technical side he looked after children's moral development too. In addition, in January 2019 he organized training schools in collaboration with the Yomiuri Giants baseball team in three places within the country.
Start of an ecological survey at a World Heritage site and building a database
On the last day of his activities with his colleagues (Daisuke Horii is the third from the left in the front row)
Daisuke Horii (category: Ecological Surveying, age 30, from Shiga Prefecture) began an ecosystem survey of a World Heritage site Rock Island with his colleagues where he had been sent, under the Conservation and Law Enforcement Department of Koror State in the Republic of Palau. In a bird species survey, they collected 635 pages of survey slips, and in a sea turtle survey, they gathered 1028 pages. In addition, they did plant surveys and exotic species surveys. The results of the surveys were built into a database. Horii also led classes to teach his colleagues computer skills and made plans for them after his return home.
Leading the development of products using Honduras coffee, and carrying out environment education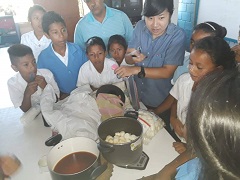 Showing local elementary and middle school children how to make coffee jelly (Yuki Uchida is at the center of the picture)
Yuki Uchida (category: Food Processing, age 34, from Ibaraki Prefecture) was with the Cooperative RAOS in Marcala City in the La Paz province of Honduras. Her target group centered on women and young people who were coffee producers and she arranged training sessions for developing products using coffee, and showed original products. Participants included one who opened a cafe and featured selling coffee jelly as a regular product. Ms. Uchida also arranged food classes for elementary school students and undergraduates majoring in agriculture, and she carried out activities to clear up rubbish aimed at improving the city environment.
Holding workshops to improve the quality of nursing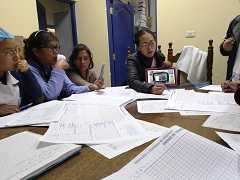 A study group held for the intensive care room nurses about revised nursing record tables (Takako Yamamoto is at the center of the picture)
Takako Yamamoto (category: Nursing, age 35, from Nara Prefecture) worked as a nurse (intensive care dispatch room) at the Hospital Daniel Bracamonte in Potosi City, in the Potosi Department of Bolivia. She analyzed problems occurring in the ward, did a survey of the medical items that were in short supply, and contributed to improving the medical environment. She also carried out a total of 17 workshops aimed at improving the knowledge and techniques of the nurses, and also made a proposal for setting up a nursing education committee. As a result, the techniques of the local staff improved and the quality of the nursing was also raised.
In Uganda the main maintenance work done is on broken down second hand Japanese cars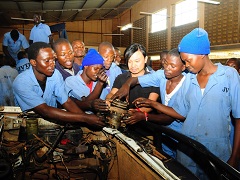 Getting covered with oil along with second year students during practical training (Hidenori Matsumoto is at the center in black clothing)
Hidenori Matsumoto (category: Automobile Maintenance, age 37, from Ibaraki Prefecture) worked at the automobile department of a vocational school in the Jinja District of Uganda where he contributed to training auto mechanics. At the school he gave lectures and practical training in electrical systems (computer aided repairs and testing) and with his fellow workers gave advice with concepts and practical skills. Also, he used his own specialist knowledge to complete the country's first motorcycle maintenance teaching resources and made it possible for local instructors to carry out more practical training classes.
Helping with welfare work for senior Japanese emigrants together with younger people in the community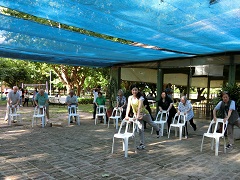 Doing physical wellbeing exercises at a Japanese senior emigrants' recreation meeting (Tomomi Sone is at the center front)
Tomomi Sone (category: Social Work, age 38, from Tokyo) was with the Federation of Japanese Associations in Argentina in Buenos Aires, where she traveled round different districts putting on excercises to aid physical wellbeing and for recreation and to improve the welfare of the senior Japanese emigrants. She also collaberated with welfare workers in the emigrant Japanese community, training welfare personnel. Tours by Ms. Sone were much enjoyed by senior citizens everywhere and welfare activities in the overseas Japanese community were stimulated. Data gathered from the tours was a valuable resource that she shared with the organizations where she was assigned to and with the embasy consular section.
After meeting with Their Majesties, the participants made remarks commenting on the relaxing atmosphere in which Their Majesties listened attentively to each volunteer's report, and the great encouragement they received from the concern Their Majesties showed about the volunteers' future plans after returning to Japan.