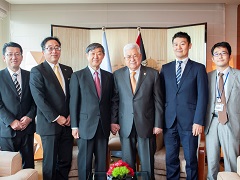 Participants in the talk, President Abbas (third from right)
On Oct. 23, JICA President Shinichi Kitaoka met with H.E. Mahmoud Abbas, President of Palestine, in Tokyo.

In the meeting, President Abbas expressed his appreciation for JICA's cooperation in Palestine, and said that he hoped for further strengthened cooperation with Japan as a reliable partner. The two exchanged views about promotion of cooperation in various fields such as Japan's special initiatives under "the Corridor for Peace and Prosperity" (*1) and the Conference on Cooperation among East Asian Countries for Palestinian Development (CEAPAD) (*2). They also discussed how to enhance the bilateral cooperation between Japan and Palestine.

JICA will continue its efforts to contribute to the progress of economic and social infrastructure development in Palestine, including the promotion of "the Corridor for Peace and Prosperity" initiative.


(*1)
Medium and long term efforts in regional cooperation by Japan, Palestine, Israel, and Jordan to forward socio-economic development in the Jordan Valley and promote the economic independence of Palestine and confidence building among the parties.

(*2)
A regional cooperative framework set up by Japan in February 2013, aimed at promoting peace based on the Two-state solution by mobilizing the resources of East Asian countries and their experience in economic development in order for supporting state-building efforts of Palestine.