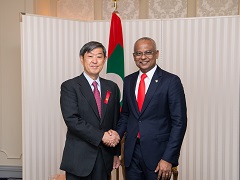 From right, Mr. Solih and Dr. Kitaoka
On Oct. 23, JICA President Shinichi Kitaoka met with H.E. Ibrahim Mohamed Solih, the President of the Republic of Maldives, in Tokyo.

At the outset, President Solih expressed his appreciation for JICA's cooperation in the Maldives, and he said that he hoped to strengthen further cooperation with Japan. In response, Dr. Kitaoka said that it was very important for island nations such as the Malidves to have countermeasures to natural disasters and climate change based on JICA's prior cooperation experience. The two then exchanged views on topics such as efforts needed to overcome the vulnerability to climate change and disasters and the importance of people-to-people interaction between Maldivian people and JICA Volunteers.

JICA will continue to contribute to socio-economic development of the Maldives through focusing on climate change and disaster management, as well as human resources development.