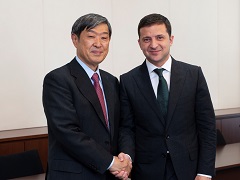 From right, Mr. Zelenskyy and Dr. Kitaoka
On Oct. 23, JICA President Shinichi Kitaoka met with H.E. Mr. Volodymyr Zelenskyy, the President of Ukraine, at JICA headquarters.

At the outset, Dr. Kitaoka welcomed President Zelenskyy to Japan, congratulating him on his appointment as the President of Ukraine. President Zelenskyy then expressed his appreciation for the various cooperation from JICA toward Ukraine. The two held discussion about current initiatives, including the Bortnychi Sewage Treatment Plant Modernization Project, which is supported by a Japanese ODA Loan. They further exchanged views on future cooperation between two countries, including the possibility of cooperation in information technology sector.

JICA continues to contribute to supporting Ukraine's economic stability, the improvement of people's lives and environment, and the promotion of autonomous governance and internal reconciliation.