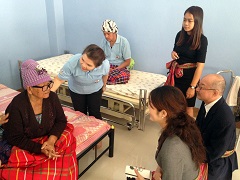 Care services in Thailand are supported by about a million "health care volunteers", as well as tens of thousands of "elderly volunteers"
Japan is the world's most aged society, where the percentage of elderly people (the fraction of the population aged 65 or older) in 2018 has reached 28.1 percent. JICA is taking advantage of Japan's years of experience in providing for the needs of its own elderly to support local promotion of health care for the elderly in Southeast Asian countries, where ageing of the population is rapidly accelerating.

With support from the Japanese government, Thailand has been tackling its population ageing issues for over 10 years. In 2018, the percentage of elderly people was about 12 percent, but that is expected to increase to 14 percent by 2022. Though it took 24 years for the elderly percentage of the population to increase from 7 percent to 14 percent in Japan, in Thailand it is expected that it will only take about 20 years (Note 1).

The adaptation of Japan's years of eldercare experience to the culture and lifestyle of Thailand is now attracting attention from neighboring countries such as Vietnam.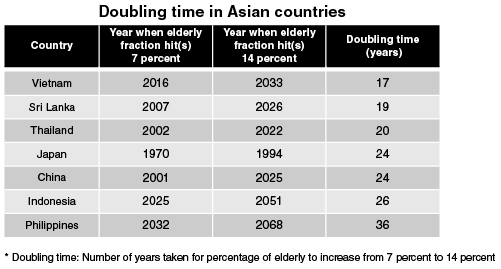 Estimate by the JICA Human Development Department's Higher Education and Social Security Group based on the United Nations "World Population Prospects 2017" (as of 2017)
Aiming for seamless service with S-TOP
JICA is currently implementing the "Project on Seamless Health and Social Services Provision for Elderly Persons (S-TOP)." (Note 2) This project aims to facilitate the smooth return of elderly people from hospitals to home life by establishing a model for providing seamless community-based medical, rehabilitation and life support services, and then eventually expanding this model throughout Thailand, with the possibility of extension to the neighboring countries.


(Note 2) "S-TOP" is an acronym of Seamless services to Thai Older Persons, and is used in the catchphrase "STOP bed confinement"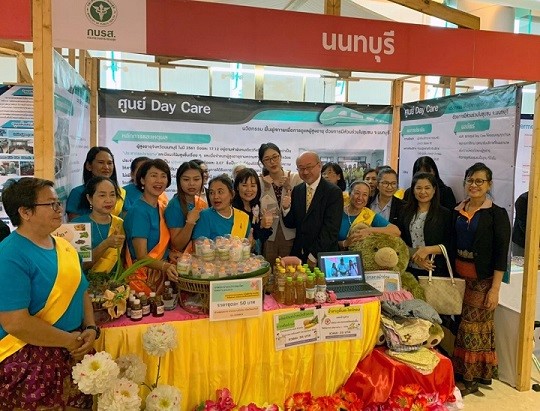 S-TOP is being implemented on a trial basis in eight provinces, including Chiang Mai, Bangkok and Phuket, and is scheduled to run until October 2022. Photo shows the exhibition booth of the Nonthaburi site at the second Thai National Seminar. This is the launch pad from which S-TOP will be extended to all of Thailand's 77 provinces
Having previously worked to create a system of integrated medical/health and welfare services — each of which falls under separate, vertically divided jurisdictions in Thailand — JICA implemented a project focused on introducing care management and skills in elderly care on a community basis. Measures employed included using nurses who received training in Japan as instructors in a care management training program. Those nurses are now helping to train more than 7,000 care managers.

However, because of insufficient intermediate care follow-up in the form of intensive and specialized rehabilitation, it often happens that patients become bedridden when they are discharged from the hospital too soon after suffering strokes or fractures from falls.

This is particularly true of low- and middle-income earners, who tend to heavily rely on about 100 public core hospitals (tertiary medical institutions), where acute care is given priority and less emphasis is placed on intermediate care (such as staff, capacity, and finance).

Therefore, S-TOP, following the policy of the Thai Ministry of Public Health (MOPH), conducted a survey of circumstances at community hospitals (secondary medical facilities) in eight provinces throughout the nation with the objective of selecting them to serve as intermediate care facilities. Then an action plan was created with local officials that is suitable to each local context.

Thailand moves into the lead in eldercare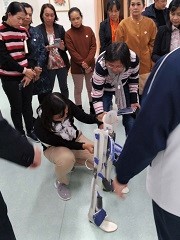 Rehabilitation medical training session conducted at Fujita Health University (Aichi prefecture) in January 2019. Here the Thai doctors, nurses and physiotherapists are given instruction on use of rehabilitation equipment by a Japanese physiotherapist
Mr. Shintaro Nakamura, a JICA Senior Advisor who has been involved in elderly support projects in Thailand since 2010, says, "In fact, Thailand's approach to eldercare is quite different from Japan's. Thailand's health workers, and especially most of its doctors, do not yet give much consideration to rehabilitation. Therefore, we invited health care professionals such as doctors, nurses and physiotherapists to visit Japan to observe and take part in hands-on training in community based comprehensive care services that are being provided in the world's foremost super-aged society."

In January 2019, JICA conducted service system and technical training in Aichi and Nagano prefectures for doctors, nurses and physiotherapists, and then in February it conducted policy training in Hokkaido for administrative officers of the Thai MOPH and the Ministry of Social Development and Human Security, as well as the directors of community hospitals in the project sites. In August, executives of provincial public health offices in the pilot sites were invited to Hokkaido to observe activities and exchange opinions about the efforts of Japanese hospitals and local governments.

Mr. Akio Koide, the chief advisor of S-TOP who accompanied the Thai training delegations to Japan, had this to say:

"The people who completed JICA's training are now serving as site leaders. Recently, Thailand's progress in dealing with population ageing and providing support to the elderly makes it a regional front runner in this field, and is attracting attention from Vietnam and other neighboring countries. A big win for us is that not only do those receiving seamless services and their families understand their importance, but their import is also understood by care managers, doctors, nurses, physiotherapists, local governments, and local volunteers who are in close contact with each other."

Japan as a partner dealing with the same challenges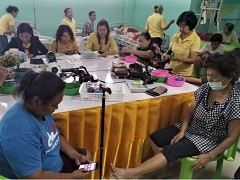 Day care services and day service that have become commonplace in Japan are now sometimes being provided in communities, such as at the local government offices and temples. Photo shows a day care center that opened in April 2019 at the municipality in Pimolrat
The main focus of JICA's support — the principal actors — are the local people, and the same is true of S-TOP.

Stressing his words, JICA Senior Advisor, Mr. Nakamura says, "Culture and life differ from country to country, and the same is true of care services. I want to take the know-how and experience developed in Japan and adapt the unique characteristics and strong points of that country to creating and disseminating comprehensive care services for the elderly of Thailand. Day services in Thailand differ from those in Japan, with elderly and other service users in some regions being brought to care facilities by local volunteers (rather than by paid staff), and the bathing service that is basic to care in Japan is replaced by massages. Such adaptations are rooted in the life customs of Thailand."

As the world's foremost super-aged society, Japan is capable of providing support to other countries based on the unique strengths achieved in the field of elderly support. In extending such support to Thailand, Japan is not simply an uninvolved benefactor, but also must attend to the needs of its own super-ageing population.

Says Mr. Nakamura, with deeper emphasis, "It is very important that support not be given one-sidedly, but that the relationship be treated as a partnership in which both parties face the same issues in creating better community-based comprehensive care services."