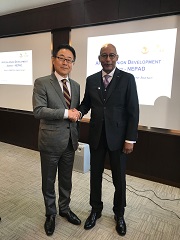 From right, Dr. Mayaki and Mr. Koshikawa
On Nov. 6, JICA Executive Senior Vice President Kazuhiko Koshikawa held talks with Ibrahim Assane Mayaki, CEO of the African Union Development Agency - New Partnership for Africa's Development Agency (AUDA-NEPAD), at JICA headquarters in Tokyo.

At the beginning of the meeting, Mr. Koshikawa congratulated Dr. Mayaki on his receipt of the "Grand Cordon of the Order of the Rising Sun" at the 2019 Autumn Conferment of Decorations. He also stated that JICA would like to deepen cooperation to promote the African Union (AU) "Agenda 2063" by focusing especially on the "business" and "innovation" highlighted in TICAD 7. In response, Dr. Mayaki welcomed continued partnership and cooperation based on priority areas identified in TICAD 7.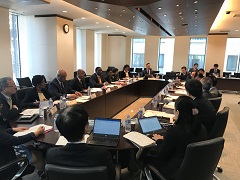 The annual partnership dialogue between JICA and AUDA-NEPAD
Vice President Kayashima and others from JICA, and Dr. Mayaki and others from AUDA-NEPAD, participated in the subsequent annual partnership dialogue between JICA and AUDA-NEPAD. The two parties confirmed the achievements of cooperation to date in the three fields of (i) regional infrastructure development, (ii) agriculture and nutrition, and (iii) KAIZEN. They also affirmed the future collaborative action plans for the three fields and cooperation aimed at strengthening the AUDA-NEPAD system as the development agency of Africa.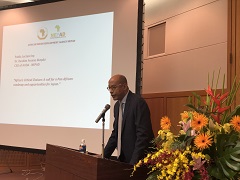 Public lecture by Dr. Mayaki
In addition, on Nov. 7, JICA hosted a public lecture by Dr. Mayaki entitled "Africa's Critical Choices: A Call for a Pan-Africa Roadmap and Opportunities for Japan." In light of the changing environment surrounding Africa, Dr. Mayaki discussed the new developments that Africa should aim for and exchanged views with participants at the conference.
JICA and AUDA-NEPAD will continue to further strengthen their partnership to contribute to the development of the entire African continent.