Jose Rodrigo Bejarano Restrepo is the Secretary General of the African Paralympic Committee and President of the National Paralympic Committee of Cape Verde, an island nation in the Atlantic off the coast of Africa. Jose, who is the driving force behind developing sports for persons with disabilities across the entirety of Africa, says that his "own starting point" was the JICA Disabled Person's Sports Leader training program in which he participated in 1998. "Everything changed after I participated in JICA training," he says with passion.

Visiting Japan this past September for the first time in 21 years, Jose talked about his passion for sports for persons with disabilities which began with his JICA training, as well as the 20 years he has spent continuously working to achieve an inclusive society.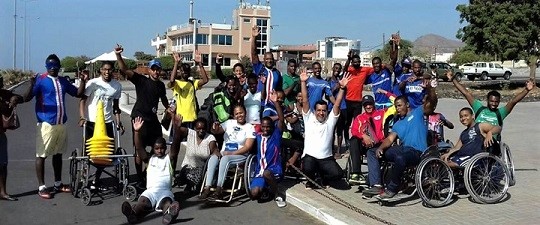 Jose (front row center) and Cape Verde athletes of sports for persons with disabilities. Preliminaries for each event at the 2020 Tokyo Paralympic Games are currently underway
Paralympic sports have overturned social taboos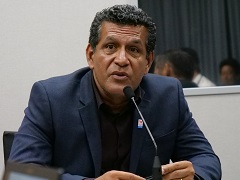 Jose spoke at a seminar titled "The roles and possibilities of sports for disabled persons in Africa" held at JICA HQ
Looking back on his training at JICA, Jose says, "The stunning differences between Japan and my own country changed my outlook on life. Japan has infrastructure and facilities to provide accessibility to persons in wheelchairs and those that are totally blind; persons with disabilities work alongside others at various organizations; and there are athletes with disabilities that aim to become professionals in their sports."
At the time of Jose's training, persons with disabilities were treated as a social taboo. He says, "People thought 'there's no way persons with disabilities can play sports and succeed in society.'" The first thing he did upon returning to his home country was to try and change that way of thinking among persons with disabilities and their families. He visited the homes of persons with disabilities many times, continuing to educate them on just how important a role sports plays in social inclusion.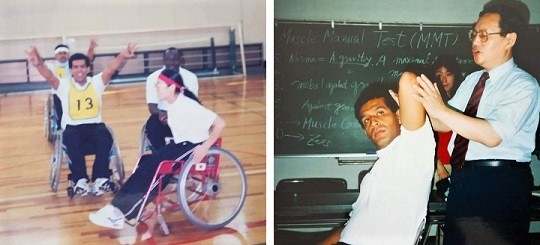 Right: Jose participated in JICA training nearly 20 years ago (on the left)
Left: Jose (on the center) noticed many things Japan and Cape Verde have in common as island nations. He brought the knowledge learned in Japan on how to coach athletes and how to run an organization back to his home country

At first, the families did not listen. However, Jose's passionate appeals over time gradually opened their minds and changed their thinking.

"My intense passion for these initiatives is all thanks to my time spent in Japan. Popularizing sports for persons with disabilities is not just about competition and results. I realized it is important to believe in the vision of 'transforming society to be equal and inclusive for anyone through sports,'" says Jose.

The birth of the first Cape Verdean Paralympic medalist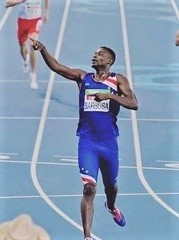 Gracelino Tavares Barbosa became the first Cape Verdean Paralympic medalist
Jose's passionate yet down-to-earth activities finally took shape at the 2016 Paralympics in Rio de Janeiro. A Cape Verdean athlete took the bronze medal in the men's 400m dash, which was the first win ever for Cape Verde at the Paralympics.

"When Gracelino Barbosa stood on the victory stand, all Cape Verdeans cried tears of joy. Seeing how all of my compatriots were brought together regardless of disabilities reaffirmed the power of sports for persons with disabilities. In 2020 the Paralympic Games will be held in Tokyo. It is my hope that not only Cape Verde, but at least a single athlete from every African nation can participate in the Paralympics," says Jose.

With participation in the 2020 Tokyo Paralympics, Cape Verde signed an agreement with Nakagusuku Village in Okinawa Prefecture to serve as their host town. On his latest trip to Japan, Jose visited JICA Okinawa. He tried wheelchair basketball which is one of the activities of the Knowledge Co-Creation Program titled "Social Participation and Livelihood of Persons with Disabilities through a Community-Based Inclusive Approach" and encouraged other participants.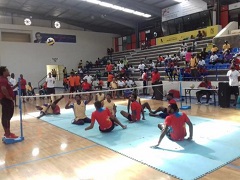 The gradually-changing face of sports for persons with disabilities Paralympic sports in Cape Verde
These days, the environment is gradually changing for persons with disabilities in Cape Verde, with the president declaring the goal of "becoming an inclusive country (society)." But Jose says, "Persons with disabilities are still treated as second-rate and third-rate citizens. I want to continue to convince society that it is necessary for us to achieve a society where there are equal opportunities for education, sports and others." He added further force to this appeal, saying, "I want to popularize sports for persons with disabilities to tell the world that people with disabilities are members of society that have skills and rights."
Promoting Social Inclusion of Persons with Disabilities through Sports program designed for future leaders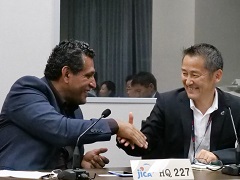 Jose is shaking hands with Satoru Mimura, deputy director of JICA Tohoku, who talked about efforts in Tohoku on the theme of "Inclusive Rebuilding"
The purpose and spirit of the JICA Disabled Person's Sports Leader training program that affected Jose's efforts to change the thinking of society in Cape Verde have been carried on in the current Promoting Social Inclusion of Persons with Disabilities through Sports at JICA Tohoku.
This year, 11 people participated in training from 10 countries including Egypt, El Salvador, Iraq, Papua New Guinea, Samoa, Senegal, Thailand, Tunisia, Uzbekistan and Vanuatu. It is expected that this program will help nurture new people like Jose in the future that will promote understanding of sports for persons with disabilities in their home countries and engage in promoting sports for persons with disabilities.

With the will and Jose's efforts, JICA will continue supporting the promotion of sports for persons with disabilities.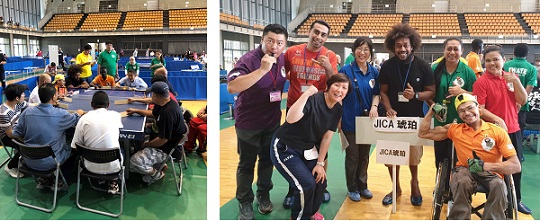 As a part of the Promoting Social Inclusion of Persons with Disabilities through Sports program, participants join the Amachan Cup (held at Kuji city in Iwate prefecture). They enjoy Takkyu Volley, a sport that all can play regardless of disability, developing friendship between them