Overview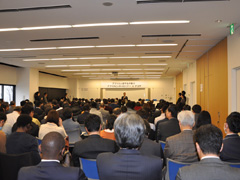 Seminar Participants
Name of Meeting: Africa Business Seminar in Nagoya -Highlighting the Potential of African Students-
Date: December 19, 2019
Sponsors: Ministry of Foreign Affairs, Japan International Cooperation Agency (JICA), Japan External Trade Organization (JETRO) and United Nations Development Programme (UNDP)
Location: JICA Nagoya Global Plaza

Moderators and panelists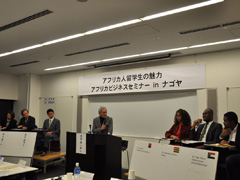 Panel discussion
- Mr. Eiichi Hasegawa, Special Advisor to the Prime Minister of Japan
- Mr. Itoh Tadahiko, Member of the House of Representative of Liberal Democratic Party
- Mr. Yasuhiko Yokoi, Chairman of Africa-Japan Relations Committee, Japan Association of Corporate Executives(Senior Executive Advisor, Toyota Tsusho Corp.)
- Mr. Mikio Mori, Director General, African Affairs Department, Ministry of Foreign Affairs
- Dr. Yasuhiro Doi, Professor and International Coordinator at Graduate School of Economics, Nagoya University
- Mr. Osamu Kubota, Executive Vice President, JETRO
- Mr. Satoshi Abe, Deputy Director of UNDP Tokyo Office
- Dr. Seiichiro Yonekura, Professor,Hosei Business School/Professor emeritus, Hitotsubashi University
- Six Japanese Corporations (including 5 corporations which accepted as intern/hired ABE initiative participants)(FD Corporation, Otowa Electric Co.,Ltd., Hinode Sangyo Co.,Ltd., Kani Construction Co.,Ltd., Trust Co.,Ltd., and SoftBank Corp)
- Seven African Students (including 3 ABE initiative participants)
- Mr. Kazuhiko Koshikawa , Executive Senior Vice President, JICA

[Participants] Total more than 150 people
Primary objectives and outcomes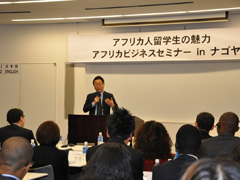 Mr. Kazuhiko Koshikawa , Executive Senior Vice President, JICA
At the 7th Tokyo International Conference on African Development (TICAD7) held in Yokohama in August 2019, various Japan's contribusions for Africa were announced to promote and expand the businesses of Japanese companies in Africa.
As part of follow-ups to the outcomes of TICAD7, the seminar was held to introduce business opportunities in Africa in general and the potential of African students to Japanese companies. The seminar also expected to provide networking opportunity for Japanese companies and African students.
Content of the discussions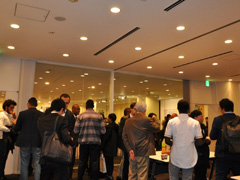 Venue of net-working
Mr. Hasegawa Eiichi, Special Advisor to the Prime Minister of Japan, pointed that it was essential that many young competent students around the world gain employment with Japanese companies, especially in local regions. In this light, he expressed his expectation that matching process of Japanese companies with a number of excellent African students studying in Japan will be promoted.

In the panel discussion, the Japanese companies which have employed African students or received them as interns and the African students who have worked for Japanese companies shared their experiences.

Mr. Tagy from Sudan, who has a job hunting experience in Japan, stated that "Although there are cultural and language barriers between Japan and Africa, it is important to try to understand each other". In addition, Mr. Suzuki, President, FD Corporation, who has employed Mr. Diouf (ABE Initiative participant from Senegal), explained that when he visited Africa with Mr. Diouf, he felt more comfortable and confident during business negotiations because of Mr. Diouf.

After the panel discussion, sector-based presentations were given by the Japanese corporations interested in business in Africa and wishing to work with African students. The African students, in response, introduced their business ideas and their respective countries' business environment.

The participants actively engaged in the networking session after the seminar, which contributed to build relationships between African students and Japanese companies. It was also a good occasion for students studying in the Chukyo area to create networks among them.