The Tokyo Olympic and Paralympic Games open in 2020. Taking advantage of its many years of involvement with developing countries, JICA is lending various forms of support to help regional governments become "host towns" to interact with visiting athletes and deepen relations with participating countries and regions. Host towns not only offer help with training of athletes from developing countries that lack practice facilities; they also promote cultural exchanges between local residents and visiting athletes, planting seeds of friendship while familiarizing visitors with Japan's efforts in the field of international cooperation.
A former member of Japan Overseas Cooperation Volunteers became a bridge between Solomon Islands swimming team and Yaese Town (Okinawa prefecture)
"Seeing a competition pool for the first time was an emotional experience for the Solomon Islands swimming team." So said Mr. Sho Yonahara, teacher at Okinawa's Naha Commercial High School and former member of the Japan Overseas Cooperation Volunteers. A former competitive swimmer himself, Mr. Yonahara was once a nominee to represent Japan in age-grouped swimming competitions, and from the summer of 2016 coached the Solomon Islands swimming and water polo team while serving with the Japan Overseas Cooperation Volunteers in the South Pacific island nation.

However, the Solomons do not have sports facilities, and there is no pool for competitive swimming. Moved by the team's earnest exertions, swimming practice in the ocean and rivers of the Solomons, Mr. Yonahara consulted with JICA Okinawa and the Okinawa Prefectural Government (Department of Culture, Tourism and Sports, Sports Promotion Division) regarding the possibility of providing the team with a place where they could demonstrate the results of their practice. After much discussion, Yaese Town was chosen as a possible host for the Solomon Islands swimming team.

After Yaese's 2017 selection as a host town, the Solomons athletes not only trained for swimming, but engaged in extensive cultural exchanges, such as visiting schools throughout the prefecture, participating in town events and joining in swimming exhibitions at prefectural high schools.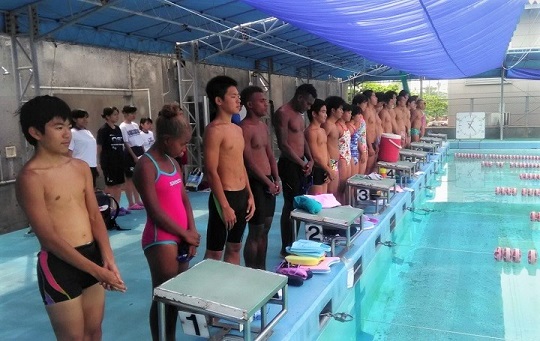 Solomon Islands swimming team practicing with students of Naha-Nishi High School
Mr. Yonahara spoke of his enthusiasm and hope for the team, saying "During the team's stay, one of the swimmers shortened his time on the 50m by about seven seconds. The ability to provide a proper environment for practice is one of the pluses that host towns offer to athletes from developing countries. And for the students of Naha-Nishi High School, the swimming powerhouse that hosted the visiting swimmers, knowing that their fellow athletes might be going on to the Olympics was a real thrill. The next training camp will be held just before the Olympics. And since the climate and bounty of Okinawa's environment have something in common with the Solomons, I hope the athletes will find their stay relaxing."
JICA Partnership Program brings opportunity: Lao Paralympic Athletes team and Ise City (Mie prefecture)
Ise City in Mie prefecture is serving as a host town to the Lao Para Athletics team, who is aiming for the Tokyo Paralympics. With its motto to be "a people-friendly town," Ise City implements policies, such as barrier-free transportation, barrier-free tourism and supporter registration system, to offer an amenable environment to persons with disabilities. Behind the city's selection as a host town lies a support from the Asian Development with the Disabled Persons (ADDP), an NPO with deep ties to the Lao parasports through the JICA Partnership Program.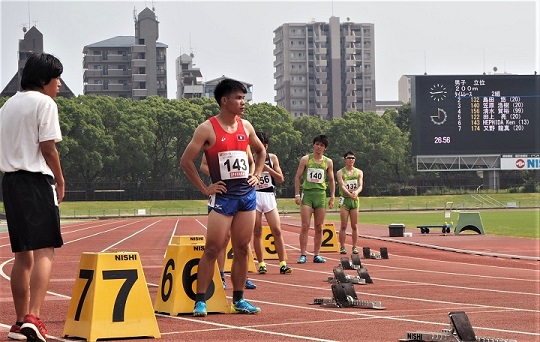 Lao para athletes, including Mr. Ken Thepthida, a young promising No.1 Sprinter in Laos (photo above), participated in the 2019 Kinki Unlimited Para Athletics Games. With many years of support from the Asian Development with the Disabled Persons (ADDP), Ise City has become the host town for the Lao Para Athletics team
Activities such as the ADDP-supported "Sports Promotion for Persons with Disabilities and Capacity Building of Sports Trainers and Sports Experts in Laos PDR" and "Inclusive Athletics Workshop," in which athletes with or without disabilities aiming for the Olympics or Paralympics train together, resonate with Ise City's goal of realizing a fully-inclusive society. Thanks to supporting young talented Paralympians from Laos, Ise City has registered as a "Host Town of a Harmonious and Inclusive Society."

As it begins accepting para athletes into training camps to be held ahead of the Tokyo Paralympics, Ise City plans to hold cultural exchange programs for local children with the members of the Lao Para Athletics Team and to carry out cultural exchange events inviting Laos delegation.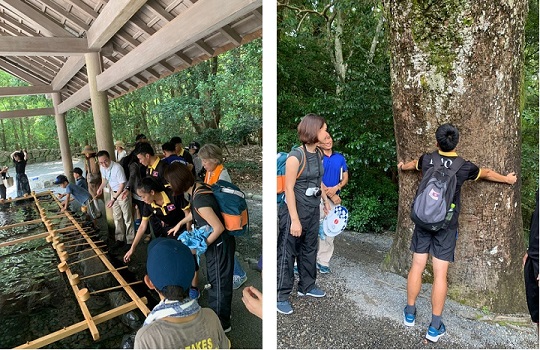 Lao para athletes with visual impairments "pray for victory" at Ise Shrine. Para athletes purify their hands before entering Ise shrine (photo on the left). A para athlete with visual impairment hugs tree, checking its real size with his arms by listening to the guide's description (photo on the right). They offered a wide variety of comments as visually impaired foreign visitors, providing valuable feedback to representatives of Ise City Hall's Tourism Promotion Section, which is putting its efforts into barrier-free tourism
Relations deepened through long-running agricultural training program: Zambian athletes and Marumori Town (Miyagi prefecture)
Marumori in Miyagi prefecture is the host town to athletes from the south African nation of Zambia. Since 2010, Marumori Town has hosted many agricultural trainees who visit Japan under JICA's Zambia Marumori Rural Community Development Project. The JICA Partnership Program and a related high school agricultural exchange are ongoing, and this long association led to Marumori's selection as a host town.

(right):
Behind its selection as a host town lies a long history of participation by Koya, a region in Marumori Town, in JICA's agricultural training project (Learning Japanese techniques for cultivation of vegetables in 2018)

(left):
Activities such as exchange visits to Zambia by high school students from Marumori Town and the JICA Partnership Program's involvement in the Koya Development Association are key to ongoing interactions

Marumori Town was heavily afflicted by typhoon Hagibis, which ravaged northeastern Japan in October 2019. The typhoon inflicted much damage through landslides and extensive flooding of the Abukuma River, requiring construction of temporary housing for residents starting in November. Noting the town's determination to host the Zambian team in spite of the damage it suffered, H. E. Mrs. Ndiyoi Muliwana Mutiti, ambassador to Japan from Zambia, visited Marumori in December to express her sympathy and appreciation. Mr. Yasuhiro Otsuki of the Koya Development Association in Marumori Town, who is for many years the manager of the Zambian exchange program, said,

"Marumori is a small town in the Tohoku region. Under ordinary circumstances, we would have little chance to meet people of other countries. But thanks to JICA's agricultural training project and our experience as a host town, we have become familiar with the culture of another land and had opportunities to become familiar with people from overseas. When the team visits us again after the Olympics, I look forward to giving the young people of our town a chance to get together with the athletes of the Zambian team."

Involvement of local governments as host towns brings local people into contact with countries around the world, bringing international cooperation to local doorsteps. JICA will continue supporting host towns around Japan as they engage with people of other countries and regions in their preparations for the opening of the Tokyo Olympics and Paralympics.