In Somalia, which has experienced decades of civil war, JICA is working to strengthen the country's youth employment capacity. In 2018, we launched the "Youth Employment Project for Somalia," the country's first technical cooperation project in 26 years. In September 2019, in Uganda, we also held a workshop on capacity development for start-ups and MSMEs (Micro, Small and Medium Enterprises) in Somalia. Participants from Somali government and private organizations discussed practical ways to support young entrepreneurs and MSMEs.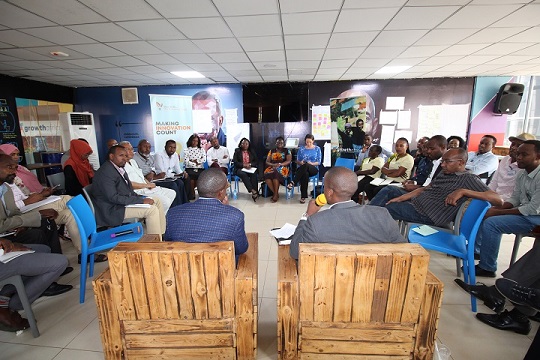 A workshop on capacity development for start-ups and MSMEs in Somalia held in September 2019
Remote support based in a neighboring country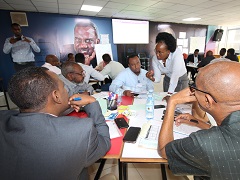 In the workshop, participants learned from Kenyan lecturers how to create a "business model canvas," a template for visualizing business ideas
"Interactions with Somali government officials are basically via Skype and phone calls. It is very important to have opportunities to meet in person at workshops and conferences," says Expert YAMASHITA Riai (JIN Corporation), who participated in the workshop.

Despite the end of the civil war in 2012, Somalia remains in a dangerous state, including ongoing terrorist attacks. Since Japanese nationals are prohibited from traveling into the country, JICA staff and experts are working on the project while being based in neighboring countries. The workshop on capacity development for start-ups and MSMEs in Somalia, which was held in Uganda in September 2019, gave a valuable opportunity for Somali government officials to meet face-to-face with experts whom they usually interact with through monitors. It provided a lively and enthusiastic exchange.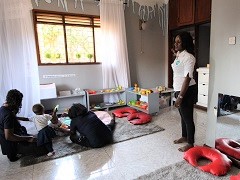 In Uganda, due to the large number of single mothers and parents working night-shifts, there is growing demand in the childcare sector. The workshop also included a visit to the first 24-hour childcare center (nursery school) in Uganda, which was established by a start-up company in the childcare business sector
The workshop was held for five days and was attended by government officials from Somalia and private organizations (such as cooperatives, consultants, NGOs, NPOs, universities, etc.) that support entrepreneurs and MSMEs in the country. In addition to the lectures by JICA experts, panel discussions were held where Ugandan entrepreneurs spoke about their experiences of success and hardships, and visits to high-profile start-up companies were conducted.

The purpose of this workshop was not for entrepreneurs to start their own businesses, but rather for organizations that provide support for entrepreneurs to cultivate their mentors and trainers, hoping that more entrepreneurs will emerge in Somalia in the future.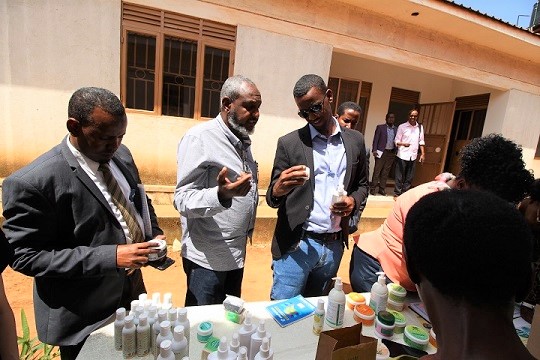 In the workshop, there were visits to start-up companies such as manufacturers of organic cosmetics and haircare products made from bamboo leaves, charcoal, and natural herbs
Improving employment capacity to prevent young people from joining anti-government groups
The background of this project is the employment situation of young people, who account for 70% of the population. In Somalia, where the civil war lasted from 1991 to 2012, there are no employment opportunities for young people, and incomes are unstable. As a result, the situation led to a deterioration of public safety due to youngsters joining piracy and anti-government armed groups for their livelihood.
In the past, international development aid agencies and NGOs other than JICA have promoted vocational training projects for obtaining skills, but those skills did not perfectly match the needs of the labor market and the expected results were not achieved. In response to a request for assistance from Somalia, JICA proposed the project with an emphasis on economic development. First of all, the project identified the potential of an industry as a source of employment and aimed to develop industrial human resources that met the needs of that industry.

The pilot sectors so far included the fisheries and the construction industries. In Somalia, which faces the sea, fishing is thriving. Also, many buildings were damaged during the civil war, and the construction industry is also vital for the reconstruction of the country. An architectural rush is now on, which include residential and commercial buildings.

Heart-to-heart gathering of the government and the private sector
The barriers to starting a small business in Somalia are not high, such as public servants being allowed to have a side job. This is because the number of companies is small in nature, employment is unstable, and many people are self-employed, even on a small scale.

In recent years, the so-called "diaspora," who had migrated to Europe, the United States and the Middle East due to the civil war, have begun to return to Somalia. Through the adoption of business models they learned in the countries they lived previously, new industries are now expected to develop, including the creation of domestic e-commerce businesses and food delivery systems.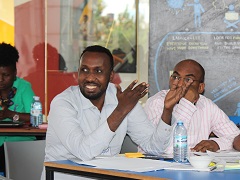 Participants smiling in a workshop and interacting with each other
Expert Yamashita, who participated in this workshop, says that she felt hope for Somalia's recovery through one incident she encountered.

"There were only a limited number of hotel rooms, and the accommodation was divided between government officials and private people, but the government officials said, 'We don't care if our hotel is a lower rank. Can't everyone stay in the same place? It's not just about the workshops; it's about the time we spend together.' Then, after staying in the same accommodation, participants were repeatedly seen exchanging seats at the workshop venue and restaurants. In addition, some participants said that they would like to study together after returning to Somalia."

Somalia is working together to reconstruct its own country. The project will continue until 2021, through assistance in the fisheries and construction sectors so far, and is expected to develop into other industries such as ICT, agriculture, or livestock in the future.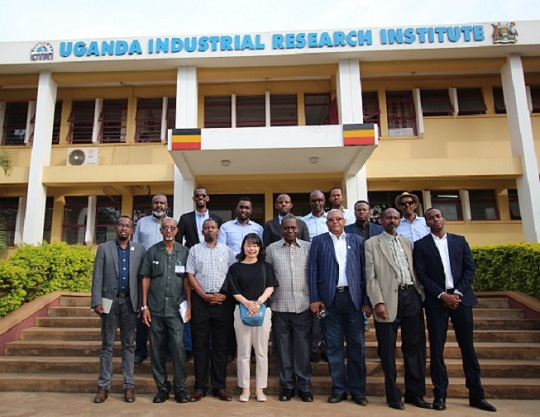 Workshop participants and Expert Yamashita (front row center) visiting the Uganda Industrial Research Institute