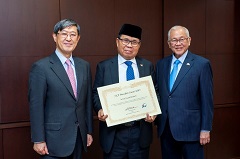 Interim Chief Minister Ebrahim (center), Ambassador Laurel (right) and President Kitaoka (left)
On Feb. 4, JICA President KITAOKA Shinichi met with the Hon. Ahod "Al HAJ Murad" Ebrahim, Interim Chief Minister (ICM) of the Bangsamoro Transition Authority (BTA) in the Republic of the Philippines at the JICA headquarters.

At the beginning after welcoming the ICM Ebrahim to Japan, President Kitaoka congratulated him on the first anniversary of the establishment of BTA and explained JICA's initiatives in Bangsamoro Autonomous Region in Muslim Mindanao. The ICM Ebrahim in response expressed his appreciation for JICA's wide-ranging cooperation to date. In addition, the two leaders discussed future cooperation relating to governance and other matters in connection with the establishment of an autonomous government in the year 2022. H.E. Jose Castillo Laurel V, Ambassador of the Republic of the Philippines to Japan, also attended the meeting and expressed his gratitude for JICA's cooperation in Mindanao.

JICA continues to provide cooperation with the improvement of governance and public services, community development and economic development in the Bangsamoro Autonomous Region in Muslim Mindanao.