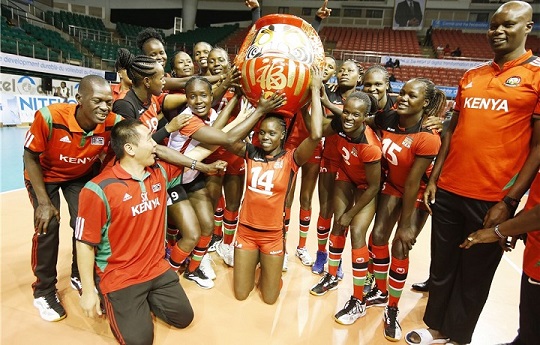 The Kenyan Women's Team and JOCV member Katagiri (front row, left) hold a giant Daruma, delighted to secure a ticket to the Olympic Games (Photo courtesy of Kenya Volleyball Federation)
"The moment we won, I cried with deep emotion. The team members saw this and they comforted me, saying 'Yes, we won!'" says Japan Overseas Cooperation Volunteers (JOCV) member KATAGIRI Shota, a coach of the Women's Volleyball National Team, named the "Malkia Strikers," in Kenya.

Kenya won the African Olympic Qualification Tournament for Women's Volleyball held in Cameroon from Jan. 5, beating their biggest rival Cameroon to admirably win a place at the Tokyo 2020 Olympic Games. Katagiri, together with his Kenyan team members, will make a triumphant return to his home country of Japan.

Assigned to Africa for the second time to teach volleyball
Katagiri was born in Yamagata Prefecture and began volleyball when he was a junior high school student. He continued to play throughout high school and college, and he has the experience of participating in national competitions during his high school years. After he graduated from university, Katagiri chose to join the JOCV. In 2010, he was assigned to Uganda in Africa for two years and taught mathematics and physical education at a local elementary school. He said he never experienced any difficulty living in Africa for the first time in his life, because he is tough, can eat anything, and sleep anywhere.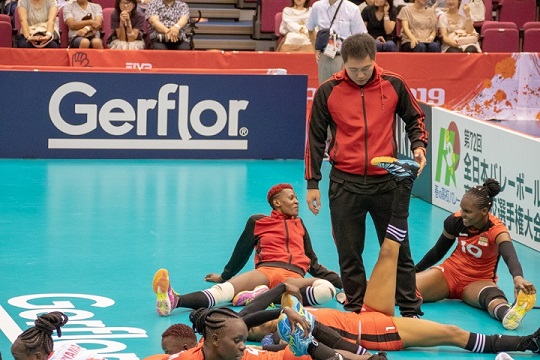 Katagiri giving guidance on stretching. He works with a Kenyan head coach and other coaches, and mainly provides physical guidance and tactical data analysis (2019 FIVB Volleyball Women's World Cup, September 2019, Japan)
After returning to Japan, he began teaching at volleyball schools in Japan, and also gained experience as a coach in New York, USA. Then one day he learned that JOCV was searching for a volleyball coach in Kenya, and thought, "I've got to do this!" and he applied again.

His hopes were fulfilled, and Katagiri was dispatched to Kenya in April 2019. His first thoughts were that the Kenyan players all have so much physical capacity and with proper training they will become stronger.

The focus of his training was, "To provide the athletes a concrete understanding of how each aspect of training will reflect on which area of their on-court performance." By citing examples of successful athletes who had achieved results through implementation, he aimed to spread the understanding to other athletes over time. Through continuously repeating such explanations while coaching, the Kenyan team gradually became stronger.

Then the African Olympic Qualification Tournament took place. Kenya and Cameroon are the top two teams in African Women's Volleyball today, and they are the biggest rivals. In a round-robin match between the participating five countries, Kenya continued its victories, and if they were successful in winning the game against Cameroon on day three, they would almost certainly qualify for the Tokyo Olympics.

On the day of the match, after careful stretching and warm-up under the guidance of Katagiri, Kenyan head coach and the other coaches, the team took to the court. Their strategy worked, and Kenya led the game from the early stages. In the end, Kenya was victorious over Cameroon in a 3-2 win, and went on to beat Nigeria on the final day, securing qualification for the Tokyo Olympics without a single defeat.

The long-term relationship between Kenya Volleyball and Japan
Actually, Kenya's volleyball has a long relationship with Japan. The first volleyball coach from Japan went to Kenya in 1979. Since then, the Japanese have been providing guidance on a continuous basis, and since 1992, JICA has been dispatching volleyball team members from JOCV. To date, a total of 14 members have been sent to coach the Kenyan team, making Katagiri the 15th such member.

According to Katagiri, many of the players in rival Cameroon team play for European clubs and are said to play a European-style game. On the other hand, Japanese-style volleyball can be seen in the movement and attacking style of the current Kenyan team. Japan's volleyball culture, nurtured through 40 years of exchange support, is firmly entrenched among local athletes.

Katagiri and the team members have already started preparing for the Olympic Games in July. In order to compete against the world's best, they are working hard to strengthen their bodies more than ever before, so that they can win as many sets as possible.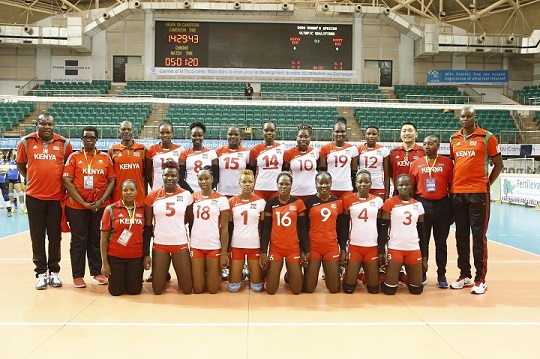 Kenya Women's Volleyball Team and Katagiri (third from the right in the rear row) fighting together for the Tokyo Olympics. Photo courtesy of Kenya Volleyball Federation
Having been successfully qualified for the Olympic Games, Katagiri says, "It's more positive to think about how we can do it, not why we can't do it." His role for the team is one of a physical trainer and a data analyst, and he puts emphasis on communication with the head coach and other coaches. The efforts of Katagiri, who is an indispensable member of the team, contributed to the victories this time. "I am so happy that everyone on the team and I, myself, feel the same way about it," says Katagiri. We wish the Kenyan team success at the Tokyo Olympics.