"'If one works hard in sports, it will lead to self-reliance.' I was able to share my belief with disabled people in Malaysia and build an excellent relationship with them. My thinking at that time became the starting point for me to promote the popularity of sports for people with disabilities," says JIMBO Yasuhiro, the very first Japan Overseas Cooperation Volunteer (JOCV) to use a wheelchair.
After representing Japan in the Paralympic Games, he went to Malaysia as a JOCV to popularize sports for persons with disabilities. Today, by utilizing his experiences as a JOCV, he is involved in the development and sales of sports wheelchairs, flying all around the world.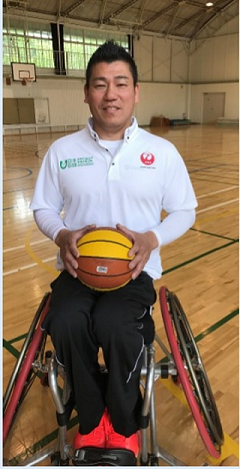 JIMBO Yasuhiro is a businessman involved in the development and sales of sports wheelchairs while also working to popularize wheelchair basketball
Sports open the path to independence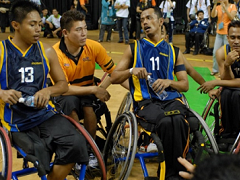 Jimbo (second from left) offering guidance to the Malaysian wheelchair basketball team
At the age of 16, Jimbo suffered a spinal injury due to a motorcycle accident. While living a despondent life confined to his house for about two years after the accident, he encountered wheelchair basketball. That moment became a turning point, and a new path for him emerged. Since then, he competed in the Paralympic Games four consecutive times, from Barcelona in 1992 to Athens in 2004. In 2000, he traveled to the United States alone, and while playing in the National Wheelchair Basketball Association, he studied sports for persons with disabilities in an education program at the Lakeshore Foundation.
In 2006, Jimbo was assigned to Malaysia as a JOCV *. He wanted to make use of his experience as an athlete, as well as his knowledge about the sports programs of persons with disabilities that he learned in the United States.

*Two short-term dispatches, for a total duration of seven months

In Malaysia, Jimbo first felt that there were many persons with disabilities suffering from conditions similar to those in Japan 20 years ago, just like when he began his life in a wheelchair. He said, before even bringing up sports, "The reality was that the people whom I met often did not have well-established goals and lacked a clear vision of their goals."
To start off, he attempted to motivate them and to have a goal to live. Jimbo sped around the court for an hour in his wheelchair, surprising them and showing that "such things can be done" by himself. Only Jimbo, having disabilities himself, could give such an eye-opening message and guidance. In Malaysia, while coaching the wheelchair basketball national team, he provided advice on issues outside of sports, such as jobs and social rehabilitation of athletes. Jimbo recalls, "They grew up so much I can hardly recognize them, and they became self-reliant."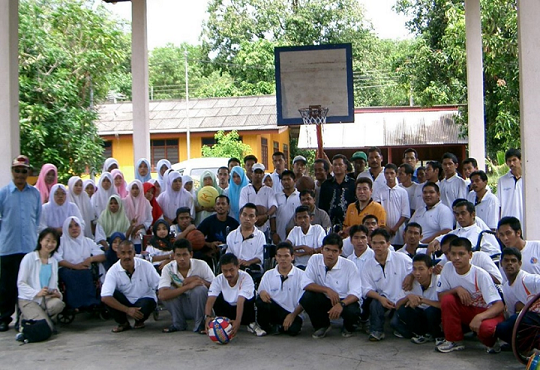 Jimbo (in a yellow shirt, center right in the middle row) at the time of being a JOCV dispatched to Malaysia, together with the athletes he instructed, other people concerned, and local residents. "Even now, when I visit Malaysia, the athletes who I instructed as a JOCV will come to see me," Jimbo says with a smile
Developing sports wheelchairs: Provider to the British Wheelchair Basketball team
After returning to Japan from Malaysia, Jimbo joined Matsunaga Manufactory Co., Ltd., a wheelchair manufacturer, and began developing and selling sports wheelchairs.
Having gone through an unsuccessful period of "nil sales" due to an attempt to expand its overseas business too fast, Jimbo continued to develop the products based on his experience and from the perspective of an athlete, and Matsunaga Manufacturing's sports wheelchairs gradually gained recognition. Now the company has become the official supplier of the British Wheelchair Basketball team.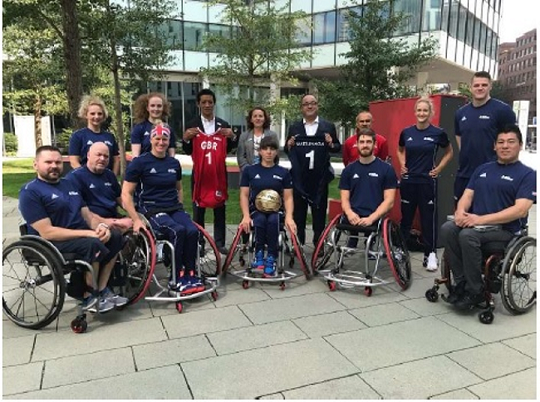 Jimbo (far right, front row) at the time of signing an official supplier contract between Matsunaga and the British Wheelchair Basketball team in 2018 (Photograph courtesy of Matsunaga)
In addition to business, Jimbo has been involved in activities such as promotion of wheelchair basketball in Zimbabwe. Although he has such a busy schedule, he is driven by his passion for providing support to his peers with disabilities, much in the same way he did as a JOCV in Malaysia.
"I would like to promote sports for persons with disabilities through both social contribution and business." He came to this conclusion only because he has had so many experiences as an athlete with disabilities, a volunteer, and a businessman, and because he has experienced both failures and successes. Matsunaga's sports wheelchairs are currently expanding to Southeast Asian countries' markets. "The reality of the situation is that many challenges still remain. It's still difficult for persons with disabilities to go freely into the world for business or volunteer work. That is even more the reason why I must go first in my wheelchair," says Jimbo with vigor.