"I think that the significance and achievements of Japan's Tuberculosis Control Project are summarized in the people of Afghanistan saying, 'Thanks to JICA, we are now able to tackle tuberculosis (TB) on our own.'"
Saying this is ISONO Mitsuo, JICA Senior Advisor, who is involved in the Tuberculosis Control Project in Afghanistan. JICA has been working on TB control in Afghanistan for approximately 15 years. Today, Afghanistan's case notification and treatment outcome of TB are within the standards set by the World Health Organization (WHO). TB is one of the three major infectious diseases along with HIV/AIDS and malaria, and it is a serious disease that cannot be ignored in developing countries.
Development of people and restructuring of the organization from 2004
Afghanistan's social infrastructure, including the health system, collapsed as a result of the Soviet invasion in 1979 and the subsequent civil war. According to a WHO estimation, between 2003 and 2006, the number of TB patients in Afghanistan was over 60,000-70,000, and the number of deaths was over 20,000.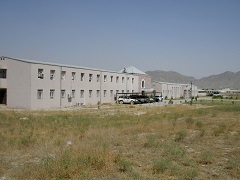 The National Tuberculosis Institute, where the JICA Project Office and the Office of the National Tuberculosis Control Program of the Afghan Ministry of Public Health are located. Established in 1978 with Japanese grant aid and destroyed by the subsequent long civil war, the renovation was financed by the Government of Japan in 2003. (Photo taken around 2006)
Looking back, Isono says, "The first step in the project was to establish an organization and develop human resources to combat TB in Afghanistan. It was designed to enable Afghan people to detect and treat TB cases on their own. We provided guidance and suggestions to build a foundation for everything from basic TB diagnosis methods to standard treatment methods, from drug management to a reporting system when patients were identified." When the Tuberculosis Control Project started in 2004, the TB control in the country was said to be "almost non-existent."
Security continued to be an issue. We worked together with the staff of the National Tuberculosis Control Program (NTP) of the Ministry of Public Health to disseminate various measures throughout Afghanistan and to promote higher-quality TB control measures. But due to restrictions on travel and public security circumstances, Japanese experts were unable to conduct on-site inspections nor were able to supervise the training program on-site. Against this backdrop, however, Japan continued to provide steady support.
"Since 2014, the second half of the project was almost completely done via remote support. Although it was frustrating, we had no choice but to do what we could. At that time, local Afghan staff and NTP staff worked their hearts out. I greatly respect their high level of enthusiasm and willingness to do things for their own country," Isono recalls the hard work done by the local staff.
Support towards raising funds
Another major hurdle was funding. Recognizing the importance of TB control, the Government of Afghanistan had allocated a national budget. But since it was insufficient, it had to rely on external funding from outside of Afghanistan.
In such a situation, JICA supported the Government of Afghanistan in applying to "The Global Fund to Fight AIDS, Tuberculosis and Malaria." It is a global fund established after the Okinawa Summit in 2000 to provide financial support for the prevention and treatment of the three major infectious diseases in developing countries.
In addition to assisting with the drafting of application plan and preparation of documents, JICA also provided support as a "fiduciary fund management organization" responsible for the actual operational management of the fund. It is unusual for a bilateral aid agency like JICA to manage such an international fund. Isono says, "This is because of the trust that has been built up between JICA and Afghanistan."
Meeting WHO standards
Last year, JICA's Tuberculosis Control Project in Afghanistan was concluded after approximately 15 years since its start. There are now many achievements, such as reaching a level that meets WHO's targets for case notification and having therapeutic value. These outcomes are the result of continued cooperation backed by the high-level skills of many Japanese experts, and the attitude of respecting the independence of the Afghan people.
A temporary clinic in a refugee camp on the outskirts of Jalalabad, Nangarhar Province, in the eastern part of the country. TB control measures are currently being implemented in major refugee camps across the country
"Going forward, there is an urgent need to expand the screening system for children and women and to provide more intensive treatment for drug-resistant TB. Molecular diagnosis and the introduction of innovative technology using ICT has yet to be implemented. While many challenges remain, JICA has supported the fostering of young and talented human resources over the past 15 years. We believe that their growth will lead to the advancement of self-sustained progress in TB control."

Isono gives a yell of encouragement to the future of Afghanistan.