JICA supports a variety of initiatives that leverage the power of sports, such as promoting development and peace and fostering tolerance and mutual understanding. In Tanzania JICA continues to hold the "LADIES FIRST" athletic competition for female athletes to support the empowerment of women. In South Sudan JICA uses sports to tackle challenges such as peacebuilding. Instead of just focusing on the improvement of physical ability, these activities demonstrate the "power of sports" to support the progress of developing countries.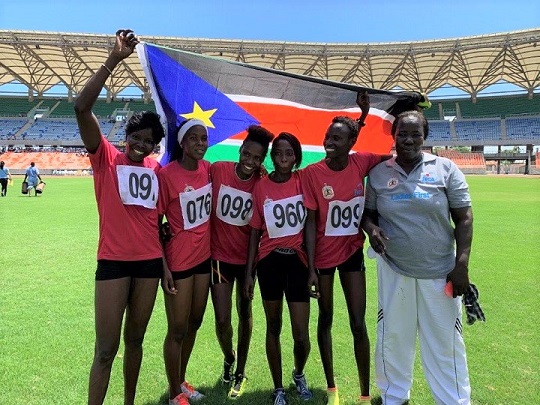 The South Sudanese team and a Tanzanian athlete (second from left) raising the national flag of South Sudan and mutually praising each other immediately after completing the 4x100-meter relay at the third "LADIES FIRST" in Tanzania
Support through sports creates synergies in Tanzania and South Sudan
South Sudanese female athletes participated in the third "LADIES FIRST" held in Tanzania last December for the first time. LADIES FIRST has been held annually since 2017 by JICA and the Ministry of Information, Culture, Arts and Sports in Tanzania, and the National Sports Council of Tanzania. Due to the stereotype, "sports are for men," women have had limited opportunities to participate in the athletic competitions. Thus, LADIES FIRST was created as a place for them to be actively involved in sports.
The women athletes who participated in last year's LADIES FIRST from South Sudan were those selected at the "National Unity Day," a sports event that JICA and the South Sudan Ministry of Culture, Youth and Sports have organized since 2016. It is an initiative called "peace building through sports," which aims to foster a sense of unity as a nation by promoting sports-harmony over tribal and regional differences in South Sudan, where security remains unstable even after its independence in 2011.

"National Unity Day," a sporting event held in South Sudan, hosts heated competitions in many sports ranging from track and field to volleyball and soccer
In the 4x100-meter relay event of LADIES FIRST, the Tanzania and South Sudan teams competed head to head with Tanzania winning by a narrow margin of about one-and-a-half seconds. JICA staff member ITO Miwa, who worked hard to coordinate the necessary arrangements to get the South Sudanese athletes into LADIES FIRST, reflects back on the scene as follows: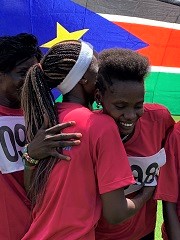 Tanzania and South Sudanese athletes celebrating their efforts
"South Sudan, unfortunately, finished in second place in the relay event, but after the race, the athletes, from different backgrounds, joined together to wear the national flag of South Sudan and celebrate their strong efforts together with the winning Tanzanian athletes. I felt that they had a strong sense of representing their country and I was so moved."
Juma Ikangaa (Public Relations Ambassador of the JICA Tanzanian Office), a former Olympic marathoner and the originator of LADIES FIRST, said, "It would not have been possible for the Tanzanian athletes alone to have such a competitive outcome. I feel as though a good sense of rivalry and camaraderie has emerged among women athletes in neighboring countries."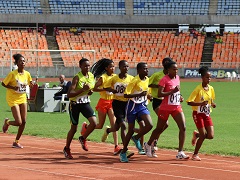 Tanzanian athletes competing in the 10,000-meter final
Thanks to friendly competition between women athletes in Tanzania and South Sudan, sports provided an opportunity for them to feel a sense of unity and pride as national representatives.
Sharing challenges for gender equality
From the first event held in 2017, LADIES FIRST has hosted awareness activities on gender equality, such as dramas on the issues of early pregnancy and workshops on improving the status of women.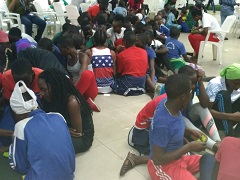 Women athletes participating in a workshop to improve the status of women
At the workshop, female athletes from both countries commented, "First of all, girls must be able to attend school. They must also be encouraged to continue doing sports." Other comments sharing the challenges of the region included, "We were able to think together about gender issues, and it was good to have a better understanding of the cultural differences between South Sudan and Tanzania regarding gender discrimination." For many athletes it was the first opportunity to take the initiative in discussing solutions. The event provided a chance for participants to experience that "women can become leaders in changing society."
Ito says, "In the workshop, athletes who have participated numerous times in LADIES FIRST played a leading role by providing explanations and holding discussions with junior athletes who were participating for the first time. It was a scene where the athletes grew through participation in LADIES FIRST and gave them a real sense of change in women's consciousness."
Girls realized that "women should be strong"
A positive message of being a woman is also being conveyed to girls who watched LADIES FIRST.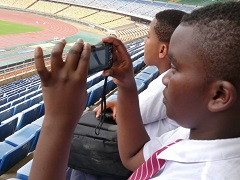 A female student taking photos of the games
Students of Sakura Girls Secondary School in Tanzania, where JICA supports school management, said they were impressed with women athletes actively running the track. They commented, "Women can run and they are capable of doing something," "Girls will discover the immense opportunities through sports," "Women should be strong and believe in themselves that they can do anything." And they felt that they had a great potential for themselves, rather than denying that they were born as a woman.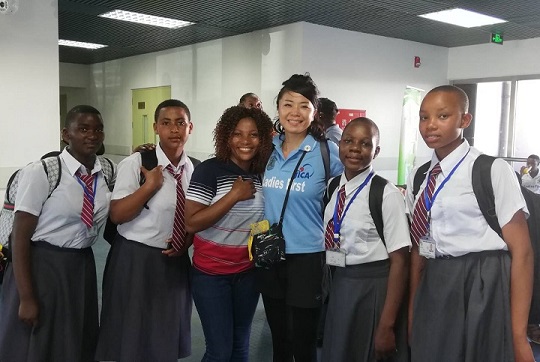 Female students of Sakura Girls Secondary School and JICA Tanzania Office staff (center: Ito)
With the growing recognition that the power of sports contributes to the resolution of issues in developing countries, JICA will continue to promote "development cooperation through sports."