The Malaysia-Japan International Institute of Technology (MJIIT, Note 1) is taking on the challenge of containing Malaysia's COVID-19 outbreak. JICA has supported enhancement of the Institute's research capabilities and collaborative efforts such as academia-government partnerships and industry-university cooperation since the school's 2011 establishment. At the forefront of efforts to deal with the crisis, alumni and students are working to protect Malaysia's citizens. They develop tools for preventing infection by applying knowledge acquired through JICA's cooperation.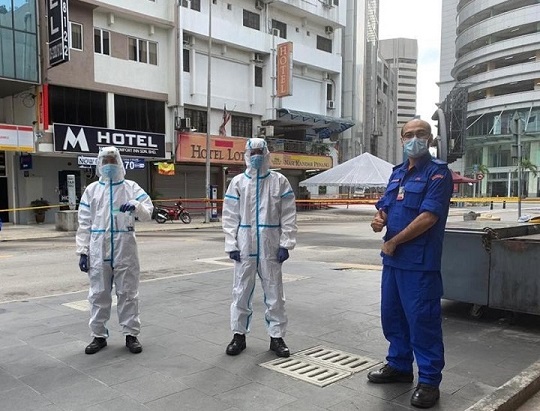 Dr. Shahrul (far right), an MJIIT graduate working on the front lines to assist people infected with the novel coronavirus
(Note 1) Established as an academic institution at the Kuala Lumpur campus of the Universiti Teknologi Malaysia (UTM) in 2011, MJIIT bases engineering education on the Japanese philosophy of education. In addition to supporting equipment improvements with an ODA loan from 2011 to 2018, JICA initiated a Technical Cooperation Project in 2013 to improve education quality, enhance research capability and promote collaboration between industry and academia.
Applying knowledge in disaster risk management
As of May 17, Malaysia has a cumulative total of 6,894 cases of COVID-19, of which 113 have resulted in fatalities (according to the website of the Ministry of Health). Thanks to the government's Movement Control Order (the so-called "MCO") promulgated on March 18, this is much lower than projected by many experts. (For example JP Morgan predicted on 23 March that infection would peak at about 6,300 cases in the middle of April). During the lockdown, graduates and students of the Master of Disaster Risk Management Program (MDRM) at MJIIT have been playing active roles in the field.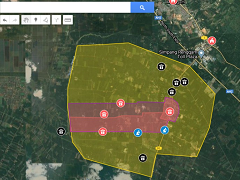 Zones are color-coded according to risk level to help manage and communicate with first responders
"We are using maps that are color-coded by area according to degree of risk using a zoning methodology learned from Japanese lecturers of this programme. This has significantly minimized the risk to emergency responders in the field," says Malaysia Civil Defence Force's Lt. Colonel Syukri Bin Madonau and Lt. Colonel Rohizad Bin Hadli. In addition to managing allocation of emergency personnel in red zones (which are subject to strict mobility restrictions due to the high number of COVID-19 cases), the two officers have been giving briefings to heads of police and local government to keep them abreast of changing conditions in the field.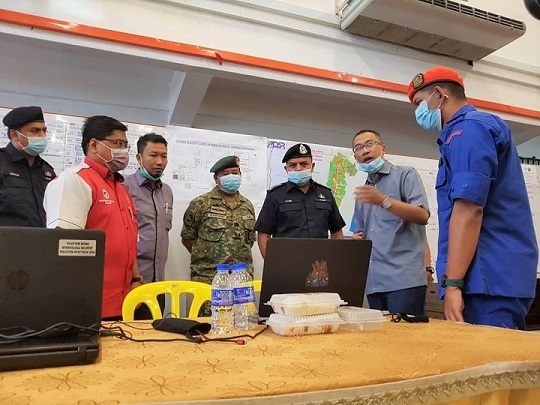 Malaysia Civil Defence Force's Lt. Colonel Syukri Bin Madonau (far right) conducting a briefing
"We are applying knowledge and techniques we learned in the MDRM program, such as on-site command systems and public health," says Dr. Shahrul Nizam Bin Ahmad Zamzari, an emergency physician at Universiti Sains Islam Malaysia (USIM). In addition to participating in launching the Civil Defence Force's Emergency Medical Operation Team, he has taken part in front-line activities, including monitoring first responders' health and distributing surgical masks. He has also appeared in radio programs to promote methods of countering the novel coronavirus to the general public.
Dr. MATSUURA Shohei, a JICA Expert / Visiting Associate Professor of MJIIT who lectures for the MDRM program at MJIIT, observes that, "together with networking efforts by graduates, analytical methodologies and disaster risk management tools acquired through the program have helped their respective agencies respond more effectively to the novel coronavirus." He adds that "knowledge and skills learned through the program have also boosted graduates' confidence in initiating and leading these operations as disaster managers." He hopes that "MDRM graduates working in various sectors will learn from this experience to make further contributions to strengthening Malaysia's disaster preparedness and prevention."
Medical support tools for preventing infection
The academic and technical staff and students of MJIIT are developing and producing medical support tools for dealing with the novel coronavirus at the Advanced Precision Laboratory, which was established through the cooperation of Japan.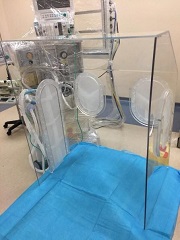 Aerosol box developed by MJIIT
One such tool is an aerosol box that protects medical workers against infection when they perform procedures such as endotracheal intubation. Mr. Hairul Lail, a fabrication leader at Advanced Precision Laboratory, explained that "the aerosol box has already been tested in a major medical facility, and its effectiveness has been confirmed by the hospital staff." Twenty two aerosol boxes have already been donated to several hospitals. Production of these devices will be increased to meet requirements of hospitals. Furthermore, more research and development have been carried out with local industries at the MJIIT Sangaku Renkei (Industry-University cooperation) Center, headed by Ts. Dr. Zulhasuni Abdul Rahim.
MJIIT has also begun using its CNC (computer numerical control) laser shield machine, which was installed by the ODA loan, to produce face shields designed at the laboratory. Since March 28, more than 2,400 shields have been developed and donated to hospitals caring for COVID-19 patients.

Face shields and aerosol box delivered to Red Cresent Malaysia (pictured left) and MJIIT staff who delivered them to hospitals (right)
Studying the mechanism of transmission of COVID-19
This March, the Universiti Teknologi Malaysia (UTM) where MJIIT is established announced that it would be undertaking joint research with a Dutch research institute regarding the extent to which COVID-19 is present in wastewater (Note 2).
At present, the main route of infection of the new coronavirus is thought to be droplets passed between people who are in close contact, but it has been noted that the virus also may survive in wastewater. This research aims to determine whether and to what extent the virus exists in sewage discharged by homes and hospitals and to clarify the still-unclear mechanisms by which the virus spreads and stability in tropical environment.
Dr. HARA Hirofumi, an Associate Professor at MJIIT who is also a member of this research group, explained the advantages of conducting this research in Malaysia: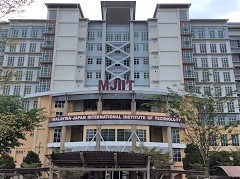 Malaysia-Japan International Institute of Technology in Kuala Lumpur
"While several influenza viruses are seasonal, COVID-19 outbreaks have been observed even in the tropics, and transmission is not thought to be related to season. We believe that gathering information and knowledge about survival of the novel coronavirus in the wastewater of Malaysia, a tropical country, may help to predict conditions that will affect the northern hemisphere as it moves toward summer. Due to its range of climates and geological extent, Malaysia is an ideal place to conduct such research. The findings could also be of significance for predicting transmission in suburban and metropolitan areas with different climates."
Dr. OKANO Takasei, an Expert who leads JICA's cooperation project with MJIIT, says, "Researchers and graduates of the Institute have reaffirmed the significance of this project through their cooperation with related institutions in the fight against the global social issue presented by COVID-19." Looking ahead to independent operation of the Institute following completion of the project in 2023, he very much hopes to continue such cooperation in the future.