Overview
Title: The 1st Clinical Case Study on COVID-19 in Brazil and Japan
Date: June 3rd, 2020
Sponsors: Chiba University Hospital, National Center for Global Health and Medicine (NCGM), The University of Campinas (UNICAMP), Japan International Cooperation Agency (JICA)
Location: Online conference
Moderators and panelists
Brazil: Healthcare providers from UNICAMP
Japan: Healthcare providers from NCGM, Chiba University Hospital and Medical Mycology Research Center, Chiba University
Primary objectives and outcomes
- Brazil has recorded over 900,000 COVID-19 cases, becoming the country with the second-highest number of confirmed cases in the world after the United States.
- JICA, in collaboration with Japan Agency for Medical Research and Development (AMED), has been conducting the following Science and Technology Research Partnership for Sustainable Development (SATREPS) project since 2017; Project for the Establishment of a Research and Reference Collaborative System for the Diagnoses of Fungal Infections including Drug-Resistant Ones both in Brazil and Japan.
- The research institutions for the project: Chiba University and UNICAMP, and JICA experts proposed an emergency plan to combat COVID-19.
- As a result, NCGM, Chiba University, and UNICAMP organized an international clinical research team, and the 1st clinical case study conference on COVID-19 was held on June 3rd.
Content of the discussions
Thirteen medical staff from UNICAMP; a referral hospital in São Paolo, the epicenter of the pandemic in Brazil, participated in the conference. From Japan, there were twelve participants including: Dr. Norio Ohmagari, Deputy Director General of NCGM, and Dr. Hidetoshi Igari, Chairman of the Infectious Disease Department at Chiba University Hospital, Dr. Ryuzo Abe, Chairman of the ICU at Chiba University Hospital, and Dr. Akira Watanabe, Associate Professor at Medical Mycology Research Center at Chiba University and chief advisor of the SATREPS project.

In the opening remarks, Professor Luiza Moretti of UNICAMP explained the purpose of the conference, and emphasized the importance of working together, globally, to control the pandemic.

Around the world, medical staff are seeking to find effective treatment for COVID-19. The clinical course of COVID-19 is not well known, and severe cases present a variety of symptoms. Each country presented one COVID-19 case regarding dialysis patients with severe symptoms, as they have a higher risk of causing nosocomial infection.

Professor Maria Luiza Moretti, UNICAMP;
"In Brazil, there is a shortage of not only medical equipment but also medical staff, and we are struggling to meet the needs of increasing patients. There is nothing more valuable than sharing knowledge and I want to express gratitude to the people of Japan. This conference has given us courage during this unprecedented time."

Dr. Ayako Okuhama, NCGM, who presented the patient case;
"There are different practices within hospitals in Japan, yet the problems that we face are the same around the world. I would like to continue sharing and learning from each other's experience to find better solutions and treatments."
We hope that this becomes an opportunity for more international conferences in the future, and that it contributes to the prevention and care of COVID-19 in both Brazil and Japan.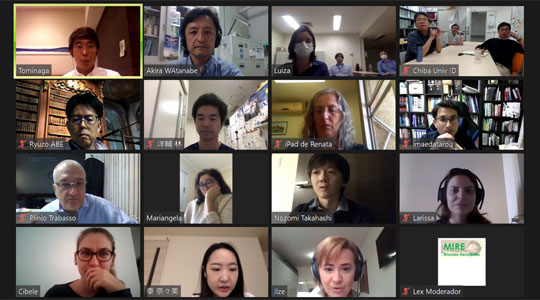 Participants from Brazil and Japan discuss patient cases