Due to the impact of the novel coronavirus, schools around the world have been forced to call off classes. Supporting children's home-based learning and the continuation of education have been common challenges in the world. In such a situation, online learning systems and tools developed by Japanese companies in cooperation with JICA are being utilized globally. Here are some examples of online learning in Cambodia, Uzbekistan, and Japan introduced for children.
Cambodia: Think!Think!, an educational app offered free of charge to pupils
In Cambodia, classes at schools have been canceled since mid-March, and online courses are being broadcast on the website of the Ministry of Education, Youth and Sport (MoEYS). One of the courses uses "Think!Think!," an educational app created by WonderLab Inc. of Tokyo.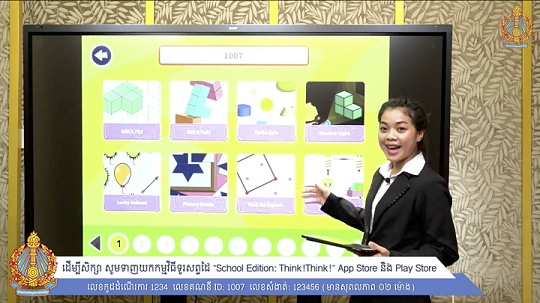 The scene of an online video lesson using Think!Think! with the theme of teaching materials to improve thinking skills
Think!Think! is a teaching platform for children from kindergarten to elementary school. It provides education program on spatial recognition, planar graphics, and other elements that form the foundation of thinking, while having fun. In Cambodia, the maintenance of the educational environment and the advancement of academic ability are national agenda. In order to enhance early childhood education, WonderLab has been promoting the utilization of Think!Think! as a commissioned project of JICA since 2018.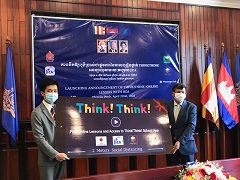 Cambodia's Minister of Education, Youth and Sport, Dr. Hang Chuon Naron (photo: right), has high expectations saying, "This is an excellent learning tool that fosters the ability to think, and I am hoping that it will be used for at-home study."
"In the wake of the closure of all schools due to the novel coronavirus, the Cambodian government consulted us on whether the interactive learning app Think!Think! could be utilized for home learning, especially since it is difficult for elementary school students to study using watch-only videos. We decided to offer it free of charge," says WATANABE Daiki of WonderLab.
As there are few opportunities to learn via apps in Cambodia, they devised a method for students to learn while watching lesson videos on the MoEYS website and state-run television. Currently, more than 20,000 children watch online lessons each time they are broadcast.
Watanabe said, "For the benefit of students facing learning difficulties due to the coronavirus, we strongly united with the officials from the MoEYS, and we were able to make online classes available within just a few days from the first meeting." He added that they were able to implement these courses in such a short period of time thanks to the trust built up thus far. Think!Think! is scheduled to be provided free of charge until mid-June.
Uzbekistan: Supporting math for students through an e-learning system
"When all educational institutions were suspended across the country in mid-March, the Ministry of Public Education of the Republic of Uzbekistan strongly requested for the distribution of Japanese learning materials. In response, we began to broadcast mathematics video courses for junior high school students using the remote learning support system that we had built up in Uzbekistan thus far," says SAITO Yosuke of Digital Knowledge Co., Ltd. (Tokyo).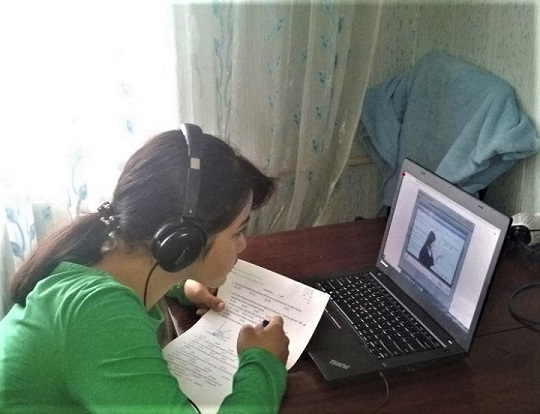 A student learning math via a video courses in Uzbekistan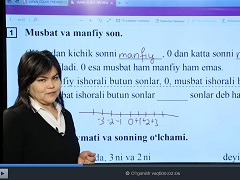 An online math video course for sixth graders
As a JICA commissioned project, since August 2019, Digital Knowledge has been conducting trial projects in Uzbekistan, such as e-learning teacher training, online academic ability tests, and after-school classrooms. They have achieved good results in teacher training as well as in mathematics, English, and mental arithmetic classes using the know-how of Japanese educational companies.
Since schools in Uzbekistan were simultaneously closed, we utilized a pre-built e-learning system. In cooperation with GAKUSHO Co., LTD., that develops teaching materials (Nagoya City, Japan), we are providing free-of-charge a math video course "Kihon no Ki," a video classroom and dedicated textbook education system, for sixth to eighth graders (equivalent to junior high school students in Japan).
"Initially, we broadcasted video courses for junior high school students as a support for home learning until April 30. However, since the speed of learning varies from one student to another, we are going to extend the broadcast period and follow-up with students who are lagging in progress," Saito said.
"The courses were interesting and easy to understand," said a student who took a math video course in Zangiota District of the Tashkent Region. "It was a perfect way to spend time effectively during the lock-down period. I would certainly like to participate if there are science courses." Parents also commented, "Although this is the first time for my son to take an online class, it's quite easy to understand. He is enjoying it, and immediately after he finished his class, he worked on all the tests included in the course."
The efforts of Japanese companies play a critical role in order to support the learning of approximately five million junior high school students in Uzbekistan.
Kusatsu City (Japan): Experience "profitable agriculture" on app and think global
In Japan, where schools are gradually reopening, more and more local governments are providing tools to support home learning.
The Kusatsu City Board of Education in Shiga Prefecture is distributing its own "recommended time schedule" to children and students who spend a lot of time at home. It is also proposing the creation of their own time schedules. As one of the contents, the city has adopted game learning using the smartphone app, "SHEP game Fun Fun Farming!" which JICA developed.
"Fun Fun Farming!" was created based on the motif of the SHEP (market-oriented agriculture promotion) approach, which JICA is promoting to support small-scale farmers in Africa. Players can experience the process of turning "growing and selling farming" into a "profitable agriculture" through the game.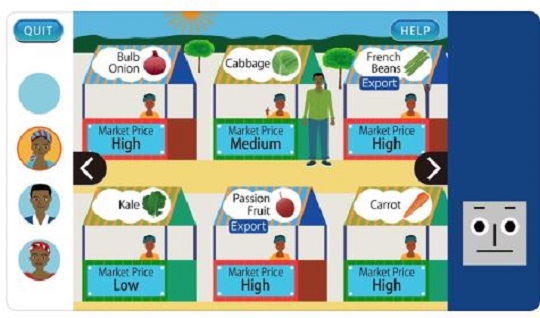 "SHEP game Fun Fun Farming!" is an app in which basic know-how on "profitable agriculture" by small-scale individual farmers can be learned in a quiz format
TSUJI Daigo of the Kusatsu City Board of Education Secretariat came up with the idea to incorporate this app into the timetable. He became interested in international cooperation and development education by communicating with JOCVs (Japan Overseas Cooperation Volunteers) when he worked at a Japanese school in San Jose, Costa Rica.
"'SHEP game Fun Fun Farming!' learning app has been introduced as one of the items for 'the Period for Integrated Studies' for junior high school students. I think it is a highly effective and enjoyable app as a learning tool in the field of ESD (Education for Sustainable Development). I would like students to use this tool to foster an inquiring mind about the world while enjoying the game," he said. While experiencing agricultural development in developing countries, he hopes that students will learn to think globally.