In the second of the series, we feature "ex-participants" in Uganda and Egypt. Having taken part in the Knowledge Co-creation program in Japan and returned to their respective home countries, they are now fighting COVID-19. As in Japan, there are a growing anxiety and concern about the spread of infection in those countries. But the ex-participants are coordinating with the medical staff, taking on leadership roles, and are acting to overcome the crisis.
Uganda: Ensuring that medical staff can provide care with peace of mind
"As soon as COVID-19 virus was projected to spread, we discussed the possible scenarios with hospital staff, formed a team to ascertain the necessary supplies, and proceeded with preparations. I was able to make these specific actions because I learned through training the importance of taking on leadership roles and acting according to needs," says Tageya Sophia Bruhan, a nurse at a Regional Referral Hospital in Masaka, a provincial city in southwestern Uganda. Since the infection was identified in the country on March 21, she has been working to prevent the spread of infection in hospitals.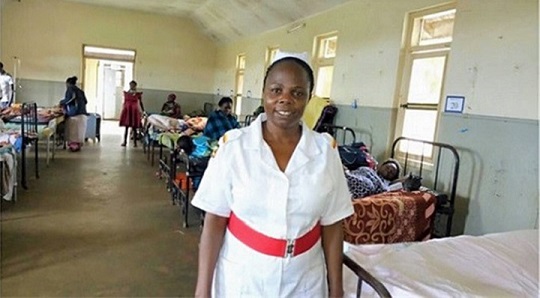 Nurse Tageya Sophia Bruhan
Last year, Ms. Bruhan participated in JICA Okinawa's "Public Health Activities for Strengthening Maternal and Child Health." This training program aims to develop health personnel by referencing the efforts of post-war public health activities in Okinawa. She remarks, "Through the training, I was able to reflect upon the way I was providing nursing services until now."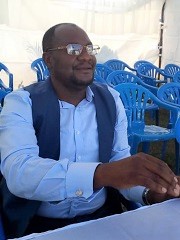 Dr. Muwanga Moses
Dr. Muwanga Moses, the director of the Entebbe Regional Referral Hospital, which accepts COVID-19 patients in Uganda, was one of the participants in the "Specialist of Nosocomial Infection Control and Prevention" by JICA Tokyo in 2009 in cooperation with the National Center for Global Health and Medicine (NCGM). "The methods of communication we learned in the training were instrumental in this crisis," he says.

A system that protects medical staff from infection and allows them to work together as a team ensures that they can care for patients with peace of mind. This is critical in emergencies, such as in this instance, where there are fears and concerns.
According to the Ugandan Ministry of Health, as of June 17, a total of 732 people were infected (0 deaths). Ms. Bruhan and Dr. Moses' efforts to prevent the spread of infection will continue.
Egypt: Imparting knowledge to prevent in-hospital infections in healthcare institutions across the country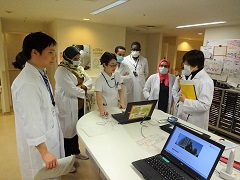 Ex-participants from different countries who joined in the "Program for the Specialist of Healthcare-Associated Infection Prevention and Control," held in January 2020 at the National Center for Global Health and Medicine
The "Program for the Specialist of Healthcare-Associated Infection Prevention and Control" by JICA Tokyo was conducted in cooperation with NCGM from 2017 to 2019. The program targeted infection control personnel and staff who supervise and instruct infection control at national hospitals in each country in order to strengthen nosocomial infection control measures. At this very moment, the participants who joined in this training are working hard to prevent in-hospital infections in healthcare facilities around the world.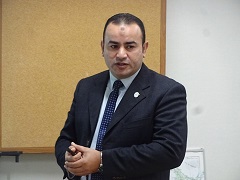 Dr. Nasser of Egypt's Ministry of Health and Population presents a review of the training at JICA Tokyo
"I am conveying to health-care facilities throughout Egypt all the knowledge I have acquired in the training, such as methods of infection control, usage of gowns and gloves, and hand washing," says Nasser Mohamed MetwallyKhedr, head of hospital infection prevention measures in the Egyptian Ministry of Health and Population. As of June 17, the number of infected people in Egypt has reached 49,219 (1,850 deaths). Amid concerns about the further spread of infection, the experience learned during the training in January of this year is being utilized.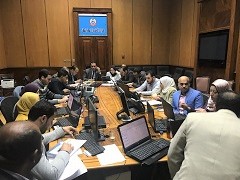 The crisis management committee discusses the prevention of in-hospital infections. Dr. Nasser is seated in the chairman's seat in the center-rear
After returning from the training program, Dr. Nasser traveled to medical facilities across the country to give lectures on the prevention of nosocomial infections. A crises management committee has been established to ensure thorough preventive measures and to prepare for emergencies.
Health and Population Minister Hala Zayed participated in the "Safe Hands Challenge," a campaign initiated by the World Health Organization to publicize correct hand washing to prevent infection. "I learned the importance of handwashing in the training," Dr. Nasser says resolutely. He is taking the initiative in implementing a variety of know-how that he learned at that time to fight COVID-19.